Ovens & Ranges
Maytag MGT8885XS 30-Inch Double Oven Range Review
This range is packed with features, but it lacks consistency.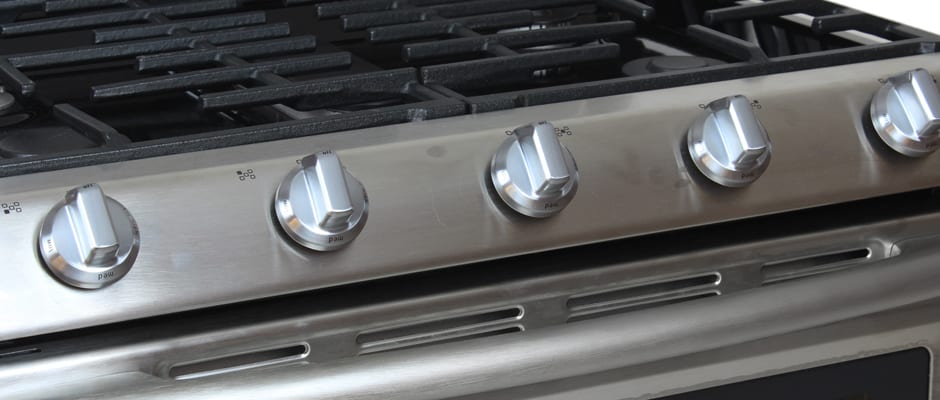 Credit:
Introduction
A double oven range with a $1,899 MSRP is an enticing prospect for consumers, especially when its packed with features like a griddle and five burners. But in the case of the what seemed like a great value at first ended up a disappointment during our tests. We're sensitive to the difficulties of cramming features, extra burners, and even an extra oven into a single, mid-priced range, but a weak rangetop and unremarkable oven left us unimpressed.
Design & Usability
The design language stresses simplicity.
We were happy to find the rangetop control knobs canted towards the user for convenience, and the oven's seemingly complex touch controls weren't at all confusing to us. In fact, this range actually had fewer buttons than most other ovens.
Overall, the exterior design itself is handsome enough, with solid black continuous grates, a shiny stainless finish, and a fifth burner complete with griddle.
Rangetop
More power please!
At low temperatures, we were very pleased with the MGT8885XS's rangetop. It's often very difficult for gas ranges to reach — let alone maintain — temperatures down below 150°F, but this one had no trouble simmering.
This Maytag's whisper was more powerful than its shout, however. The power just wasn't there when it came to high temperatures and boiling. One burner did produce decent results, but the rest were so far behind, we've seen dedicated simmer burners trump the MGT8885XS's second-best boiling burner.
Oven, Broiler, & Convection
Stick with the upper oven.
Both ovens clocked crazy fast preheats in six and eight minutes respectively for the lower convection and upper conventional ovens. Once up to temperature, however, performance was quite literally not so hot. The upper oven did well enough in our tests, but the lower convection oven really struggled to maintain a proper heat at the all-important temperature of 350°F. This wouldn't be such a big deal, but someone looking to buy a double oven range is, well, is looking for two decent ovens.
Both ovens have standard racks, unremarkable broilers, different levels of self-cleaning, and all the typical delayed-bake and keep-warm features. One thing is definitely important to keep in mind: the size of the ovens. In some double oven ranges, the lower oven is large enough for the Thanksgiving turkey, but this 3.9 cubic foot lower cavity might not be large enough.
Conclusion
You can do better.
While we commend Maytag for offering a somewhat affordable, feature-packed dual oven range at a relatively affordable $1,899 MSRP, we can't recommend the MGT8885XS. Yes, it comes with a ton of great features, but a lousy bottom oven and rangetop sandbag the whole package. If you're going to spend your money on five burners and two ovens, they might as well work. Either spend a little more for a range that delivers on its many promises, or spend a little less and get a solid, basic range.
Science Introduction
If you still want to know more details about the Maytag MGT8885XS's performance, we've assembled data, charts, and commentary to better understand why we weren't the biggest fans of this dual oven range.
Oven Performance
Middling to poor performance plagues both ovens.
The upper oven maintained keep-warm and maximum temperatures well enough—though the oven averaged 536°F instead of 550°F. Set to 350°F, the upper oven didn't do quite as well, struggling to keep its temperature in check, fluctuating up and down the dial significantly in a 61°F window.
The lower oven's convection 350°F test was a fiasco. Oven temperatures ranged from 307°F to 390°F during the 15 minutes of testing after the preheat, averaging 334°F. This is far past the 330-370°F window we consider good.
Rangetop Performance
It can simmer well, but that's about it.
Since many gas ranges have trouble with getting their burners cool enough successfully simmer, we applaud the MGT8885XS's abilities. The front left and rear right burners were able to get down to 132°F and 133°F respectively, and the other burners weren't that far behind.
Unfortunately, this low power excellence seemed to be at the cost of high powered excellence as we found weak boiling temperatures. Struggling to heat up six cups of water, three of the four burners took over 24 minutes, with the slowest taking 64. The front left burner did well, clocking a time just over five minutes, but we expect better from a mid-level range. The high temperatures weren't too great either, with just one burner cracking 400°F.