Ovens
Samsung NE597N0PBSR 30-Inch Induction Range Review
Samsung's unique induction range doesn't ignore the oven.
Credit:
Introduction
There aren't many induction range
options below $2,000, a lamentable problem that's slowing the further adoption of induction. We've tested all the induction ranges on the market and have found that the cheaper ones lack ovens that can keep up with stellar induction rangetops.
Thankfully, Samsung's built a relatively affordable model that doesn't compromise. Unlike the other induction models around the same price point, the (MSRP $2,399, on sale for under $2,000) matches oven and cooktop performance. No one wants to choose between a good rangetop and a good oven, and this Samsung helps keep those goals from being mutually exclusive. Toss the 's useful and unique features into consideration and you've got one solid range.
From the Lab
The had ever-so-slightly inferior performance than the other induction ranges in its class. However, it's important to remember that this induction rangetop's slightly narrower temperature range—it's probably not even noticeable—comes with some induction features that other rangetop's don't have. We'd make that trade any day.
Design & Usability
Samsung adds a few usability tweaks to the traditional induction model.
Visually, the looks like the refined mid-level range it is. The stainless finish doesn't seem forced, and the oven window eschews a rectangle for something a bit more interesting. The buttons on the backsplash aren't particularly garish, either.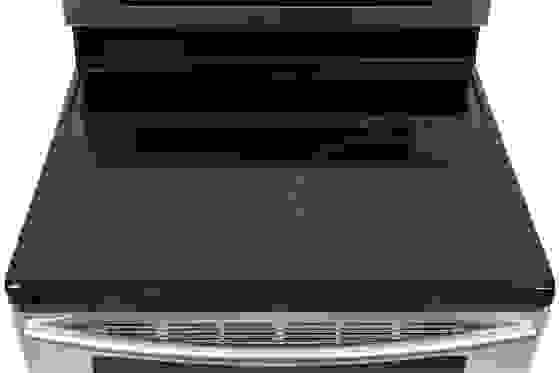 Usually induction rangetops are limited to four discrete—but powerful—burners. Samsung's has shaken up that model by adding some interesting features that improve usability. The most noticeable change is the bisected rectangular area on the rangetop's left side. If the user needs one or two small left elements, each half can be controlled independently. Or it can be used as one large element for a big pan or griddle.
The other unusual feature we found was a "Boil Alert" on the largest burner (right front). Using vibration sensing technology, this burner will beep six times when the water reaches a rolling boil, and will reduce the temperature to maintain it, so you can focus on your sauce while the pasta cooks. While we've seen some iterations of smart technology in ovens, this sort of feature is a different, welcomed take on appliance intelligence.
Oven Performance
Use the convection setting.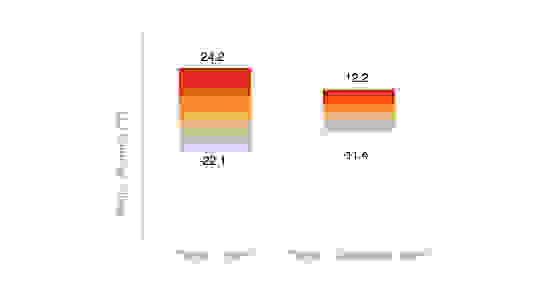 Aside from coming a lot closer to hitting the 350°F target, the convection setting fluctuated much less (24°F) than the conventional mode (46°F). The conventional setting averaged only 331°F, 19°F lower than it was supposed to. The maximum setting delivered even heat throughout its test, but it also came up short on the temperature goal, averaging 537°F, not 550°F. Oddly, the keep-warm temperature setting, a setting that often has control problems, stayed smoothly around 170°F the entire time.
Rangetop Performance
This range can't quite get as low as other induction ranges, but it's no big deal.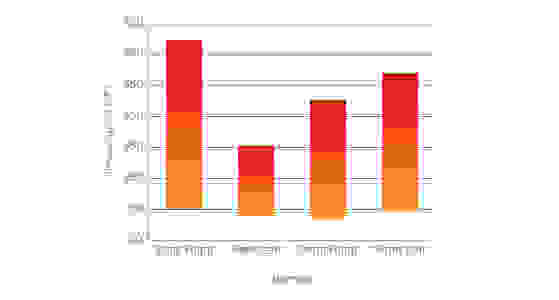 Though the 's boiling power was just as good as any induction out there (four burners that can boil six cups of water under five minutes), the low-temperature performance—while still good—wasn't quite on par with the other induction ranges. The front right and rear left burners got down to 115°F and 127°F—which is great—but the others could only get 141°F and 152°F. It's hardly a big deal, but performance specification nuts might care, though you probably shouldn't. The upper temperature range will satisfy any searing needs, with the most powerful elements producing temperatures from 503°F to 698°F in our test pans.
Rangetop
Samsung's take on induction doesn't sacrifice power.
The sprinted to the boil (the largest burner even notified us with "Boil Alert!") in every rangetop position, exhibiting that induction power we know and love. The temperature range hit high on the mercury for searing but the rear right and front left burners had trouble with low temps.
Two of the elements—the front right and rear left—had no trouble keeping pots under 130°F. While this induction rangetop doesn't hit the 100°F lows of some competitors, chefs will appreciate virtually lag-less temperature adjustments, one of the finest aspects of induction.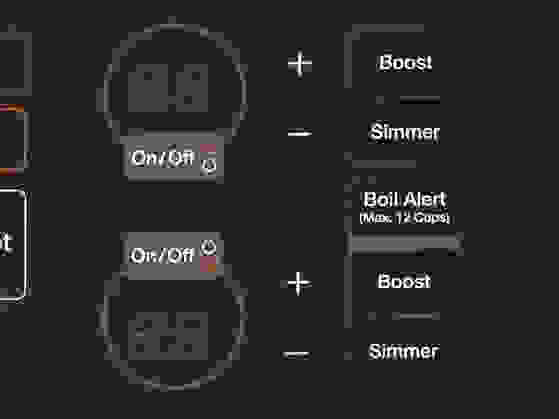 Oven, Broiler, & Convection
A good-enough oven is saved by a fantastic convection mode.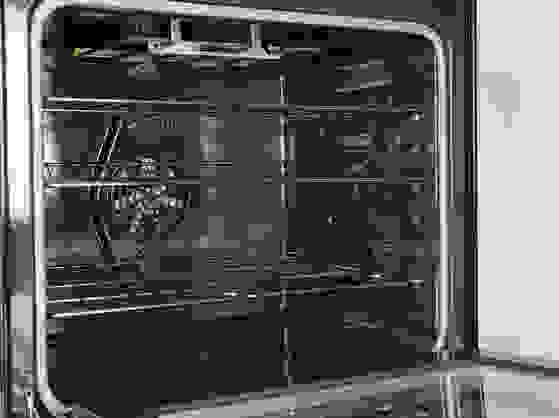 Pretty much every induction range has incredible cooktop performance, so it's the oven that separates the wheat from the chaff. Though it certainly has room for improvement, the is pretty near the cream of the crop. With convection turned on, the oven had no problem hitting 350°F and staying there with little variation in temperature.
Without convection, the oven ran cool on most settings—but we've seen many others that were far worse. The oven preheated to 350°F in around ten and a half minutes, which isn't terribly slow, but it's another indication of a lack of overall oven power. The broiler had no problem flexing its proverbial muscles.
Broiler Performance
While only a 6-pass broiler, it preheated to 600°F in just 4.5 minutes. Make sure to leave the door ajar so your food cooks via radiation. If you wanted to bake, you'd use the oven setting.
Conclusion
It's not exactly cheap, but for the performance it offers, it's an induction bargain.
With is mixture of unique features and strong performance alone, this range would have received our approval. But its position on the lower end of the induction range price spectrum secures our praise. Induction ranges tend to be expensive enough, and an induction range that comes partnered with a competent oven is often even more expensive. If the market starts producing more ranges like this one, expect to see more kitchens that feature induction.
Up next
Get Reviewed email alerts.
Sign up for our newsletter to get real advice from real experts.