Ovens
Whirlpool WCG97US6HS Gas Cooktop
Whirlpool cooktop that may leave you feeling burned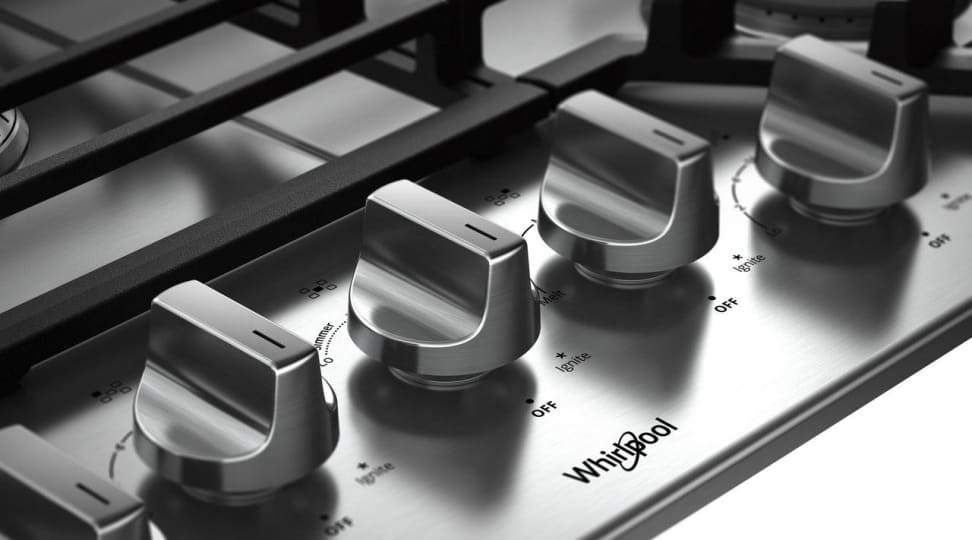 Credit: Whirlpool
A drop-in gas cooktop is one of the sure-fire ways to add a touch of sophistication to any kitchen. The continuous grates, strong lines, and gorgeous knobs on the Whirlpool WCG97US6HS (available at Home Depot for $1,079.10) only make it that much more attractive. If only the cooking performance and build quality matched the potential. Sadly, however, they don't.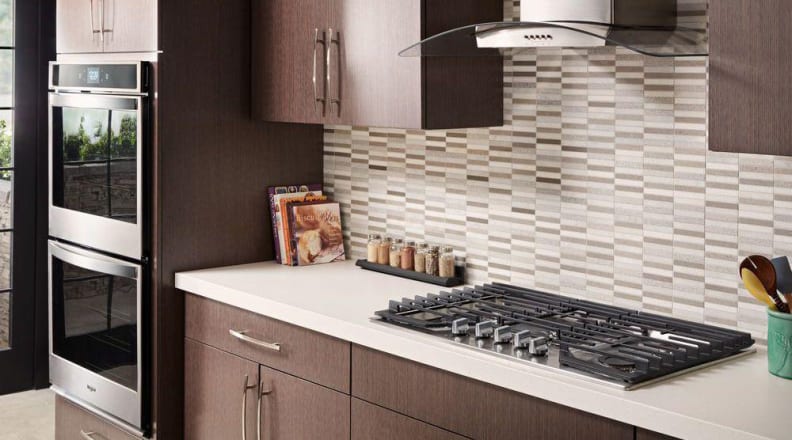 Pros
Beautiful, contemporary design
User-friendly. No complicated buttons or settings
Big enough cooking surface to accommodate a wide variety of pots and pans
Grates are on hinges for easy cleaning
Cons
Minimum and maximum temperatures are both disappointing. Can't get a good sear or a low simmer.
Grates are too tall and too far away from burners
User reviews cite that surface is easy to scratch and that burner knobs are cheap
Features
EZ-2-Lift Hinged Cast-Iron Grate — Cleaning under the grates is one of the more onerous housecleaning tasks, which is why it usually happens so infrequently. This Whirlpool design has a hinge on the back so you can just tip it up and clean underneath.
Included Griddle — The WCG97US6HS comes packed with a griddle that fits perfectly onto the grates. Just the thing for pancake night.
Full-width Grates — The continuous surface of the cooktop is what gives the WCG97US6HS part of its clean, modern look.
What we found
TIME TO BOIL 48 OUNCES OF WATER
The fastest and most powerful burner got the job done in about 4.5 minutes, which is average for a gas cooktop. But the remaining burners did quite poorly, with an average boil time of about 12-13 minutes.
MAXIMUM TEMPERATURE REACHED ON BURNER
Perhaps because the grates are so high and far away from the burner, the max temperature could only hit 410ºF, well below the average gas cooktop performance of high 500s.
MINIMUM TEMPERATURE REACHED ON BURNER
The right rear burner produced a minimum of 155ºF, which is not nearly low enough. But the average simmer for the other burners was over 200ºF. At that temperature, you'll be scorching your soups, butter, caramels, and other delicate concoctions.
Should you buy it?
No. Unless you just want a cooktop to look pretty, you can do a lot better than the Whirlpool WCG97US6HS. The burners are somehow too weak for searing and too powerful for simmering. It's the worst of both worlds. Combine that with multiple user reviews citing poor build quality and you've got a recipe for buyer's remorse.
While it's been a while since we tested one, we would generally recommend checking out a Bosch gas cooktop as an alternative. They're reliable and you can count on an equally good Bosch wall oven to match it. And if your budget permits, the Thermador cooktop & wall oven combos are some of the best in show.
Up next
Get Reviewed email alerts.
Sign up for our newsletter to get real advice from real experts.