Ovens
Whirlpool WFE525C0BS Electric Range Review
From performance to price, this range is all right.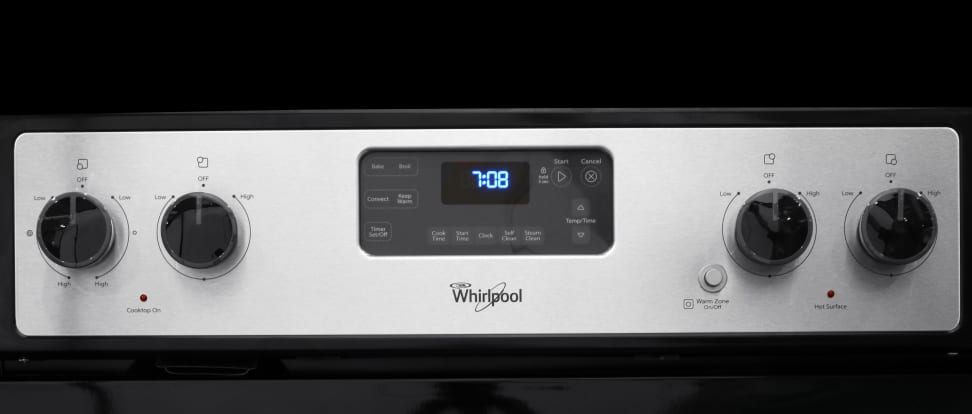 Credit:
Something smells good, and it's not the cookies we just baked in our oven tests. What you're smelling is the sweet scent of a bargain. The Whirlpool WFE525C0BS (MSRP $849) includes an outstanding rangetop and a solid oven, and its sale price falls around $715. Not a bad deal at all, we say.
Simple functions and simple design make it a great choice for those who don't need a stove to teach them how to cook, and any faults are minor ones. We'd recommend this range to anyone who wants to get dinner on the table.
From the Lab
We put the Whirlpool WFE525C0BS through a series of rigorous, standardized tests. It did well in some areas and poorly in others.
Oven & Broiler Performance
The most telling part of our oven testing is the real world baking tests that we perform to see how the ovens handle actual food. In our cookie tests, we bake sugar cookies in the oven and then measure the difference in browning between the cookie tops and bottoms, as well as the difference in browning from one cookie to another. In our cake tests, we take similar measurements as we do in our cookie tests, while also noting the degree to which different spots in the same cake vary in doneness.
The cakes we baked in the WFE525C0BS's oven using the convection setting emerged somewhat even, but not perfectly so. However, both cakes we baked had the same small problems as one another, which earned the oven a high score for the cake test.
Cookies were, frankly, extremely problematic. Not even slightly even, with burnt bottoms and pale tops, they varied from cookie to cookie almost as much as they varied from top to bottom. You'll want to watch small items very carefully during baking, perhaps even turning the pan 180° halfway through baking. We'd also recommend that you use the higher oven racks for baking if you don't want the bottoms to be darker due to the increased radiant heat emitted by the oven floor.
The convection setting that we used for our baking tests was pretty unimpressive, which might explain the decent-to-bad results of our cake and cookie tests. The temperature varied wildly from 335°F to 377°F, and averaged 362°F. This was very disappointing, because it indicates that the convection fan, meant to increase the cavity's airflow to make for more even heat, did not effectively do so.
The 350°F and 170°F tests had better results, so you may want to try baking on the normal oven settings instead. The 350°F setting reached as high as 365°F and as low as 323°F, while the Keep Warm setting averaged 193°F, 23°F away from the set temperature of 170°F.
The preheat for the 350°F setting was quick enough, only slightly over ten minutes. The broiler made us wait longer than we'd like while it heated up to 606°F — more than seven minutes.
Design & Usability
Ordinary design for everyday cooking
What we have here is an ordinary, everyday range for folks who just want to cook food. There's nothing fancy, nothing highly stylized, and nothing fussy.
However, this range may still have enough style to boost your home's resale value. The stainless steel body with black accents and a black electric rangetop is a clean, transitional design that should effortlessly match the decor of most kitchens. A 5.3-cubic-foot oven is far from the most spacious we've tested, but you could do a lot worse.
The rangetop offers a handful of burner options on which to rest your pots and pans. Two regular burners, one dual-ring burner, a simmer burner, and a central warming zone round out the team. The burners are controlled by knobs located on the backsplash. While that's common for electric ranges at this price point, just be careful reaching over steaming pots to adjust the temperature.
The oven controls are very basic, but we appreciate the added specificity the digital controls give to the temperature selection process. All the standard oven settings are at your fingertips, from Bake to Broil to Convection, along with a traditional Self-Clean cycle and the option to Steam Clean. A storage drawer at the base offers additional space in which to stow your bakeware, a boon in small kitchens.
Rangetop Performance
Rangetop performance is where the WFE525C0BS really shone.
In our boiling test, the burners boiled six cups of water in as little as 3:56 and as high as 21:00, with two burners coming in under the six-minute mark. The slowest burner was a simmer burner, and therefore we wouldn't recommend using it for boiling anyway. The next-slowest boiler only took a respectable 13:35.
Maximum temperatures were very hot overall, with two burners hitting above 715°F, and only one burner dipping below 500°F.
Low temperatures were also impressive, ranging from 93°F to 108°F. The bottom line? You could simmer a pot on any burner, no sweat.
Rangetop
A rangetop fit for all kinds of cooking
This rangetop blew us away. We see a lot of great rangetops come through the labs, but when one with a sub-$800 sale price performs so impressively in our tests, we can't help but feel excited. The two front burners raced to the finish line in our boiling test, each boiling six cups of water in less than six minutes.
The right-rear simmer burner—despite its name—actually fared about as well as the other burners when it came to low temperatures. While we found that other burners dropped as low as 93ºF, the simmer burner was actually the third-lowest of the ones we tested. It's lucky that the other burners could pick up the slack.
Maximum temperatures were scorching, ranging from 544°F to 725°F with the exclusion of the less-hot simmer burner. Steak-lovers, sear meat on three burners at once if you so desire!
Oven, Broiler, & Convection
Does right by the basics
The oven didn't quite match the superior performance of the rangetop, but it's not bad at all.
The cakes that we cooked in the oven were evenly baked regardless of where they lay in the cavity. Cookies, on the other hand, were a mess. Burnt bottoms and light tops signaled that radiant heat was higher on the oven floor than anywhere else, and the cookies did not mirror one another when it came to doneness.
Looking at the temperature data we gathered, it's easy to see why: Our 350°F test saw temperatures sticking close to the target temp, but those temps definitely varied over time. Turning on convection didn't help things at all.
In our test of the Keep Warm setting, temperatures were consistently higher than our 170°F target temperature. While that's clearly not perfect, it's easy enough to remedy by setting the oven a bit lower.
The oven did earn a good score for the speed of its preheat, but the time the broiler required in order to reach its high temperature earned it a score best described as so-so.
Conclusion
-->
High performance, low price, and almost everything nice
This is a solid range, and it's a bargain.
Sure, it's not perfect, but when you're looking at a range that combines a stainless steel exterior, solid performance, and an MSRP of $849, it's hard to be negative. If you can overlook a few fairly minor flaws and don't need any sort of fancy settings or visual pizzazz, this range just might be right for your kitchen.
Up next
Get Reviewed email alerts.
Sign up for our newsletter to get real advice from real experts.