The Best French Door Refrigerators Under $1,500 of 2019
By Cindy Bailen, January 17, 2019, Updated February 19, 2019
French door refrigerators give your kitchen a designer look, and they're also really convenient. Classy French door models, with their handsome double doors and bottom drawer freezers, keep more of your fresh food close to your eye level, and the freezer has room to store large frozen pizzas and sheet pans. That alone gives these fridges lots of cred compared with side-by-side refrigerators.
If you know that a French door refrigerator would elevate your kitchen, but worry that it would cost you an arm and a leg, let us reassure you. There are a number of French door fridges that look great, keep your food appropriately cold, and are priced in the $1,500 range.
We've tested all the most popular French door refrigerators on the market today, looking at a number of factors, including how fresh they keep your fruits and veggies in the crispers, and how well they protect your frozen foods from freezer burn. Our exhaustive tests account for capacity, ease of use, and energy efficiency, too. That's how we can assure you that our top picks will work well for you.
Before you purchase any refrigerator do your research. Good looks aren't everything. Luckily, we have your back, so if you want to hear what we have to say about eight well-priced French door refrigerators, read on.
After extensive testing, we recommend the sleek Samsung RF260BEAESR (available at AppliancesConnection for $1,294.70). You'll often see rebates offered for this model across retailers that bring it right into the price range.
It's chock full of design features that include a bright LED lighting scheme, a digital thermostat, smooth-sliding crispers, and a deli drawer with separate temperature control. As we discovered in our tests, this refrigerator preserves food very well, too. For all these reasons, we conclude that it's your best choice in a $1,500 French door fridge.
These are the best French door refrigerators under $1,500 we tested, ranked in order:
Samsung RF260BEAESR
Haier HRF15N3AGS
GE GNE25JMKES
Haier HRQ16N3BGS
Kenmore 73025
Kenmore 70343
Frigidaire FFHB2750TS
Frigidaire FFHD2250TS
Updated February 19, 2019
Advertisement - Continue Reading Below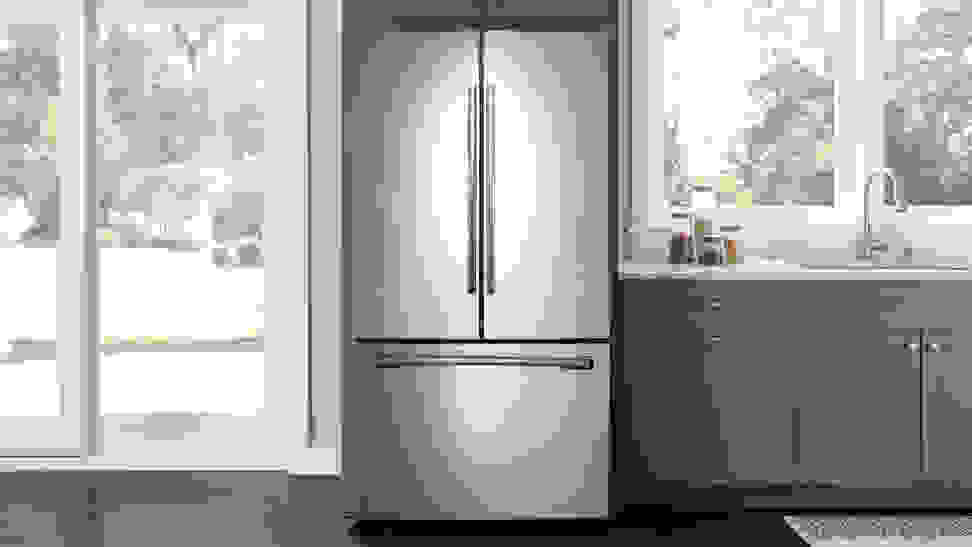 How We Test
I'm Cindy Bailen, Reviewed's Senior Staff Writer for major appliances and home design. I'm seriously obsessed with appliances and the daily miracles they perform for us. For over a decade, I've written about appliances and their impact on the kitchen, bathroom, and laundry room design. Here at Reviewed, I collaborate with our hard-working lab technicians. As we test hundreds of fridges, I score the aesthetic and organization-related properties. We base our recommendations to our readers on the data we collect over the course of testing: performance info, features, and ease of use.
Performance
To ensure that each refrigerator can perform to the best of its ability, we test each fridge in a special lab where we maintain tight controls on both the temperature (72°F +/- 5°F) and the humidity (50% RH +/- 15% RH). These values represent the air conditions you'd find in a typical household.
Once a refrigerator makes its way into our fridge lab, we let each fridge run for about a week. In that week we gather the following data:
Temperature—Can the refrigerator maintain a temperature at or below 37°F? Can the freezer maintain a temperature at or below 0°F? How much does the temperature in the fridge and the freezer vary over time?
Humidity—How fast will the fruits and veggies in the crisper drawer lose their moisture?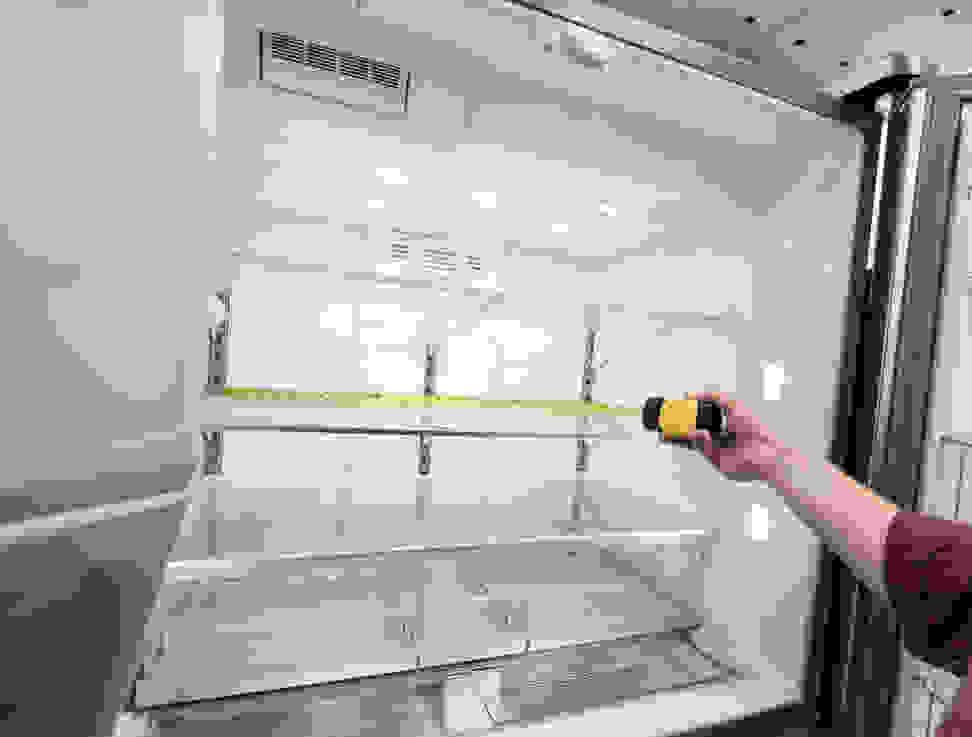 Storage space—How much of the space in the fridge is actually available to store food and beverages? How do those numbers compare to the capacity values stated by the manufacturer?
Freezing time—Once it's plugged in, how long does it take for the freezer to get down to 32°F (the freezing temperature of water)?
Energy use—How much electricity does the fridge use in the course of the week? The best refrigerators can maintain fridge temperatures at or below 37°F, freezer temperatures at or below 0°F, have low humidity loss rates, usable storage space close to the specs reported by the manufacturer, fast freezing times, and low energy usage.
Features/Ease of use
While it's true that your refrigerator is not the most tricked-out appliance in your home, there are still a number of features to consider; namely, the ice and water dispensers, and adjustable shelving or special (for example, door-in-door) storage options. In addition to determining how useful those features are, we also use each fridge in a more casual context to determine how easy it is to use. Are the controls intuitive? How easy is it to actually open and close the fridge's doors? If you spilled something in the fridge, how easy would it be to clean it up?
By combining our answers to these questions with the conclusions we've drawn from the performance testing, we can provide our readers with the key information they will need to make a decision about whether any given fridge fits both their budget and their food preserving needs.
---
Other French Door Refrigerators We Tested:
Other Articles You Might Enjoy
• The Best French Door Refrigerators Under $2,000
Advertisement - Continue Reading Below