Refrigerators
GE's Hot Water Fridge Gets a Warm Reception
Hot enough to swoon over.
Credit:
After much anticipation, we finally had a chance to get our hands on the GE Café CFE29TSDSS (MSRP $3,099) hot water fridge, the world's first fridge to dispense both hot and cold water. Not only this is a great fridge, GE's new hot water dispensing system is simple and effective.
When the CFE29TSDSS was announced this spring, we made sure to get you all the information we could. We've spent some time with it, making instant soup and drinking tea, to let you know whether the hot water fridge is right for you. Here's what you need to know.
Safety first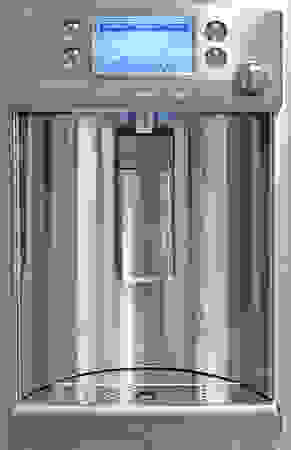 The process of getting hot water out of this GE is a bit more involved compared with using the cold spout: you don't just push a paddle and —presto!—out comes the water. Instead, you have to select the hot water function and turn the corresponding knob, which fills the internal hot water tank. The extra involvement means GE has built in an effective safeguard against accidental burns.
From there, you get to choose just how hot your want your water to be. The GE comes with four preset options designed for soup, tea, cocoa, or warm water, but you don't have to stick with those. A customizable option lets you adjust the water to whatever temperature you want between 90ºF and 185ºF. Once that's done, the tank heats up the water, which takes between two and six minutes depending on the temperature. The fridge emits a pleasant little chime to notify you when the water is ready, at which point you simply turn the knob and—presto!—out comes the water. It's about as fast as an an electric kettle but easier. It also saves valuable counter space, and the water is prefiltered.
Tea for two will take awhile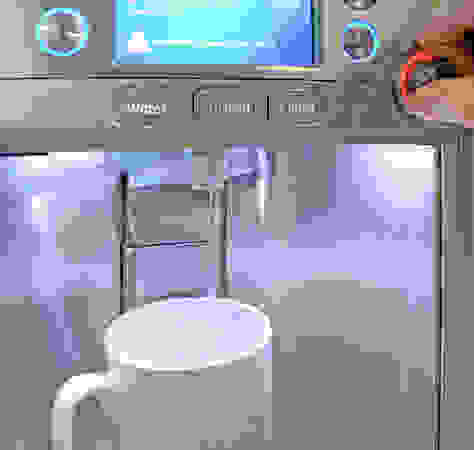 The only downside is that you can't get unlimited amounts of hot water: You're limited to a max of 10 ounces. That's perfect for a warm drink—our mugs could fit 10 ounces exactly—but if you want to get a full kettle's worth of hot water to make two cups of tea, you have to go through the whole process of selecting your temperature, letting it heat, and then dispensing it again. Fortunately, immediately subsequent heatings are much shorter: The first time we made a cuppa, it took five minutes for the water to heat up to the 170ºF tea setting, but it only took one minute to heat again for a second cup.
While the whole process may not be much faster than a regular kettle, the overall interaction is simpler and more precise. There's less risk of spilling since you're not pouring hot water at an angle, and anyone who's ever owned a kettle with a broken whistle will appreciate having the guesswork taken out of when exactly the water's boiling. We'd have liked the ability to pour more than 10 ounces at a time, but it's a small price to pay for such an intuitive and handy little system. As a bonus, the interactive controls even provide a tutorial video for the hot water dispenser in case you need an extra hand to figure it all out. You likely won't.
More than just a novelty
GE's new hot water fridge isn't going to stop global warming or bring about world peace, but it's certainly one of most useful fridge innovations we've come across. It's more than just a novelty, too. It's easier to use than a kettle, more precise than a measuring cup, and takes up less space than any alternative. What's more, the whole fridge turned out to be pretty awesome. Be sure to check out the full review of this exciting (and surprisingly affordable) appliance here.