I'm marrying my best friend next year and I couldn't be more excited. You know what's super cool? We're getting hitched at a haunted hotel, which is perfect for someone like me because I love the creepy stuff. The spookier the better, am I right? I'm looking forward to putting on the dress (it's stunning), but I dread wearing high heels. I have a low pain threshold and I'd rather be comfortable than a few inches taller. Besides, who wants aching feet on their wedding day? Though most people ditch their footwear when they hit the dance floor, sometimes flip-flop sandals just don't cut it.
Italia Ricci, the actress from ABC's hit show Designated Survivor, recently posted an Instagram picture of herself using a shoe vending machine at her wedding:
I absolutely love the idea of a machine that dispenses ballet shoes. Heck, I might even look into getting one for my own wedding. I could see these vending machines taking the wedding world by storm. Unable to control my curiosity, I reached out to the company behind these machines.
Flat Out of Heels, the company behind this clever product, will be launching new vending machines in 2017 with SolutionsVending.com. According to Dawn Dickson, the CEO, they're not currently offering their vending machines for weddings, but they do "sell shoes to brides at a discounted rate." You'll likely see their vending machines pop up in places like nightclubs, airports, concert venues, and more. In other words, they're installing these machines in areas where people might be strutting about in heels. If you're near Miami, you can check out one of their vending machines inside the LIV Night Club.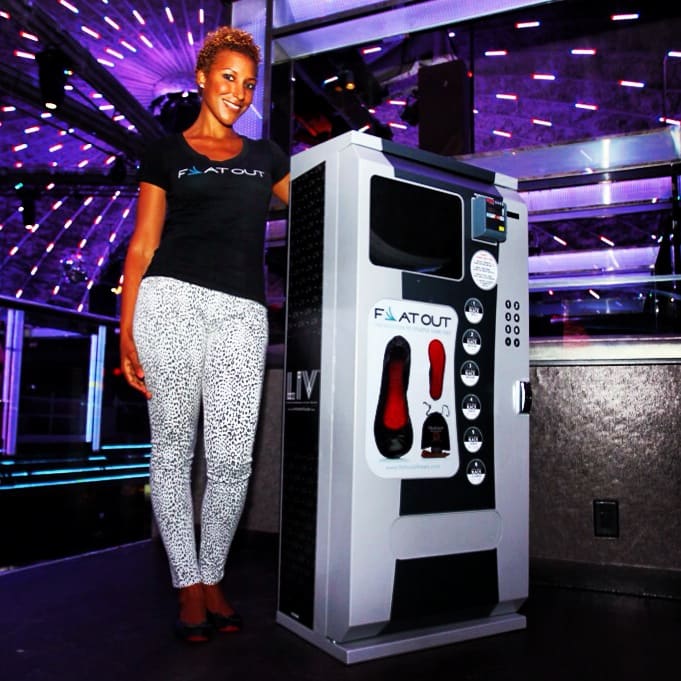 There's not much information out yet, but I'm looking forward to trying out one of these vending machines at some point. I definitely prefer flats or moccasins over high heels because they feel more like slippers. Do I think these vending machines will be a brand new wedding trend? It's very likely. In the meantime, I guess I'll just peruse the company's website for adorable flats!