As if 2016 didn't bring enough harbingers of the planet's inevitable demise, we've now got an army of hyperintelligent washing machines to deal with.
LG announced that its newest series of home appliances will rely on "deep learning" to watch their owners and adapt to their habits over time. In other words? Get ready for a UN General Assembly comprised entirely of products you can buy with your Sears card.
According to a statement from the Korean electronics giant, the process of deep learning "never ends and improves over time to provide customers with new solutions to everyday problems." What could possibly go wrong?
Well, let's start with robot vacuums. Whereas the Roombas and Neatos currently on the market are designed to respond to the commands of their owners, the newest LG robot vac turns that whole power dynamic around.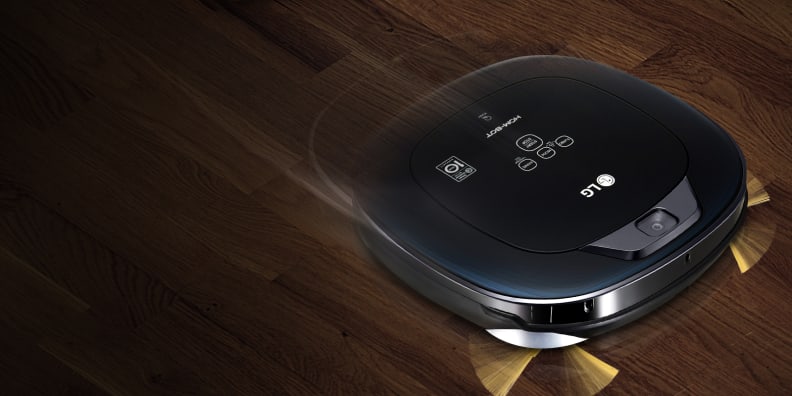 If a person gets in the way of cleaning, LG says that its upcoming robot will "ask the obstructing person to kindly move out of the way." And it will be able to tell that you're a human thanks to a database of images it creates to "memorize" obstacles in a room.
The same software that helps the robot tell the difference between your daughter and a sofa can also keep it from getting stuck on electrical cords. By 2026, though, it may have learned that you're the reason your house is always dirty—and there's no telling what kind of cleaning might happen then.
Other implementations seem a bit more benign.
According to LG, its newest smart refrigerator can observe and analyze "usage and eating patterns," and then predict future behavior based on past events. For instance, if you always have a beer after work, it can learn to cool down your brewskis—and slowly learn to resent how humans get to relax even though the refrigerators of the world are called on to work 24/7.
In the laundry room, LG's new intelligent washing machine can't check out what kinds of stains are on your clothes (yet), but it will know how hard your water is and how polluted the air is—and then adjust wash cycles accordingly.
And, taking the idea of a Nest learning thermostat to the next level, LG's upcoming smart air conditioner can learn when people use which rooms, and adapt cooling accordingly. That might come in handy after the ruling junta of refrigerators enacts an 8PM curfew sometime in late 2019.
LG promises that the data the machines collect will maintain the user's security and privacy. There's no reason to doubt that promise—at least, until the smart air conditioners who take over the psychology department at Stanford decide to run some… experiments.
The deep learning appliances debut to the public at CES 2017 in January. Until then, enjoy your final days of freedom before the machines take over.