The KitchenAid Stand Mixer, one of the most iconic product designs in today's kitchens, is receiving a makeover.
At the International Home + Housewares Show in Chicago, KitchenAid is showing off a smaller version of its classic stand mixer—perfect for those of us with compact kitchens.
The company says the move is the first downsizing of its stand mixer since 1962, though all of KitchenAid's existing models will continue to be produced.
The new model, dubbed the Artisan Mini Stand Mixer, has a 3.5-quart bowl capacity, down from 4.5 quarts in the next-largest model. KitchenAid says the new model is 20 percent smaller and 25 percent lighter, yet still large enough to mix and knead ingredients for up to five dozen cookies or a loaf of bread.
Best of all, the Mini tops out at 12.3 inches, almost 2 inches shorter than other Artisan models.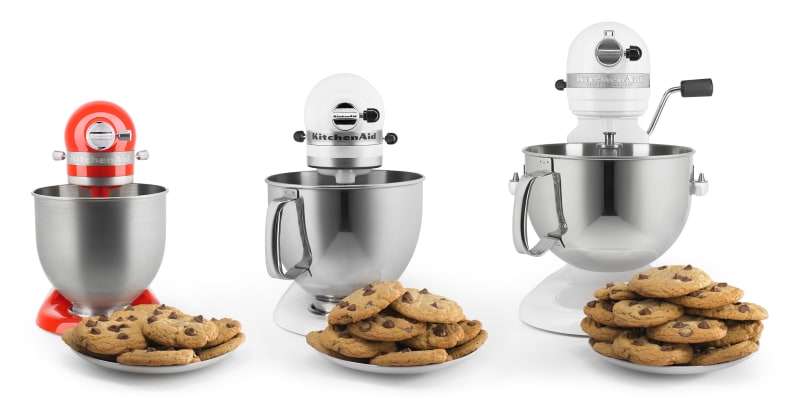 While hand mixers are adequate for most tasks, a stand mixer is ideal for heavy-duty mixing—especially for pastas and bread dough. The downside of stand mixers (for the occasional baker) is that they're heavy (typically about 25 pounds) and large. And at $350 and up for the cheapest KitchenAid models, they're an investment in both counter space and cash.
Nevertheless, KitchenAid's timeless styling and bouquet of colors have made its mixer a status symbol of sorts for home chefs. Shaving a couple inches off its height means the Mini can now go where earlier models couldn't—namely, under low-hanging cabinets.
The smaller size doesn't come with many other tradeoffs. Like all other Artisan-series mixers, the Mini offers 325 watts of horsepower for heavy-duty work. Better still, it will be compatible with all of KitchenAid's optional attachments, from sausage and pasta makers to slicers and juicers.
One thing that won't be much smaller is the price. The MSRP for the Artisan Mini Stand Mixer will be $399.99, down from $429.99 for the next larger model. KitchenAid says it will be available beginning in June 2016.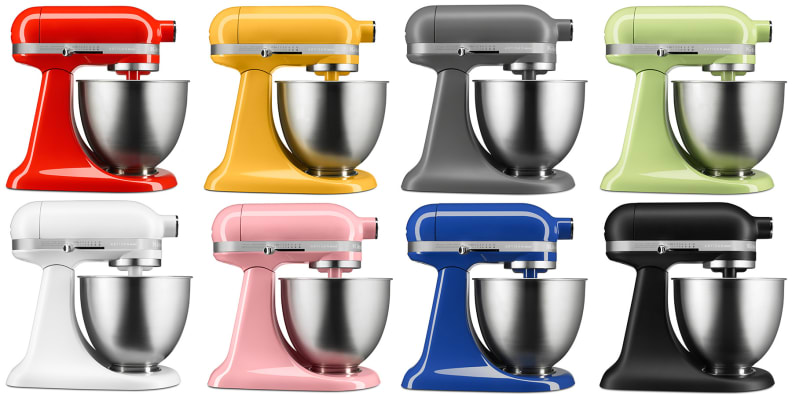 KitchenAid also took the opportunity to announce other additions to its stand mixer line, including a textured ceramic bowl and upgrades to the spiralizer, pasta press, and pasta roller and cutter attachments. To top things off, six new colors and finishes will be joining the company's lineup this summer, including "Hot Sauce," a fiery red that will be one of 10 colors offered for the Artisan Mini Stand Mixer.