Smart Home
The Best Smart Outdoor Security Cameras
Want to keep your home and family safe? Look no further than these smart sentinels.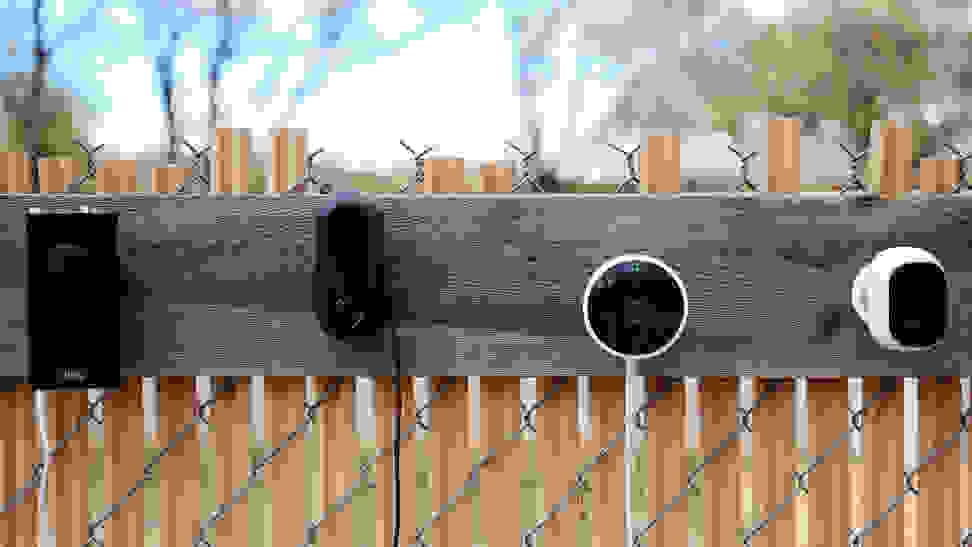 Credit: Reviewed.com / Ben Keough
Smart outdoor security cameras and smart locks are quick ways to get some peace of mind regarding your home's security. "Dumb" security cameras have been watching you and recording your every move at shops, movie theaters, and public parks for years, but home security systems have come a long way in the recent past. Outdoor security cameras have improved considerably with better image quality, smarter video analytics, and even the ability to distinguish a stranger from the neighbor kid selling popcorn for the school fundraiser. After extensive testing, we'd recommend the Nest Cam Outdoor (available at Amazon for $168.95) as the best outdoor security camera.
Like many other electronic devices, today's outdoor security cameras are smarter than their ancestors. Tied to the cloud, they can send alerts to your phone the moment someone approaches your door, or tip you off when they spot suspicious activity in your yard. Many also function as two-way communicators, letting you talk to visitors, tell solicitors to buzz off, or scare away other, even more unwanted "guests."
The only downside to their cloud ties is that most models require you to pay a monthly fee to store recordings for later viewing. But since they can send alerts and live feeds to smartphones in an instant, these cameras can often negate the need for recordings.
Regardless, not all security cameras are smart enough to keep you and your family safe from harm. To make sure you're covered like you should be, we installed eight of the most popular cloud-connected home security cameras to see what they could see.
These are the best smart outdoor security cameras we tested ranked, in order:
Nest Cam Outdoor
Arlo Pro
Toucan Surveillance Kit
Ring Spotlight Cam Battery
Zmodo Wireless Camera
Canary Flex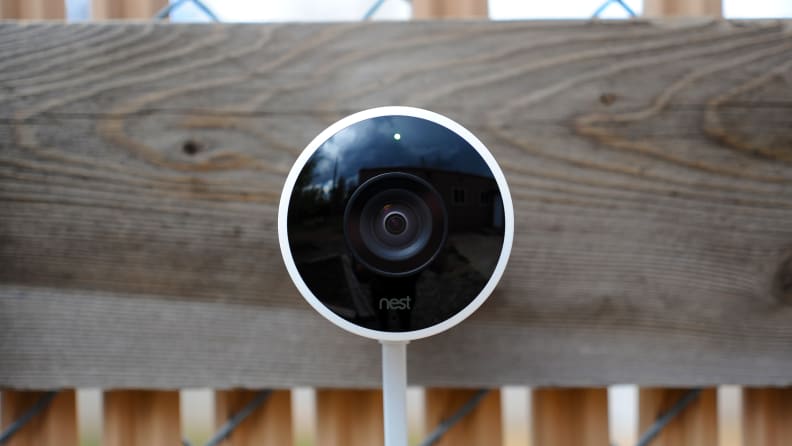 Best Overall
Nest Cam Outdoor
As long as you don't mind it being tethered to a power outlet, the Nest Cam Outdoor is the best smart outdoor security camera you can buy. It's easy to install since all you need to do is plug it into a nearby electrical outlet. That said, it's definitely a case of getting what you pay for because the Nest Cam Outdoor is also one of the most expensive options we tested. A subscription to the awesome Nest Aware cloud storage service will cost you anywhere from $5 to $30 a month, per camera, depending on how many days of storage you want. Additional Nest Cams can be added to the subscription at a discounted price. Google plans to roll out a more affordable Nest Aware subscription in early 2020.
Nest Aware totally makes this camera. It adds tons of super useful features, including notifications that differentiate between people and pets; customizable motion detection activity zones that prevent areas with frequent, benign motion from triggering alerts; and the ability to create clips that you can share with family, friends, or law enforcement. Coolest of all, it adds a video history feature that records to the cloud 24/7. With a fast enough connection, you can scrub through the remote footage like it's on a local DVR. It's absolutely magical.
Nest's app is also the most user-friendly and functional of all those we tested. Streaming starts up quickly, navigation is fluid and natural, and the settings menu is broken up into sections that actually make sense. The video itself is the highest quality you can get from a smart security camera system, with 1080p video recording and excellent night vision.
Pros
User-friendly app

Customizable activity zones

Create, save, and share video clips
Cons
Above-average subscription plan cost

Plugs into an outlet
Best Value
Netgear Arlo Pro
The Netgear Arlo Pro's initial cost is a little higher than many of the others we tested, so how can it possibly be the best value?
Because unlike the other options, it includes all of its software and cloud backup features for free.
Yep, where Nest charges $50-$100 per year for its Nest Aware subscription service, the Arlo Pro includes a rolling seven-days' worth of cloud storage at no additional cost. Sure, you can pay for a subscription, but all that does is extend video backups to 30 or 60 days. It doesn't unlock any otherwise hidden features. In other words, if all you need is seven days of video history, the Arlo Pro will only cost you $250, all-in. And if you'd like to expand your security camera setup, add-on Arlo cams are pretty affordable.
The Arlo Pro's video quality is just a touch behind Nest's in broad daylight, and it lags a bit further behind in night vision. The cameras pair to the included base station, which gives them an exceptionally reliable connection, but the base station needs to stay plugged into power and connected to your router with an Ethernet cable, which limits where you can put it. The base station also includes an incredibly loud siren, in case you need to scare off an intruder.
Other pluses include the wire free home security camera's phenomenally long-lived rechargeable battery and a freely adjustable magnetic mount. The Arlo app is perfectly functional, but its method of storing events in a calendar format is less intuitive than Nest Aware's 24/7 scrollable timeline.
Pros
Free software and cloud backup

Long battery life

Very reliable connection
How We Tested
The Tester
Hi, I'm Susie Ochs. For several years, I've tested and reviewed tech products for Reviewed, as well as Macworld, TechHive, PCWorld, Tom's Guide, and MacLife.
The Tests
To find the best smart outdoor security cameras, we originally researched the market and purchased and tested eight cameras from the top brands. After a few new options emerged on the market and some older models were discontinued, I retested our winners and pitted them against four new cameras to see if any new contenders could oust the current winners.
I installed each around my house, making notes about the installation procedures, in-app setup process, and reliability. Testing included several days of regular use, evaluating video quality, audio quality, responsiveness, and network reliability, and app usability on a numerical scale.
A big trick with security cameras is getting the notifications dialed in, so you're alerted to the things you want to know about without being bombarded with notifications every time a bird flies by. So I tested the sensitivity controls for each camera, if they support motion zones, and how quickly they alerted me to people and noise.
I also installed the mobile apps on both an iPhone X and a Galaxy Note 8 to determine if the app experience was identical across platforms, and I tested how quickly each app began the live stream.
---
Other Smart Outdoor Security Cameras We Tested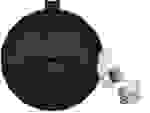 Kuna Toucan Surveillance Kit
If you want your security cam to function as a doorbell, the Toucan Outdoor Security Camera is our top pick (though there are plenty of amazing smart video doorbells that cost less and may function better. Designed to be positioned just below a porch light, it uses 3M adhesive to stick to the wall of your house and is cleverly powered by a USB cable that plugs into a hub, which itself screws into the light socket. Trust us, it may sound complicated, but it's really painless and intuitive to set up.
Once it's up and running, the Toucan works much like the other cameras we tested. It offers 720p HD video with live streaming, two-way audio, and a 100dBa siren. When something more subtle is called for, you can choose from an array of stock phrases (like "Sorry, not interested!") that play through the camera's built-in speaker. Since the camera is powered via the light socket, you can also use the app to manually turn the light on and off, set a schedule to automatically toggle it, or set it to turn on when the motion sensor is triggered.
Unfortunately, the light bulb above the camera tends to attract flying insects, which can trigger false movement notifications at even the lowest sensitivity settings. And while Toucan's $4.99 per month subscription plan is among the cheapest we've seen, it's also only good for seven days of recording. If you want 14 or 30 days, it's going to cost you as much as the vastly superior Nest Aware service. Image quality is fine in daylight, but you can't really see anything at night, and WiFi performance is only so-so.
Pros
720p HD live-streaming

Two-way audio
Ring Spotlight Cam Battery
Ring's Spotlight Cam is for people who want their outdoor camera to put the emphasis on security and want to integrate with other Ring products. It's got a motion-sensitive light that can let passersby know they're being watched, as well as help you find your way from the car to the front door at night. The built-in siren is plenty loud, and the two-way audio was the loudest and clearest of any camera we tested.
Plus, Ring's app includes a Neighbors feature that lets Ring owners in your neighborhood share and comment on each other's footage. The feed even includes news from local sources about crime and police activity. Neighbors is also available as a separate app from Ring, so you can use it on your mobile device even if you don't have a camera.
Ring's app requires two taps to get to the live view, and the settings are disorganized, requiring a little too much tapping around to find all the features. Still, the video quality is great, especially at night thanks to the built-in light, and Ring's community features can tip you off to problems like a rash of car break-ins or package thefts in your area before they affect you. While it doesn't offer free cloud storage, Ring's fees are very reasonable at $3/month or $30/year.
Pros
Motion-activated light

Built-in siren

Two-way audio
Cons
App settings are disorganized
Zmodo 720p Indoor/Outdoor WiFi Camera
Zmodo's 720p Indoor/Outdoor WiFi camera is a steal—but you sacrifice features for the low price.
First of all, this camera has no audio support. It shoots silent videos, and there's no two-way audio or siren to chase away intruders. At 720p, the video is adequate, but its 81-degree field of view is downright bad, whereas its competition ranges from 110 to 140. Setup was clunky too, taking two tries and a lot of waiting for the 2.4GHz camera to connect to my network.
The Zmodo app lets you draw precise motion zones to cut down on unwanted alerts, and you can save alert clips for 36 hours on the free plan, downloading them to your device if you need to save them longer. Cloud plans offer seven days of continuous storage for $5/month or $50/year, the same as a Nest Aware plan.
Pros
Less expensive than similar models
Cons
Lack of features

Difficult setup

Poor video quality
avoid
Canary Flex
On the surface, the Canary Flex has a lot going for it. For instance, both the camera and the Canary app are slickly designed. The former has a stylish, soft-touch black finish and has the friendly, rounded pill shape of a lot of Bluetooth speakers, while the app shares a lot of Apple's design language.
Unfortunately, as a security camera, it has significant shortcomings. For one thing, the battery is supposed to last up to two months, but in our experience, it's highly variable, perhaps due to weak WiFi signal strength. In comparison, the Arlo Pro can go for up to six months on a charge and exhibited no issues during our testing. Worse, several of the Canary Flex's best features simply don't work, and there's a speaker on the camera, but it's not enabled unless you subscribe to Canary's membership for $99 per year. Video quality isn't a strong point, either; it's fine in daylight but truly atrocious at night.
Cons
Poor night vision

Poor battery life

Audio only works with a paid subscription
More Articles You Might Enjoy
The Best Smart Indoor Security Cameras
The Best Smart Water Leak Detectors
The Best Smart In-Wall Switches
The Best Outdoor Smart Plugs
Up next
Get Reviewed email alerts.
Sign up for our newsletter to get real advice from real experts.