Page 3 Overview
Honeycomb? What's this? Are there bees?
Released in 2011 with the launch of the Motorola Xoom on the tails of the wildly popular Gingerbread Android operating system, Honeycomb (Android 3) is the first tablet-oriented OS released by Google to make the most of the new hardware platform available to developers in hopes that it could help support new tablets to compete with the iPad. While Honeycomb didn't exactly catapult the Apple competitors to the desired "market leader" status, it enabled third-party companies who wanted to release their own tablets to the market to out-muscle Apple's tablet with a lower cost of entry to the market, and superior hardware.
Needless to say, this didn't work quite as planned, but this version of Android did allow consumers a much broader range of choice when shopping for tablets, which changed the game for the new market. While this version of software is slowly getting replaced by the newer "Ice Cream Sandwich," most Android tablets on the market today are running some version of Android 3, so let's meet the second major OS in the Android line.
Section 1 Title - Page 3
OS and Controls
Section 1 Text - Page 3
When Honeycomb was released, there was great fanfare from Android fans, because of the great user interface overhaul not only made things a bit sexier on full 720p tablets, but also because the somewhat maligned browser and internet features were well-updated and, well, better.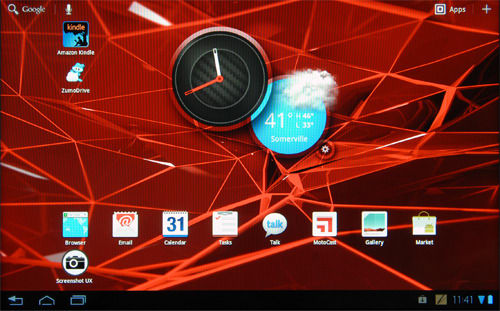 All of the same controls still apply, like pinching to zoom, swiping, and tapping. In fact, most of the main elements of Honeycomb are mainly different in hardware support and design, outside of the browser and internet features. The added capability for the multi-core processors is huge, as it enabled tablets such as the Motorola Xoom to employ dual-core processors (the Asus Transformer Prime even uses a quad-core) to handle a bunch of information at once. Batteries still have a long way to go to catch up, but the computing power of tablets is steadily increasing as their operating systems and hardware allow.
There are the same five home screens, the same app flow list, similar widgets and functions as Gingerbread tablets have, but all are re-done to look far better, and even employ the use of 3D and translucent graphics here and there. Also new is the ability to add widgets to the homescreen, which is probably best left to the 7" and up tablet crowd, as they take a certain amount of system resources and screen area to run properly.
Section 2 Title - Page 3
Music and Video
Section 2 Text - Page 3
This is a huge upgrade from Gingerbread, but it's mostly a formal upgrade, not a functional one. Many of the same features are there, but the most easily noticeable difference is how both the music player and the video player look.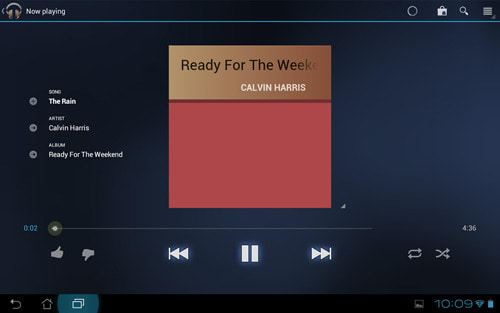 Notice that the boxy, ugly black interface is gone, and instead replaced with a very detailed adaptive background with very attractive options like cover flows, smooth-scrolling lists and cover art. All of your basic functions are laid out well and are very intuitive.
What's probably not as obvious is the fact that Google has merged this music player with its Music application to become something more than just a media player. If you install the program on your home computer, you can actually upload a large portion of your library to Google's servers, and you can stream your music wherever you have a stable connection just by hitting "play" on the track you'd like to listen to.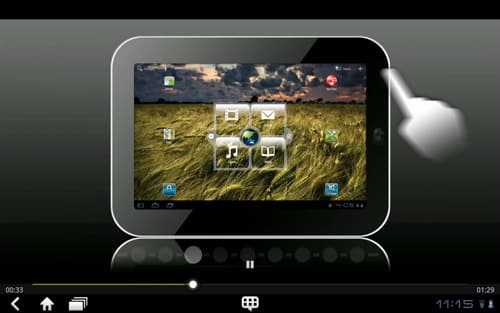 The video player follows the same design principles, though the HUD disappears very quickly so you won't have to look at it for the entire movie, and make the best use of the full screen of the tablet to watch your clip or movie.
Section 3 Title - Page 3
eBooks and Periodicals
Section 3 Text - Page 3
Because tablets with the Android Ice Cream Sandwich operating system mostly have full access to the Play Store, you can pretty much download any eReader interface you'd like to use. Download the Kindle App, the Nook App, the Aldiko app or even use Google's stock eReader app.
Once you've found an app you like, you can read your eBooks, subscribe to auto-updating periodicals, or even share your favorite passages on social media sites from your tablet. Most apps will allow you a natural-feeling interface that takes a tap or swipe to turn the page forward or backwards, and you can most often change the font, font size, and color. You should have a rather rewarding experience with any app, but pay mind to the fact that having a lot of white area on the screen can bleed your battery dry fast if the backlight is cranked.
Section 4 Title - Page 3
Apps and Marketplace
Section 4 Text - Page 3
Tablets running Honeycomb will have access to the Play Store which is rapidly gaining ground on Apple's App Store. In contrast to it's main fruit-branded competitor, Android apps include many independently-made apps to maximize the potential of your tablet's secondary capabilities like bluetooth, accelerometers, and IR blasters with off-label uses and off-the-wall programs. For example, you can even use apps to enable your tablet to use a Wii controller to play games.
If you can't play your media files back due to your tablet not supporting the file, there's codecs and alternate media players for that. Same goes for music and eBooks. There is such a huge wealth of content, applications, and other programs to make your tablet fly, so if you get a chance, check it out. Not all apps are free, but it's nice to support your indie developers, right?
Section 5 Title - Page 3
Internet and Productivity
Section 5 Text - Page 3
Honeycomb and Ice Cream Sandwich have the best browser we've seen in the labs so far, as it's essentially very close to Google's existing Chrome browser. It has a different skin, but you can use many tabs, multiple windows, incognito tabs (that don't save personal data), and bookmarks like you normally would on your computer.
Not only is it very familiar and easy to use, but unlike iOS and many other proprietary systems, it supports flash animations. While it may not be such a huge deal to many people currently, it's still a nice thing to have if you like to browse independent animations.
Productivity software for Android devices varies, but there are several apps that allow you to read and edit documents and spreadsheets on the go available for purchase in the Play Store. Many of the higher-profile tablets will usually have one of these apps pre-installed, but it can never hurt to check ahead of time.
Our editors review and recommend products to help you buy the stuff you need. If you make a purchase by clicking one of our links, we may earn a small share of the revenue. Our picks and opinions are independent from any business incentives.
Sections