Section 1 Title - Page 2
Operating system
Section 1 Text - Page 2
Though Amazon's proprietary operating system is based on Android 2.3, the user interface is very different than what Android users would be used to. On the main screen, there is a toolbar at the top that categorizes all your options in media. From this toolbar you can access all your music, video, documents, apps, browser, and periodicals.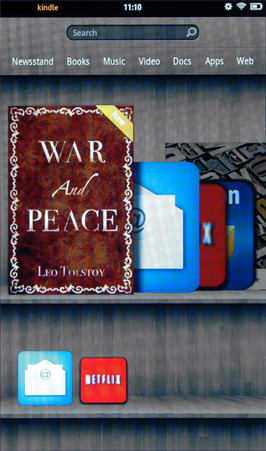 Below that is a flow-list of recently-opened apps that you can flick through, though there is also the ability to view all your apps on a single page if you'd like, or just your favorites on the shelves to the bottom of the screen. With the exception of the home page, and lack of multiple home screens that you can flick through, most of the meat of the Kindle Fire's operating system is very similar to the early versions of Android.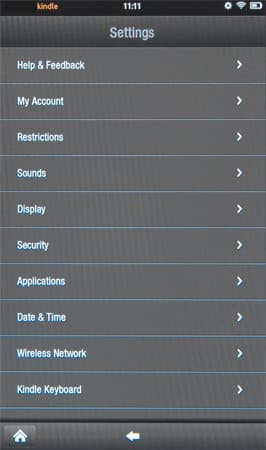 The controls for the Kindle Fire's operating system are virtually identical to that of Android tablets and every iteration of iPad; you tap to click, move screen elements with swipes, pinch to zoom, and hold down for an additional menu. If there's one consistency between all tablets, the controls come the closest.
Section 2 Title - Page 2
App Market
Section 2 Text - Page 2
The application market for the Kindle Fire is anemic compared to those of Android and iOS tablets, falling short of having comparable apps by a longshot. Though Amazon does its best to add as much content as they can, they simply do not have the same support as the two other big kids on the block. In addition, not having a Google-blessed version of Android limits the additional services that Google offers to its authorized devices limits the Kindle Fire.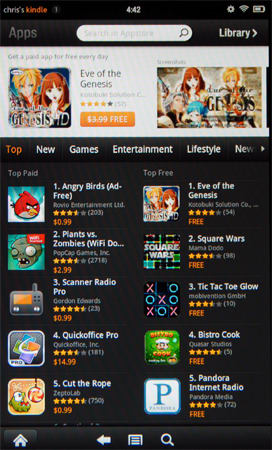 For users looking for nothing more than the standard Netflix app, or a simple range of games and services, the Amazon app market has you covered, right down to having Angry Birds and Dropbox. Also included is support for flash, which is not available for the iPad, but is commonplace with Android tablets.
Section 3 Title - Page 2
Multimedia Features
Section 3 Text - Page 2
Like Android tablets and iPads, the Kindle Fire has access to the Kindle app for reading eBooks, but with the added benefit of being able to use the lending library. Additionally, music and video can be played in a similar fashion to an Android tablet. Users will also be able to make good use of the natively-installed Netflix and Amazon apps to stream video to their devices via WiFi. Each media interface is quite simple, and very easy to figure out at first glance.
Section 4 Title - Page 2
Browser
Section 4 Text - Page 2
The "Silk" web browser on the Kindle Fire is rather standard in appearance, but unlike other browsers used by some other tablets, it uses cloud computing to reportedly "speed up" the whole experience. The main functions of the browser are very similar to Google's Chrome browser: you can open new tabs and windows, bookmark your favorite websites, and load just about any page available to your desktop or laptop at home.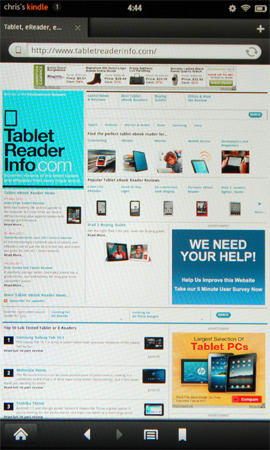 Section 5 Text - Page 2
Our editors review and recommend products to help you buy the stuff you need. If you make a purchase by clicking one of our links, we may earn a small share of the revenue. Our picks and opinions are independent from any business incentives.
Sections