In a press event today, Apple announced its fourth generation iPad, and the iPad Mini. After months of speculation, rumors, and theories, the next generation of iPads is here. Boasting a juiced-up CPU and GPU, the 4th gen iPad reportedly leaves the 3rd gen iPad in the dust in terms of computing performance, though it keeps the same price point ($499) with a spec bump. However, The Mini, on the other hand, is the star of the show.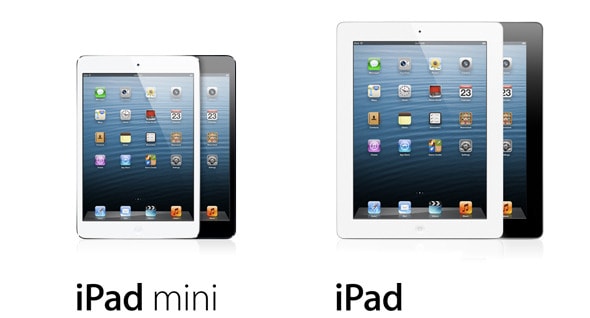 Among other devices announced, the release of the iPad mini adds a 7.9 inch tablet to the iPad arsenal, making slightly bigger than the 7" Android tablets on the market, but not so big as to be considered a full-sized tablet. For a while now, it has been rumored that Apple may take on the successful 7" tablets on the market, and this confirms it. In terms of specs, it is noted that the mini's screen has the exact same resolution as the iPad 2 (1024 x 768) with all the guts of the same tablet.
Possibly the biggest advantage the iPad mini has over the existing Android kingpin is the scaled-down tablet apps, versus the Nexus' scaled-up phone apps, meaning more information and a better interface on its screen. It still has the issues inherent in the iOS6 operating system, but it's reasonable to assume that these may be whittled away through updates.
The price of the mini may dissuade bargain hunters, however, as it starts at the $329, which is almost $100 more than its main competitor. Both iPads are available for pre-order later today from the Apple website, scheduled to ship for November 2nd.