Not to be outdone by Amazon, Barnes & Noble announced today that they are fielding their own tablet competitors to the new Kindle Fire HD, and with impressive measurables to boot. With a hug spec bump without a concurrent increase in price, Barnes & Noble is looking to go toe-to-toe with other content providers with its new media consumption devices. Let's get to know them, shall we?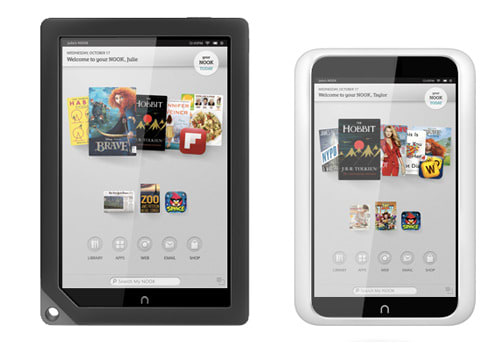 First off, the 315 gram Nook HD comes in two colors, smoke and snow (pictured above right). This tablet is built around a 1440 x 900 pixel display (in a form factor roughly around 7 inches), giving it a pixels per inch of 243, which tops the Nexus7, but not the Kindle Fire HD. This particular model boasts a hard drive of 8 or 16GB, and wide range of native file support.
The real star of the show is the Nook HD+ Slate, which is not only bigger in just about every way that matters, but also less than $300, which is sure to cause Amazon some consternation. This particular tablet has a 9 inch 1080p display with a 16 or 32GB hard drive.
It remains to be seen whether or not the new Nooks will be in a "walled garden" of sorts by having them run a proprietary version of Android that prevents Play Store access, but from this press release, it's clear that Barnes & Noble is gunning for Amazon. Both tablets will be available for on November 1st, but you can place a pre-order today.