In a move that seems intended to frustrate already-swamped industry journalists preparing for CES 2012, Fujifilm announced no less than 19 new cameras in a closed media briefing yesterday afternoon. Among the company's complete Spring lineup were three brand new ruggedized cameras dubbed the FinePix XP150, XP100, and XP50.
The durability features of the XP150 and the XP100 will be competitive with the most rugged consumer cameras currently on the market. Each are waterproof down to 33 feet, shockproof from a 6.5 foot drop, freezeproof to 14 degrees Fahrenheit, and dustproof. The XP50 will be less expensive, but offer less protection: waterproof to 16.5 feet, shockproof from 5 feet, with the same freeze- and dustproofing.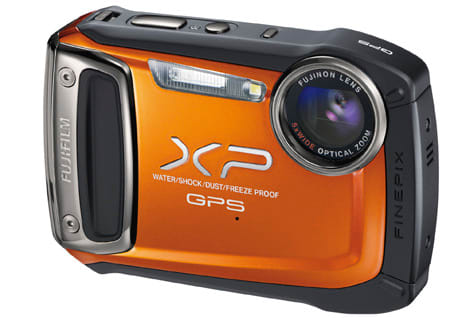 In a related press release, Fujifilm also claims the freshly announced cameras will feature brighter LCD screens, faster autofocus speeds, and better physical handling than previous XP-series cameras.
All three cameras will be driven by 14 megapixel CMOS sensors, and the company claims improvements have been made to start-up and shot-to-shot times. Continuous shooting up to 10 frames per second will be possible, and each model will be equipped with 5x wide angle lenses.
Each of the new cameras will feature 1080p video with sound, even underwater, captured at 30 frames per second. To keep video and stills from blurring, these new additions to the XP-series will continue to feature dual image stabilization that both mechanically stabilizes the sensor and adjusts shooting variables to compensate for camera shake or subject movement.
The XP150 will exclusively feature a GPS antenna, allowing the shooter to pinpoint their location from anywhere in the world. This camera will also include an electronic compass and Geo-Tagging to EXIF data.
According to Fujifilm, each model will also include capabilities like 360-degree Motion Panorama, Scene Recognition Auto mode, face Detection with automatic red-eye Removal, extended-life rechargeable lithium battery packs, and in-camera movie editing.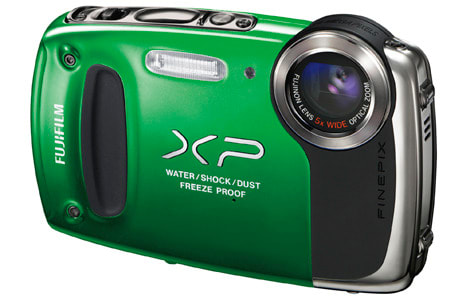 The FinePix XP150 and XP100 will be available in March for $279.95 and $249.95 respectively. The XP150 will be available in black or orange, and the XP100 will be available in black, blue, orange, silver, or green. The XP50 will also be available in March, for $199.95, and will also be available in black, blue, orange, silver, and green.
For the full press release on the compact camera announcements made by Fujifilm today, please visit their press site.
{:{PhotoGallery article.attachments}:}