With limited fanfare, the popular iOS app Instapaper was finally brought to Android via the Google Play Store this week, allowing a new community access to the article agglomerator. With Instapaper, users are able to save Twitter feeds, RSS feeds, news articles of their choice, and editorial columns onto their mobile device either through Instapaper's website, or through the app itself (though there are some issues on Android currently). If you find yourself getting hung up at the computer before you head out in the morning, consider Instapaper as an alternative to tardiness at work or school, as it allows you to bring articles that enthrall you anywhere. While the default web browser for Ice Cream Sandwich can save screenshots of pages for perusal later, Instapaper is much easier to read, as you can change the size of the text without making it look bad.
What Instapaper does well
Instapaper isn't overly complicated, and that certainly enhances the experience. Sure, it isn't the most visually stunning thing we've seen on a mobile device, but the whole point of the app is to give you access to all the text you want to read while you're away from your computer or wireless signal. By tapping the "read later" icons on either the Instapaper website, articles, twitter or RSS feeds, the text automatically downloads to your device, and you can read it whenever you choose.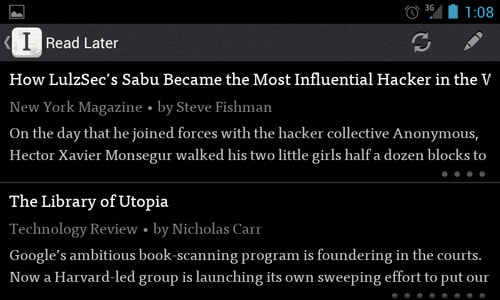 If you don't want to deal with logging into Instapaper on your home computer every time, you can drag and drop a "read later" button onto your bookmarks bar in Safari or Chrome, which makes saving articles a mere afterthought. Once you begin reading, you can change font sizes, and even invert the color scheme if you like a black background better.
What Instapaper doesn't do well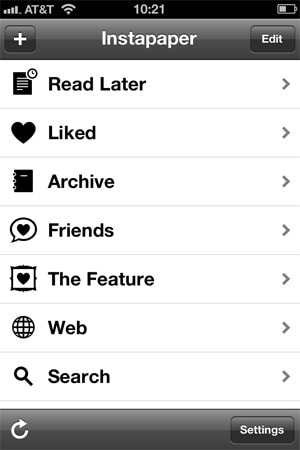 Android. While its basic functionality isn't changed, a lot of the features that users enjoy on iOS are missing like "The Feature," an in-app hub of selected articles that refreshes at regular intervals. This feature works on the website, but it's still frustrating to see that the app isn't quite finished for Android yet. It's reasonable to assume that over time, the app will update and this section will be outdated, but in the meantime, the iOS version is far more polished than the Android version.
While simplicity and small filesizes are key when talking about an offline reader, improved coverage from cell towers and the pervasiveness of WiFi will eventually reach the point where there are very few dead zones, negating the need for an offline reader. When that happens, apps like Flipboard will probably eclipse Instapaper in usage, simply because of the interface and design improvements it offers. Instapaper isn't exactly the best when it comes to aesthetic appeal.
Worth the download?
If you like to read lots of articles, tweets, RSS feeds, or forums, Instapaper might be a good fit for you, provided you're okay with losing many of the images that appeared in the original format. It's especially good if you're a commuter in a large metro area, as it allows you to continue browsing your favorite sources of reading material like news and social media while you are stuck on a subway car, away from any signal. While the Android app has a couple features that will probably pop up in the first update, the iOS app is polished and ready to go. The Instapaper app can be located by scanning the appropriate QR code at the top of the page.