With the GY-HM150, JVC is continuing its trend of offering compact and portable options for professional filmmakers. The GY-HM150 inherits its condensed design from the previous GY-HM100, which we reviewed a few years ago at CamcorderInfo.com. The GY-HM150 offers a new encoder and processor in an attempt to improve HD recording quality, as well as provide support for standard definition recording.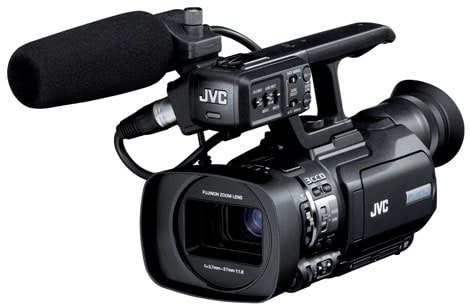 Like the GY-HM100, the GY-HM150 includes three 1/4-inch CCD image sensors, which is something that sets it apart from JVCs consumer-grade camcorders (usually equipped with a single CMOS sensor) The GY-HM150 can record Full HD video at a 1920 x 1080 resolution, as well as 720p HD video and 480i standard definition video. The camcorder does not offer 1080/60p recording, but frame rates of 24p, 25p, 30p, and 60i are all available when shooting 1920 x 1080 content (60p is available when recording at a 1280 x 720 resolution).
Another minor addition is the ability to record to new, high-capacity SDXC cards with the camcorder. The GY-HM150 can also record to SDHC memory cards as well, but the camcorder is not equipped with any internal memory (it has two memory card slots). JVC also added a time lapse recording feature and a pre record option, both of which should be familiar to users of JVCs line of consumer Everio camcorders.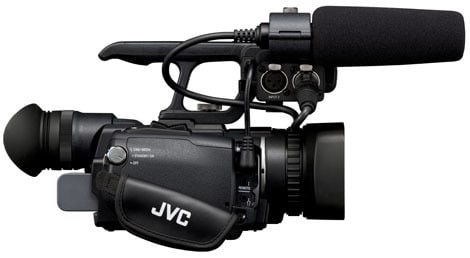 Overall, the GY-HM150 appears to be more of an upgraded model than a brand new camcorder. It has a nearly identical build and feature set as the GY-HM100, except for the new options outlined above. According to JVC, manual controls have been broadened on the camcorder in addition to some minor design upgrades (like an improved LCD and viewfinder).
The GY-HM150 ProHD camcorder will be ready to ship in October 2011 with an MSRP of $3,495. You can read JVC's full press release here, or you can check out the full specs and details of the model here, at JVC's Pro camcorder website.
{:{PhotoGallery article.attachments}:}