The Canon HF G10 will remain Canon's flagship Vixia camcorder for 2012, and the company is not announcing a new top-line consumer camcorder this year at CES. The Canon HF G10 was a powerful and top-notch camcorder when we reviewed it last year, so it's likely that this year-old model will still be able to hold its own against the newly-minted competition being released from other manufacturers. Still, Canon's decision to sit on its top model rather than provide a new version with a few updates is somewhat surprising.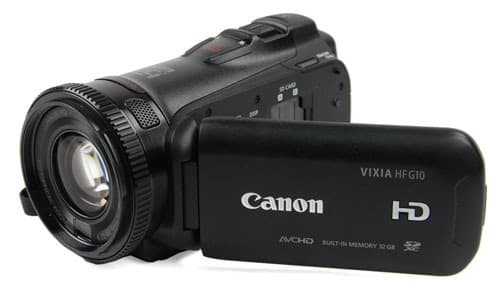 Those looking for a replacement to last year's FS40 and FS400 standard definition camcorders also won't find it at CES 2012. Canon made the decision to cease production on new standard definition models for the first time, which means the company's entire consumer camcorder lineup will record HD video. This move isn't nearly as unexpected, as nearly all manufacturers have begun to phase out production on standard definition camcorders in favor of HD models.
Canon did announce updates to its mid-range and entry-level HD lineup, however, with the release of six new Vixias at CES. The HF M52, M50 and M500 round out Canon's new mid-range HD models, while the HF R32, R30 and R300 are the company's new entry-level Vixias. The biggest announcement for Canon's 2012 camcorders is the inclusion of WiFi connectivity on select models, as well as performance upgrades and design alterations that make the new camcorders a bit more compact than last year's.