Have you ever wanted to use your mobile phone to enable your computer to browse the internet, but don't want to shell out the cash every month to add that capability to your phone? Have no fear: Open Garden is here. While it's only available for Android phones at the moment, this app allows you to use your 3G or 4G Android phone as a mobile access point for all your devices, including laptops. If you're looking to save yourself a bit of money on your phone bill, this is a great way to sidestep the mobile hotspot charge if you currently pay for it.
What works well in Open Garden
While it's still in development, the early release of Open Garden will allow you to tether your laptop or other device to your phone with bluetooth, provided you have the Open Garden application installed on both. Once you have the app installed and follow the setup instructions, you'll be able to use your mobile data connection to access the internet on your previously limited machine.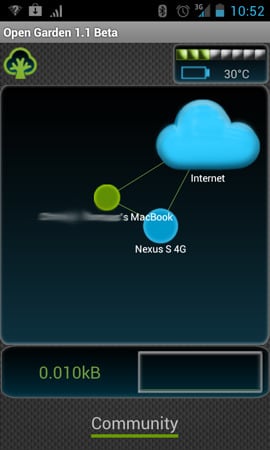 What doesn't work so well with Open Garden
It's reasonable to assume that better product support and better performance will probably eventually be added to the final version of Open Garden, but for right now, it asks for quite a bit of information that many people might balk at. For example, why does it need to know your exact GPS coordinates, or have location services on? At this point, no answers are forthcoming.
Additionally, older machines may not have bluetooth capabilities, meaning your 4 year old netbook may not be able to make use of your phone's access to the internet. This app will only work with hardware that is compatible, so you have to check ahead of time whether or not your hardware will be able to make use of the app.
Is Open Garden worth the Download?
If you often use your mobile phone's data connection to surf the web, but would rather your tablet or laptop be connected, Open Garden is fantastic for this, as it gives you access to the internet wherever there's a good 3G or 4G signal. While it's still in beta, and some of the rougher edges haven't been smoothed over yet, its basic function works well. If you want mobile hotspot capability and either want to ditch the expensive plan from your mobile provider, or unlock the ability to use your phone's internet on your computer for free, Open Garden is one of the best ways you can do this.
Open Garden is available in Google's Play Store, and currently unavailable for iOS.