Sony announced their latest high-end 3D camcorder today at CES 2012 in Las Vegas. The HDR-TD20V Handycam replaces the TD10 as the company's most full-featured and highest-priced consumer 3D camcorder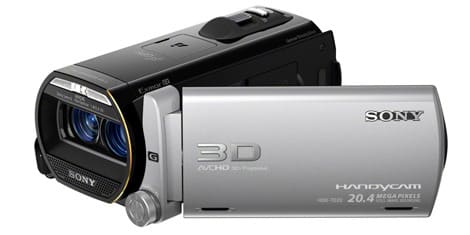 Like its predecessor, this will be a Double Full HD 3D camcorder with an autostereoscopic 3D (glasses-free) playback monitor. Last season, the TD10's 3D playback monitor was the best in the industry (although it still wasn't great), so we're excited to see what improvements this new model will bring. Video recording in either 24p or 60p is available, as well as regular 60i recording. Still image capture of up to 20 megapixels is also possible, though in the past Sony has relied on heavy interpolation to achieve such impressive numbers.
Twin BSI CMOS sensors will record light gathered by twin wide angle lenses. Optical zoom once again maxes out at 10x, with optical SteadyShot in 3D and 2D shooting modes. 64 GB of internal flash memory will be included in the TD20V, same as the TD10 before it. This is enough for 25 hours of 2D video and, we're guessing, around half that for 3D video.
Manual control access includes iris, shutter, exposure, and white balance; as well as a dedicated 2D/3D switch. A 5.1 channel surround microphone is included, and the camcorder's software is capable of face detection with voice enhancement and noise reduction. Many of these features too are identical to the TD10. In fact the most striking difference seems to be the inclusion of GPS functionality, indicated by the V in this camcorder's model number.
For our full impressions, you'll have to wait until the TD20V's release in March, when it will retail for $1500.
{:{PhotoGallery article.attachments}:}