In addition to announcing two new NEX cameras—the NEX-7 and NEX-5N—Sony unveiled the NEX-VG20 camcorder, which is the successor to last year's innovative NEX-VG10. Like the VG10, the VG20 blurs the line between camera and camcorder with its interchangeable lens system that allows it to work with any of Sony's E-Mount lenses.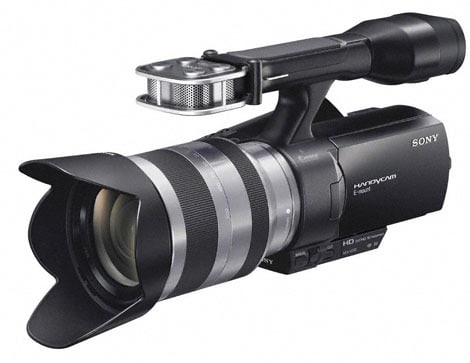 The main point of the NEX-VG20 is that it has innards of a Sony NEX camera, but the body of a traditional camcorder. It also has a set of manual controls tailored to the professional videographer: shutter speed, aperture, white balance, and gain. The arrival of the VG20 comes at the same time Sony unveiled 4 new E-Mount lenses that can work with the camcorder. Sony expects to increase its E-Mount lens count to 10 lenses by 2012. Third-party lens adapters can also be used with the camcorder.
Overall, the NEX-VG20 isn't much different than the NEX-VG10, but Sony did add a few strong new features. While the VG10 only offered one frame rate for recording video (30p), the VG20 offers three: 24p, 60p, and 60i (but no 30p). According to Sony, the VG20 also has a faster autofocus system than its predecessor, as well as a focus assist function. Audio features have also been improved, as the VG20 added 5.1-channel surround sound recording as well as full audio level control.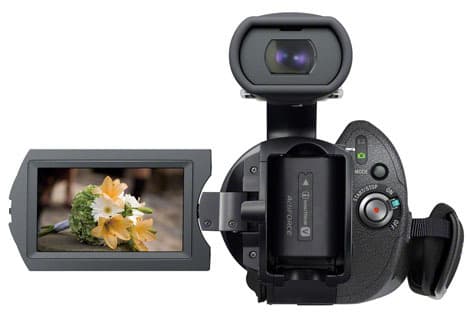 The new LCD on the NEX-VG20 features a touchscreen interface and a 270-degree swivel design, which is just one of a number of slight design changes Sony made for the new camcorder. There's also a few extra buttons, some rearrangement of dials, and a new remote control capability. The camcorder has the same electronic viewfinder, dual hot and cold accessory shoes, and external mic jack as the VG10.
The VG20 has the same large CMOS image sensor as last year's VG10, but the pixel count has been increased to 16.1 megapixels (over 14.2 megapixels on the VG10). This means still images can be captured at a higher resolution with the camcorder, and Sony added the ability to capture photos in the RAW format in addition to JPEG. All videos and photos are stored to memory cards on the VG20, and the media slot works with either Memory Stick Duo or SD-type cards.
The NEX-VG20 can be purchased without a kit lens (body only) for $1599, which is something that was not an option with the VG10. The camcorder can also be packaged with an 18-200mm lens with optical steady shot capability for a total MSRP of $2199. This is the same lens that came packaged with the NEX-VG10. The NEX-VG20 is expected to be available for retail in November 2011.
{:{PhotoGallery article.attachments}:}