Sony's newest product is definitely one for the birds. Bird watchers, that is. At the 2011 British Bird Fair in Rutland, England, Sony unveiled the DEV-3 and DEV-5—a set of digital binoculars with the ability to record HD video in 2D or 3D, take 7-megapixel stills, and zoom optically up to 10 times.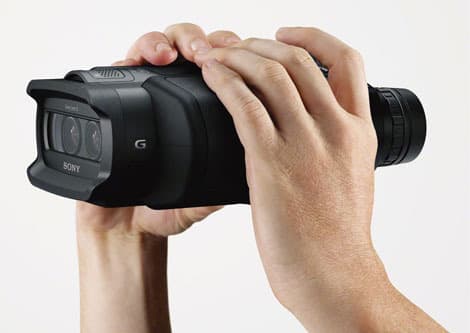 The digital binoculars mark new territory for Sony, although the components included in the DEV-3 are remarkably similar to what is found in the company's HDR-TD1 3D camcorder. That is there are two lenses and two 1/4-inch image sensors inside the binoculars, and they can record Full HD video at a 1920 x 1080 resolution with a 60i frame rate. Adding to the intrigue is the fact that the binoculars can record 3D video and stills as well as 2D content.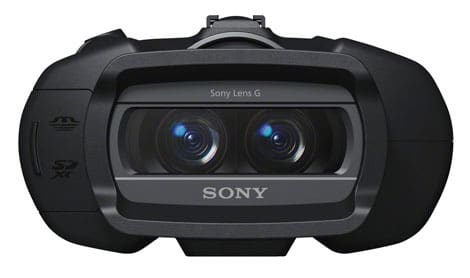 The benefit of digital HD recording binoculars is clear: they allow you to not only view far-away objects, but they let you record and take photos of them as well. Sony's digital binoculars are also equipped with image stabilization and autofocus functions that aren't often found in traditional binoculars.
What Sony doesn't mention, however, is that these binoculars don't have any more zoom than Sony's high-end consumer camcorders. In fact, a number of Sony's mid-range and entry-level camcorders have much longer zooms than what is featured on the digital binoculars. You'd think a product that is specifically created for viewing subjects at a distance would include more than a 10x optical zoom.
It seems most of the features and settings on the binoculars are geared towards using them as video and photo recording devices. The models record to SD or Memory Stick PRO DUo memory cards, and they feature the same 1/4-inch "Exmor R" CMOS sensors that Sony puts in a number of its consumer camcorders. The binoculars have DC-inputs and USB terminals, as well as HDMI and Component video outputs for viewing your recorded footage on an HDTV. There's even a headphone jack and an external mic input on the binoculars.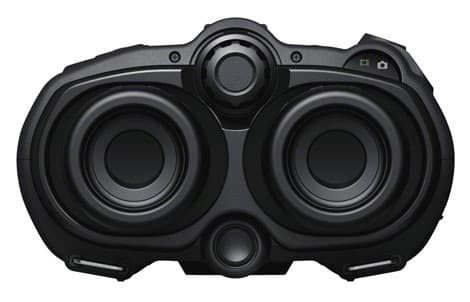 Judging by what we've seen and the specs we've read, it appears Sony has simply grafted its HDR-TD1 3D camcorder into a new design that resembles the shape and look of a pair of binoculars. The innards are eerily consistent to the TD1, and the feature set is similar as well, although we doubt the DEV-3 or DEV-5 offer advanced manual controls in video mode (like aperture or shutter speed adjustment). So, the only thing truly "new" about these binoculars is their shape, design, and the dual electronic viewfinders that you look through to frame your image.
Coming in at roughly 2.65 pounds, the binoculars weigh significantly more than even the heaviest of consumer camcorders these days. Of course, this extra weight is something users of traditional binoculars are probably accustomed to.
Is Sony's step into the world of binoculars a signal of the decline in the high-end camcorder industry? Perhaps. But it could also be Sony's way of attracting new consumers—like bird watchers—into the camcorder market. Either way, Sony isn't ready to offer these digital binoculars on the cheap. The DEV-3 binoculars are set to retail for $1399, or, for an extra $600, you can upgrade to the DEV-5 and get a carrying case, neck strap, large eye cups, and GPS capability. The DEV-5 also has a 20x "total zoom," which is Sony's way of saying it has a 10x optical zoom (just like the DEV-3) and a 10x digital zoom as well. Sony is planning to begin shipment of the DEV-3 and DEV-5 in November 2011.
{:{PhotoGallery article.attachments}:}