Recently pushed to the Editor's Choice list for Android, the TED app allows you to explore the world of the free talks in a simple interface that cuts out unnecessary YouTube searches for new content. Explore talks by some of the world's most intelligent and entertaining speakers on your tablet, and discover new modes of thinking for free. Available in Apple's App Store, and Google's Play Store, users with a WiFi or LTE connection can explore TED talks new or old on their mobile device, updated every weekday.
What Works
If you're looking for a mountain of modern, relevant content, there's probably no better place to find it than the TED app. While attending lectures at your local university may be a great way to learn about a subject of your choosing, you can explore a much wider range of topics with a much lower time commitment on your iPad or Android device.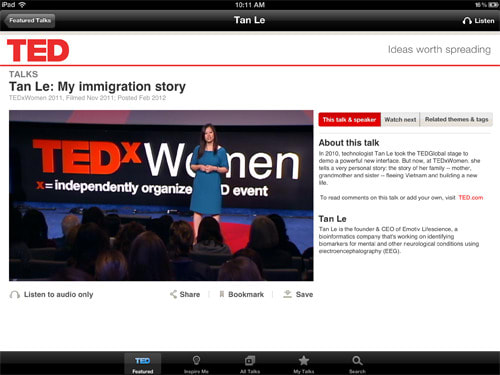 While the interface isn't all that stunning or complicated, it doesn't need to be: the videos are the central focus. Not only can you organize your library based on topics, but you can have the app direct you to new talks that you may be interested in based on your past activity.
What Could Work Better
Like most video-based content apps, the TED app streams its content to save space on your device. Consequently, use of the app requires a stable wireless connection. If you're streaming video over your wireless carrier's connection, it's easy to eat up a ton of bandwidth if you don't pay attention to it closely. Aside from this, there isn't much to complain about because, well, the app doesn't do a whole lot, other than agglomerate YouTube videos of a singular topic: there isn't a ton that can go wrong.
Worth a Download?
If you're looking for new content, curious about the world around you, or simply looking for a smarter outlet than television, the TED app is a great place to start. With new content every week, this is an app that doesn't get old, and never stops educating and entertaining. As it's a free app, the only barrier to entry is owning a smartphone or tablet.