This Memorial Day, it's important to remember the sacrifices of the men and women who did not come home from serving our country abroad. To that end, why not pick up an app that will educate and inform you about the Second World War, complete with newsreels, audio, commentary, and interactive maps? For $9, Timeline World War 2 from Ballista Media is a fantastic way to teach eager minds the course of the conflict.
What works well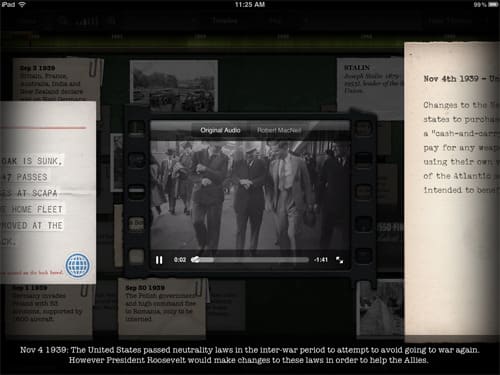 When you first open the app, you will be greeted by a short introductory video by eminent broadcaster Robert MacNeil, and then to a menu screen. From there, you can browse the timeline with attached video clips (you need to be connected to the internet for this), or follow the interactive map. The timeline in particular is packed with content like streaming audio and video that will give you a better look at World War II from the perspective of an era citizen. If you are connected to the internet, multiple hours of content will be unlocked for you to explore. This is an app that will keep your attention for a long time.
What doesn't work well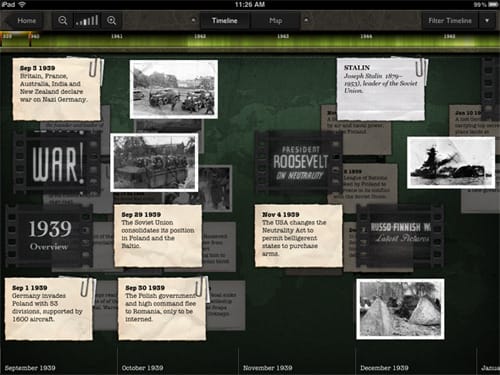 For all the benefits the wealth of content will give, the timeline can get a bit cluttered, and trips over itself to give you the maximum amount of detail possible. While this is a good thing for content hounds familiar with tablets, it may not be as easy to navigate for novice tablet users. On top of that, the large filesize (nearly a gigabyte) and the somewhat high price ($9 in the App Store) will be enough to deter some people.
Worth the buy?
Absolutely. Even if you're not a World War II buff, it never hurts to learn about the past, and $9 is a paltry sum to pay for the amount of information and perspective this app will give a new generation, or nostalgia for those who remember. Coupled with the insight and commentary of Robert MacNeil, this is an interactive history lesson that gives you a lot to think about. If you're looking for a way to complement your introspection on Memorial Day, this app is a good place to start. You can buy Timeline World War 2 on Apple's App Store. This app is not available for Android.