Connectivity & Media
Audio & Video Ports
The JVC LT-42WX70 doesn't have a huge array of ports. There is a single HDMI port found on the right side near the bottom. On the back you will find two covers, one to the left and one to the right of the rising stand. Remove these covers to reveal two additional HDMI ports (one is used only for the optional tuner box), a composite video input and a 3.5mm audio input. There is also an SP audio output on the model we saw, which is one of those connectors that requires you to thread the bare metal of a wire into black and red switches. We're not sure if this will be true of the final shipping model, we'll just have to see.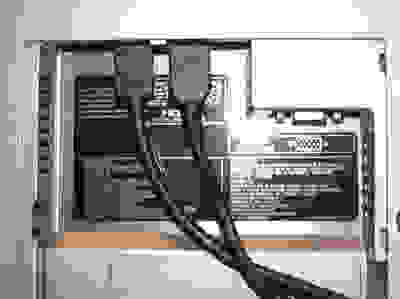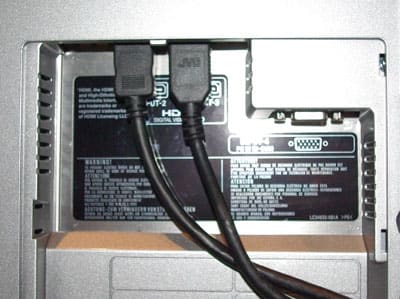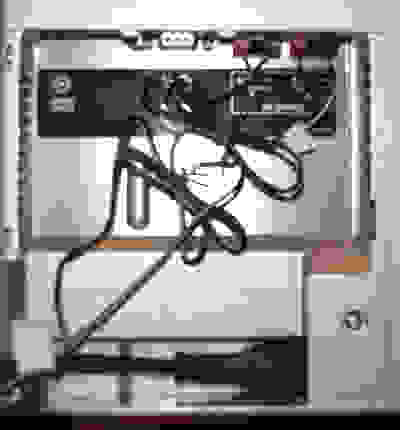 The port selection is difficult to access and not very extensive
In addition there is an optional tuner box available that will allow you to run a single HDMI cable to the HDTV, and if you have a lot of accessories you might want to think seriously about picking one of these up. It has a USB 2.0 input, three HDMI ports, one component video input one HDMI output (to send the signal to the TV), an SPDIF optical audio out port and a composite video input with associated analog audio input.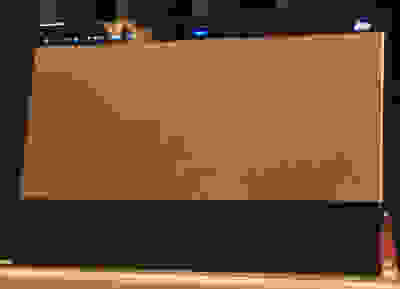 A more complete set of ports is found on the optional tuner box, but you'll have to pay extra for it
Media & Other Connectivity
The JVC LT-42WX70 does not have a USB port or card reader built-in, nor does it support network connectivity for accessing online content. The optional tuner box does have a USB port and the specifications indicate that it will support photo and music playback.
Placement
The placement of the JVC LT-42WX70's ports is certainly not convenient. On the HDTV itself you'll have to get behind the TV and towards the very center and are beneath two different covers. Good luck if the HDTV is wall mounted. The optional tuner box offers a much more convenient array of ports, but of course you'll have to pay extra for it.
Audio
An interesting feature of the JVC LT-42WX70 is a removable speaker bar. Although it doesn't snap off easily, it is meant to be unscrewed. This improves the HDTVs aesthetics if you want to connect a better speaker system separately. Speaking of which we recommend you do just that if you care about audio quality, we weren't able to test the LT-42WX70's speakers but no on-TV speakers can compare to even a low cost surround sound setup.
Our editors review and recommend products to help you buy the stuff you need. If you make a purchase by clicking one of our links, we may earn a small share of the revenue. Our picks and opinions are independent from any business incentives.
Sections