Introduction
The Panasonic TC-P42GT25 ($1699 MSRP) is among the least expensive 3D plasma TVs. And while we are decidedly not concluded that 3D is worth the bother, we have come to the conclusion that plasma screens do a better job of displaying 3D content.
Overall Design
The Panasonic TC-P42GT25 is definitely big and boxy, by high-end TV standards. LED-backlit and edgelit TVs have an undeniable edge in design because they can get so much thinner. Panasonic doesn't try to hide its bulk, though. They have made one attempt at standing out from the crowd, however subtle. The bezel around the screen has a slight brown tinge to it, though you'll hardly notice it.
Front
The Panasonic TC-P42GT25 has a wide, plastic bezel surrounding the screen. It has a slightly brown tinge to it, but you may never notice unless you look very closely. Along the bottom are some indicator lights. All the onboard controls are on the side.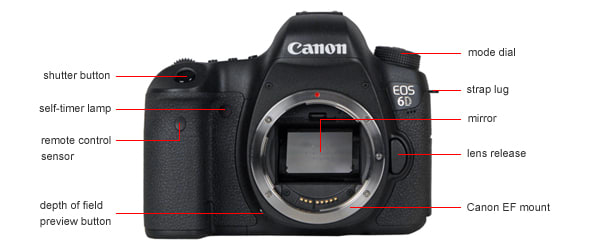 Back
The back of the Panasonic TC-P42GT25 is a black, metal grill. Most of the ports are gathered in one corner. The AC power jack is closer to the center. When you plug the power it, two automatic snaps keep it secure.
Sides
Panasonic doesn't seem to hide its thickness, and in truth, plasmas require a little more chassis space. On the left side, you'll find the onboard controls and a few more ports.
Stand/Mount
The base for the Panasonic TC-P42GT25 is simple disc of plastic, attached to a the TV panel by a metal yolk. The TV panel swings much more easily than most, so it's quite easy to access the ports on the back.
Controls
The onboard controls are pretty standard for a TV. They're interspersed with ports on the left side of the TV. We always like that Panasonic uses big, fat buttons rather than trying to be discreet with the controls.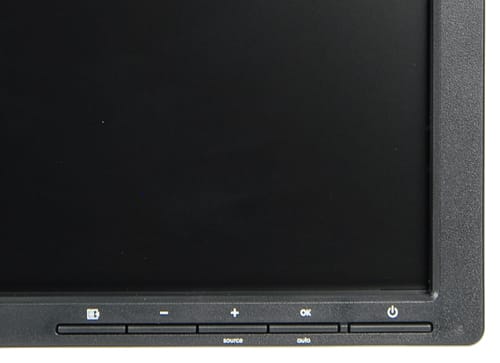 Remote Control
The remote control has lots of big, obvious buttons. They don't try to be as stylish as Sony and Samsung, but the remote probably works a little better as a result.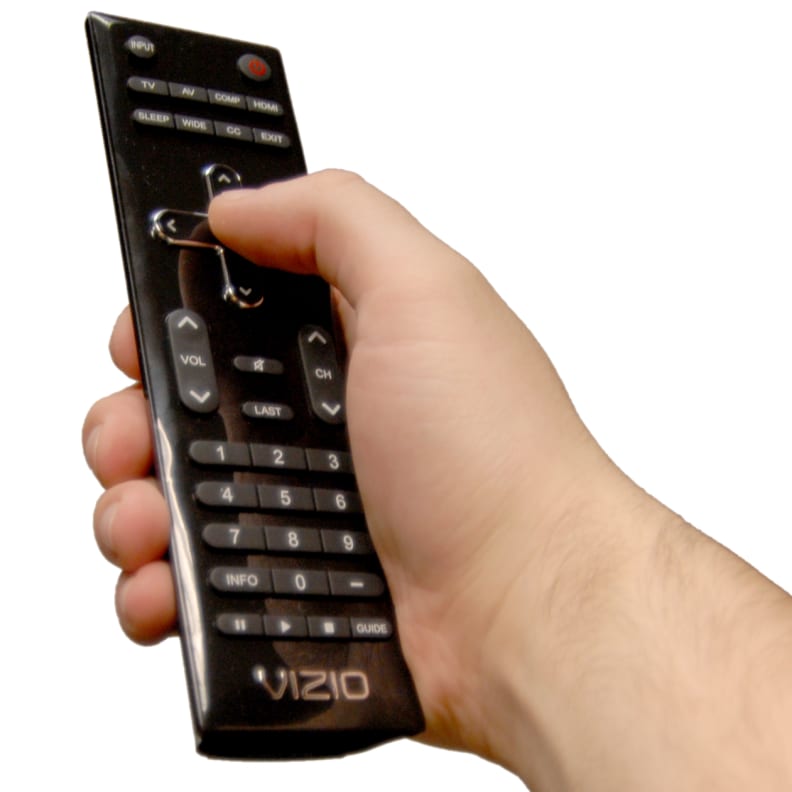 In the Box
The Panasonic TC-P42GT25 ships with the stand, remote control, batteries, and documentation. It does not ship with 3D glasses. Those must be purchased separately. The Panasonic VT20 series does include eyewear, but it also costs a lot more.
Black Level
The Panasonic TC-P42GT25 did well in producing a deep black level. Looking at the chart below, it's important to know that small increments make a big difference, because the scale is logarithmic rather than linear. The Panasonic TC-P50VT20 was very, very, good, and difficult to top. But you can feel confident that both of these Panasonic plasma displays are great performers. More on how we test black level.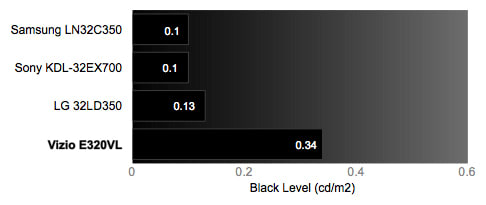 Peak Brightness
The Panasonic TC-P42GT25, like many plasmas, had some troubles producing a bright enough screen. The issue is that plasma screens get hot, and a big, white screen requires more power output than any other color. In order to keep from getting dangerously hot, as the white content increases in screen size, the overall brightness is reduced. You probably won't notice a problem unless you put it right next to an LCD screen (in which case, you can really see a difference and might lose heart). More on how we test peak brightness.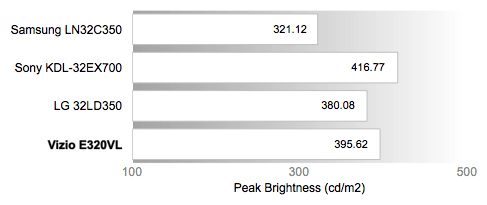 Contrast
The Panasonic TC-P42GT25 proved to have a contrast ratio of approximately 1572:1, which is not the best performance we've seen. However, it's not too far behind the more expensive Panasonic TC-P50VT20. Both of these plasma TVs were hurt by their poor peak brightness performance, discussed in the section above. More on how we test contrast.

Tunnel Contrast
The Panasonic TC-P42GT25 showed some minor problems with maintaining a consistent black level, which is typical of plasma TVs. As the black area gets smaller, surrounded by bright white areas, the black level gets brighter. LCDs typically don't have this issue. More on how we test tunnel contrast.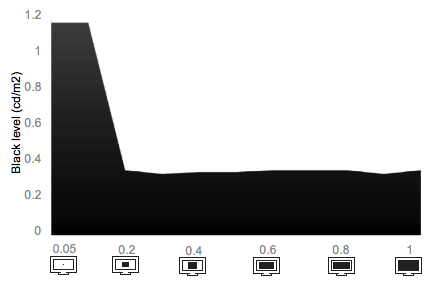 White Falloff
The Panasonic TC-P42GT25 also showed some problems with maintaining a consistent peak brightness, another issue with plasmas. When the screen percentage of white content increases,the brightness is intentionally dimmed in order to keep the screen from overheating. More on how we test white falloff.
Uniformity
The Panasonic TC-P42GT25 has a great screen uniformity, like most plasma TVs. Because LCD screens have zoned backlighting, the illumination can be uneven. But plasma pixels are each backlit individually. More on how we test white falloff.
Greyscale Gamma
The Panasonic TC-P42GT25 showed some slight issues with the greyscale performance, which is how well the TV transitions from black to white. Look at the chart below. What we're looking for, first and foremost, is a smooth line. The line in the TC-P42GT25's performance has some obvious wobbles, but not more than most TVs. In the upper-right edge of the line, it becomes horizontal. This indicates that the TV fails to display any detail in the brightest portions of the signal. Overall, though, we were pleased with the performance, particularly it's ability to retain detail in the shadows. More on how we test greyscale gamma.
Color Temperature
The Panasonic TC-P42GT25 did very well at maintaining a consistent color temperature. Steady as a rock. More on how we test color temperature.
RGB Curves
The Panasonic TC-P42GT25 also did rather well in the RGB color curve test. If you look at the chart below, you can see that the curves are relatively smooth and that the red, green, and blue channels move in unison. There's clearly some rough spots when the green channel gets bright – we'd expect to see some color banding there. However, we're impressed with the level of detail the TV maintained in both shadows and highlights. More on how we test RGB curves.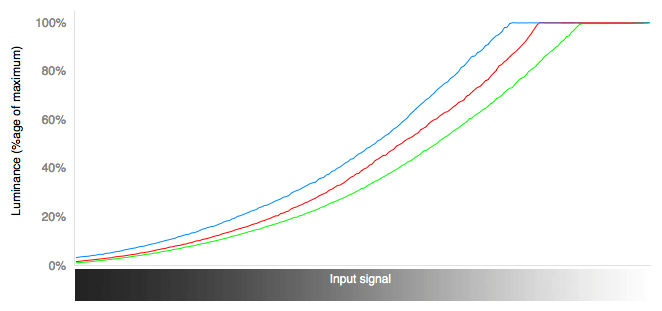 Below are digital recreations of the data above. You can see the Panasonic TC-P42GT25's performance against three similar TVs, as well as an ideal response curve.
Motion Performance
Motion Smoothness (7.88)
The Panasonic TC-P42GT25, like many plasma displays, showed no issues with motion smoothness. On many LCD displays, we'll notice a laggy motion or flickering. Not so on the Panasonic. Moving objects were quite smooth. However, we did notice a lot of problems with artifacting, described below.
Motion Artifacting (5.5)
The Panasonic TC-P42GT25 definitely showed artifacting issues with objects in motion. Artifacts are anything that appears on screen that is not contained in the original signal. What we saw was a lot of blocky discoloration that's simply not present if the same objects is at rest. It's most noticeable if you have a large region of uniform color. The TV's menu offers a Blur Reduction feature that can reduce some of the artifacting, but not enough to make us forget about it. More on how we test motion performance.
3:2 Pulldown & 24fps
As a rare case, the Panasonic TC-P42GT25 was not great at producing a smooth picture when fed a 24fps signal, like a Blu-Ray movie. In order to get the best performance, you need to locate the "3:2 pulldown" option in the Advanced Picture menu. Leaving it in the Auto setting was not enough. You'll need to switch it to the On setting for some types of content. More on how we test 3:2 pulldown and 24fps.
Resolution Scaling
The Panasonic TC-P42GT25 has a native 1080p (1920 x 1080) resolution, but much of the content you'll watch is of a lower resolution. It's up to the TV's internal processing to upscale to properly scale the image to fit to screen. At this task, it's not too bad. More on how we test resolution scaling.
480p
When displaying 480p content, the Panasonic TC-P42GT25 loses 2% of the top, bottom, and sides due to overscan.
720p
With 720p content, we noticed a lot of discoloration with high-frequency patterns. Of course, we saw the same thing with native 1080p content, so this isn't necessarily a problem with scaling, but with certain types of resolution demands.
1080i
The 1080i content displayed on the Panasonic TC-P42GT25 showed no significant problems.
3D Effect & Experience
For starters, we're not sure what Panasonic is doing with their active shutter synchronization, but it's pretty close to perfect. There were only a few instances where we ran into that strobe-like desyncing issue and we're not entirely sure if it was desyncing or just the 3D effect getting jittery for other reasons. Regardless, out of all the 3D HDTVs we've reviewed so far, the TC-P42GT25 seems to be the least likely to cause outright eye strain.
Another help here is the relatively low rate of crosstalk. The only time the crosstalk caused any issues was with very, very high contrast areas, such as white on black. The TC-P42GT25 is also one of the better TVs in this regard as well, and it goes a long way to helping maintain the 3D effect.
Like most other 3D HDTVs, the TC-P42GT25 has some issues with objects in the immediate foreground. It's pretty easy to lose the 3D effect when something is supposed to be "popping out" near the bezel, because it means you have to shift your focus onto a boring, real (meatspace) 3D object, which shatters the whole illusion of depth. Still, we thought things were able to get significantly closer to the foreground while still holding on to the effect.
In summary, we thought the Panasonic TC-P42GT25's 3D effect was pretty good, especially compared to the LCD 3D HDTVs we've reviewed. If 3D is here to stay, it appears plasmas have taken the early lead in terms of overall quality.
3D Motion
The TC-P42GT25 doesn't necessarily handle fast motion very well, but compared to other 3D HDTVs we've seen it's a champ. It's really only when small objects are moving quickly that we saw a breakdown of the 3D effect: the moving objects seemed to be refreshing at a much slower framerate, leading to choppy motion.
3D Glasses
Panasonic's 3D glasses are about on par with most other manufacturers' 3D glasses. They're a bit heavy, the nose padding isn't that great, and they look goofy. Although we've tried on other glasses that weren't as heavy, we find it hard to complain: there was barely any de-sync with the active shutter, so the overall discomfort was way down. We're not sure if the additional heaviness means better components in the glasses themselves, but at this point we're just happy a 3D movie didn't look like a broken fluorescent light.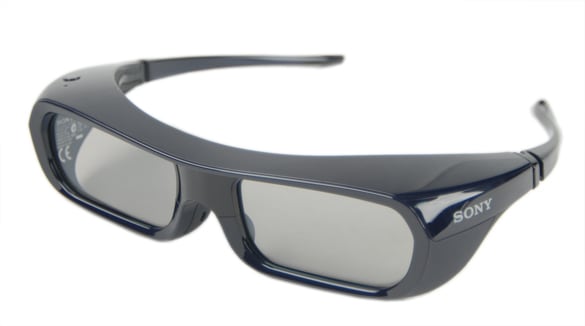 Formats
The Panasonic TC-P42GT25 has a native 1080p display (1920 x 1080), and is capable of playing all NTSC formats.
Viewing Angle
The Panasonic TC-P42GT25 is a plasma TV, and as such, it has a great viewing angle. We measured this particular TV's viewing angle at 139 degrees in total (69 degrees from center on either side). Though the performance is slightly less wide than the Panasonic TC-P50VT20, both far exceed a standard LCD display.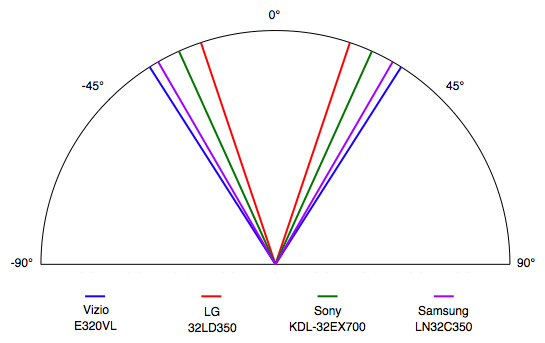 Reflectance
The Panasonic TC-P42GT25 has a screen that's not very good at staving off reflection. If a light is shining directly at the screen, you'll see a wide, diffuse glow. It washes out shadows and colors, crippling the already middling contrast ratio.
Video Processing
The Panasonic TC-P42GT25 has a handful of settings which might make some small improvements in picture quality.
Calibration
The Panasonic TC-P42GT25, along with several other Panasonics, have a THX mode that, presumably, adheres to the THX standards. As far as we can tell, it's works pretty well. We had to change very little to get it to adhere to our standards.
When the TV is in THX mode, certain menu options are blocked out, but nothing that we would have altered anyway. Thankfully, most of the special processing features are disabled in THX mode.
[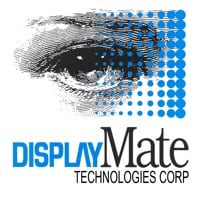 All of our calibration is done in conjunction with the DisplayMate software.
](http://www.displaymate.com/)
Video Modes
The Panasonic TC-P42GT25 has five preset video modes.
Ergonomics & Durability
The remote control that ships with the Panasonic TC-P42GT25 is similar to what you'll find with several Panasonic plasmas. It's not the prettiest, but it works well and we were able to operate it without looking down – the surest test of a remote's design.
Button Layout & Use
The button layout is sensible. The two most important controls, volume and channel up/down, are in the center. The menu controls are near the top, centering around a comfortable d-pad. By hitting the "Light" button in the upper left, you'll activate a surprisingly bright red backlight. The red light / black text contrast makes it difficult to read in the dark, but it's better than nothing.
Programming & Flexibility
The remote control can be used with other Panasonic AV devices, but is not a universally programmable remote.
Connectivity
Input Ports (6.5)
The Panasonic TC-P42GT25 has most of the ports you'll need for a home theater set-up. There are only 3 HDMIs, rather than the 4 you normally get on high-end TVs, but it will probably suffice. For older devices, there are two composite and two component AV inputs. The TV also has 2 USB inputs and an SD/SDHC/SDXC card slot for playing photos, video, and audio clips.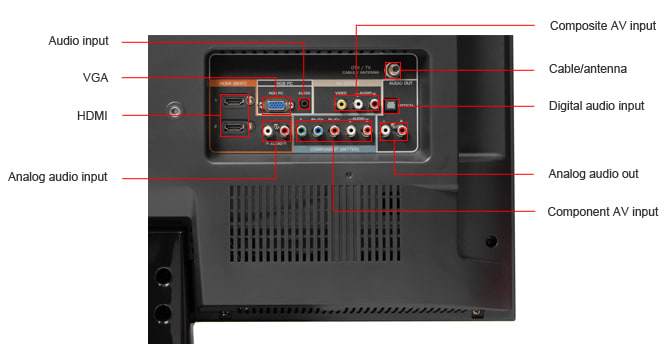 The ports are split up between the left side and the back of the chassis. Reaching the ports is no problem, thanks to the swivel base. You should be up and running in no time.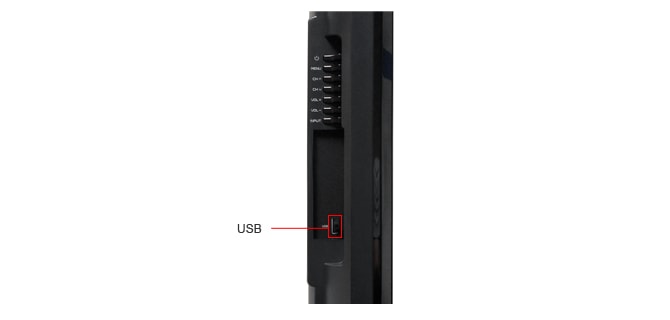 Output Ports (1.0)
The Panasonic TC-P42GT25 has just one output, a digital audio output. There is no analog audio output, so those looking to connect to older home theater systems are out of luck.
Other Connections (6.0)
The Panasonic TC-P42GT25 has an ethernet connect for connecting to streaming content or a DLNA home network. Either of the USB ports can be to connect to a separately purchased WiFi dongle, which gives you the same abilities, minus the ethernet cable.
Media (5.0)
The Panasonic TC-P42GT25 has two USB ports and an SD/SDHC/SDXC card slot. All of these can be used to play back photos, video clips, and audio clips. The SD card slot is primed to work best with Panasonic cameras and camcorders, and is capable of playing back AVCHD video footage. The interface is described later in this review.
Placement
The Panasonic TC-P42GT25 panel is very easy to swivel back and forth on its base, making it very easy to access the ports on the side and back. The labels are clear and all the ports face out (rather than downward facing ports on some TVs).
Audio Quality
The audio performance of the Panasonic TC-P42GT25 is fairly good, by the low standards of most HDTVs. If you don't turn the volume up too high, the TV offers a crisp, clear sound. Sure, it lacks a deep bass response, but all TVs do, because they don't have the cabinet space to produce the proper tone. If you want good bass, you'll just have to suck it up and buy a standalone 5.1 or 7.1 channel system.
The TV's menu offers a handful of options for audio. There's a bass booster (not recommended), a volume normalizer that keeps commercials and explosions from getting too loud, and bass and treble controls. Of course, there's also a surround sound emulator. It does a convincing job of making the left and right channels more pronounced, but it has a negative effect on producing a wide signal range.
The TC-P42GT25 features Panasonic's easy to use menu. All the options are laid out clearly, and there are only a few sub-submenus that contain advanced options, so it's not too likely that you'll get lost. The remote control has a clearly labeled Return button and an Exit button that help with navigation.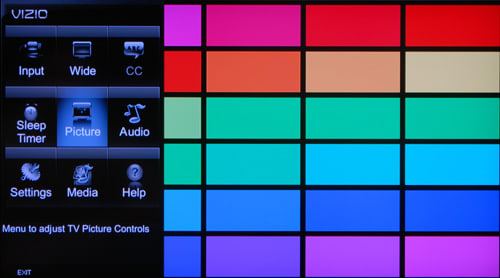 Depending on the picture mode the TV is in, certain options may be "greyed out" and unavailable. If you're frustrated, try changing the picture mode.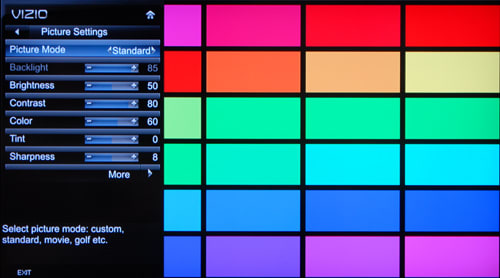 Instruction Manual
The product manual is a large, square-bound book in three languages. Most of the information you need is here. The table of contents is not very helpful and there's no index in the back. That's just lazy. For better searching, we recommend downloading the PDF version and using your computer's search function. You can find the Panasonic TC-P42GT25's manual online here.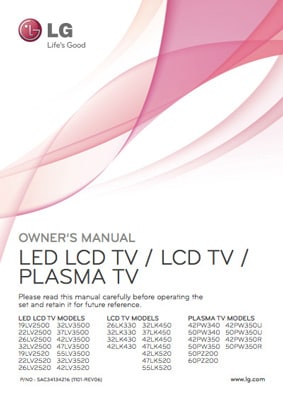 Internet Features
The Panasonic TC-P42GT25 features a LAN port and optional WiFi (additional purchase required) to connect to streaming content or a DLNA home network. Like most manufacturers, Panasonic is making regular expansions to its streaming content library, called VieraCast, which are downloadable even after you buy the product.
The big features Panasonic is touting include Netflix (practically requisite for everyone these days), Amazon Video on Demand, YouTube, Twitter, and Skype. For a complete list of features, see our Compara-Chart 5000 page.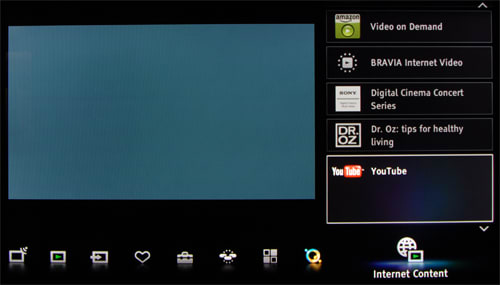 To enable Skype, you'll need to buy some additional products, including a webcam and a microphone. Panasonic has an all-in-one they'll be happy to sell you.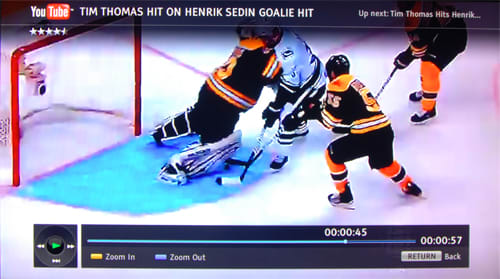 The Panasonic TC-P42GT25 can play back photos stored on USB thumb drives or SD/SDHC/SDXC memory cards. When you pop the device in, it might not recognize it automatically, and you may have to do some menu digging to call up the screen seen below.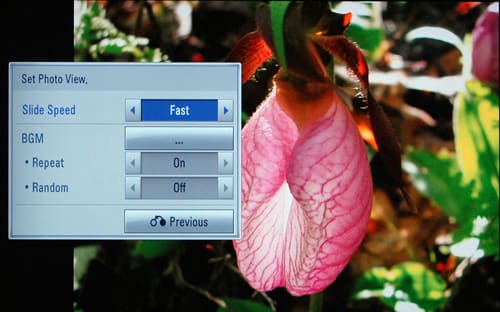 Once you do, the screen is a welcome sight for one simple reason: the "Mixed" category. Normally, when a plug a USB or memory card into a TV, you first have to choose Photo, Video, or Music, before you even see the contents of the drive. It's very frustrating if you just want a quick overview of the contents. That's exactly what Panasonic provides here. Thank you.
The Panasonic TC-P42GT25 also plays back video and audio clips. You can create playlists to string several clips together.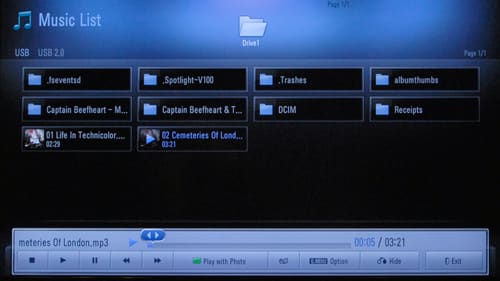 The Panasonic TC-P42GT25 does not play any other types of media.
Power Consumption
The Panasonic TC-P42GT25 is a plasma TV, and plasmas tend to draw more power than LCDs. There's just no getting around that. On average, the TC-P42GT25 will cost about $32.86 per year to operate.
You can see how the Panasonic TC-P42GT25 compares to the competition in the graph below.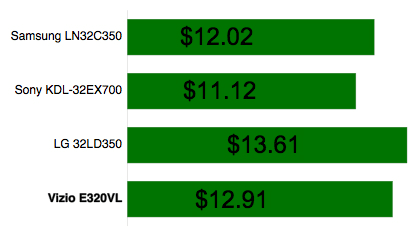 Value Comparison
The Panasonic VT20 series is more expensive than the GT25 series. With the price hike you get 3D glasses included and, as far as we could tell, a better baseline performance. However, the margin is small enough that the TC-P42GT25 should suffice for less discerning users. If you're dead-set on buying a 3D TV, we recommend Panasonic's plasmas far above the LCDs we've reviewed so far from Samsung, Sony, and LG. Something about the display technology is simply more conducive to creating an immersive experience.
Blacks & Whites
The Panasonic TC-P50VT20 managed a deeper black than the TC-P42GT25. While the GT25's peak brightness was slightly better, the VT20's contrast ratio was a wider.

Color Accuracy
The Panasonic TC-P42GT25 managed a more even color temperature, but not by much. It was, however, also slightly better in the RGB color curve tests, making for an overall better color performance.
Motion
The Panasonic TC-P50VT20 did not have the same problems with motion artifacting that we saw in the GT25.
Viewing Effects
The Panasonic TC-P42GT25 has a slightly narrower viewing angle than the Panasonic TC-P50VT20. Both are great, though, and far exceed LCD displays.
Connectivity
The Panasonic TC-P42GT25 is nearly identical to the Panasonic TC-P50VT20, minus one HDMI port.
Other Comparisons
The 3D performance is roughly the same on both TVs. Once you put the glasses on, you're definitely crippling an already weak contrast ratio, but peak contrast and color performance is something that you'll invariably have to sacrifice with 3D content.
Value Comparison
The Samsung UN46C7100 offers a sharper looking image with much better contrast ratio (though some may not like the auto screen dimming effect that you can't turn off). The Samsung is also a much thinner and more attractive TV. However, the Panasonic is a lot cheaper and has a much more convincing 3D effect.
Blacks & Whites
The Samsung UN46C7100 could not match the Panasonic TC-P42GT25 offers a better black level, but is so thoroughly outclassed by screen brightness that the Samsung has approximately 2.5x the contrast ratio of the Panasonic.

Color Accuracy
The Panasonic TC-P42GT25 has slight advantage over the Samsung UN46C7100 in color performance. Both have smooth color transitions and are great performers in this area.
Motion
The Panasonic displayed more trouble with artifacts in moving objects. Neither was perfect, but the Samsung showed a better overall performance.
Viewing Effects
There's no contest in viewing angle. The Panasonic's plasma display has a vast viewing angle compared to the typically narrow Samsung LCD screen.
Connectivity
The Samsung's port selection focuses more on "new media" devices like HDMI and USB. Panasonic has more ports overall, though, including much better support for older AV devices that need component and composite inputs.
Other Comparisons
The 3D effect is much better on the Panasonic plasmas. On the Samsung and other LCDs we've tested so far, the left-right frame flicker and cross-talk is too distracting.
Value Comparison
The Sony HX800 series has better contrast ratio, much better streaming content, and a more stylish appearance. However, the Sony is also a lot more expensive, despite not even having the necessary 3D components (it requires separate purchase of 3D glasses and a 3D sync transmitter bar). In its favor, the Panasonic has a far more convincing 3D effect, and you'll only have to buy the glasses.
Blacks & Whites
The Sony can't compete with the Panasonic plasmas on black level, but the peak brightness was so much better than the contrast ratio is calculated to be much higher.

Color Accuracy
The Panasonic TC-P42GT25 proved to be a very good performer in our battery of color tests. The Sony was no slouch, but we preferred the Panasonic.
Motion
The Sony KDL-46HX800 offers some advantages in motion performance. Most pointedly, it didn't show the same level of motion artifacting that plagued the Panasonic. In everyday viewing, expect the Sony to look sharper.
Viewing Effects
The Sony HX800, as an LCD display, could not hope to match a plasma Panasonic for viewing angle, as you can see in the chart below.
Connectivity
The Sony HX800 and the Panasonic GT25 have a roughly equal number of ports, but not necessarily the same ports. Sony offers an extra HDMI and an analog audio out, but the Panasonic has an additional composite AV input, a second USB port, and an SD card slot.
Other Comparisons
The Panasonic plasma displays are capable of a much more immersive 3D experience than the LCDs we've tested so far.
Conclusion
The Panasonic TC-P42GT25 ($1699 MSRP) certainly won't wow you with a brilliantly sharp picture like some of the more expensive LED-lit LCD televisions. In fact, comparable Samsungs can produce 2x to 3x the contrast ratio. But then, that's not where Panasonic's strengths lie. Instead, these plasma TVs offers deep black levels, a wide viewing angle, and arguably the best 3D performance on the market.
What's more impressive is that Panasonic can offer these benefits at such a low price. You can bet there will be a price war for 3D models (Samsung is already taking Sony to the mat), but the word is out amongst AV-heads that plasmas are the way to go for 3D, and Panasonic owns the plasma market. There are plenty of reasons to choose an LCD over a plasma, but 3D is not one of them, which will give Panasonic longer legs than we were expecting, to be frank.
The TC-P42GT25 slightly underperforms compared to the VT20 series we reviewed earlier this year, but casual users probably won't miss it. What you should be warned of is the TV's inability to produce a bright picture, which is of particular concern when wearing the shaded 3D glasses.
Model Series Comparison
There are just two models in the GT25 series, a 42 inch and a 50 inch. This series does not ship with 3D glasses, and we found the overall performance to be less good than VT20 series (as evinced by our review of the Panasonic TC-P50VT20). However, it has the the same great array of streaming content and good enough performance to earn our seal of approval.
Photo Gallery
Ratings & Specs