SDR CalMan Results (Calibrated mode)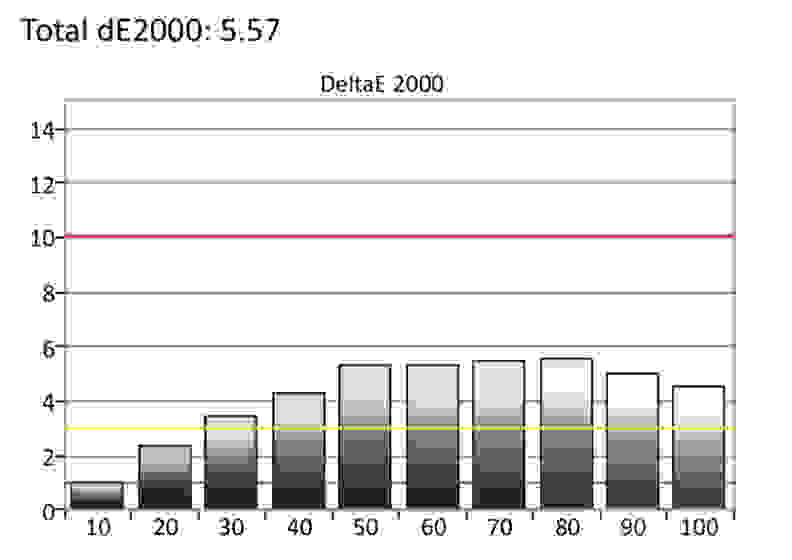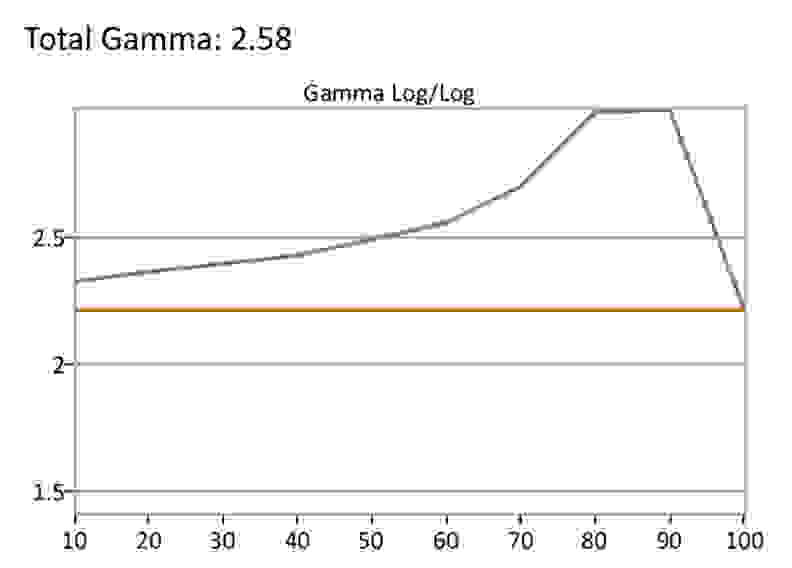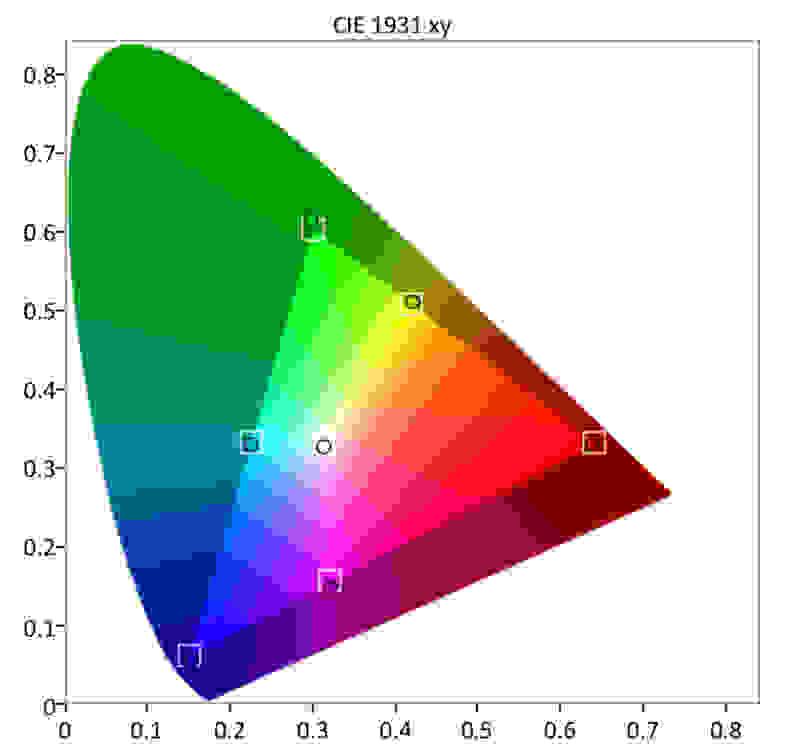 HDR CalMan Results (Calibrated mode)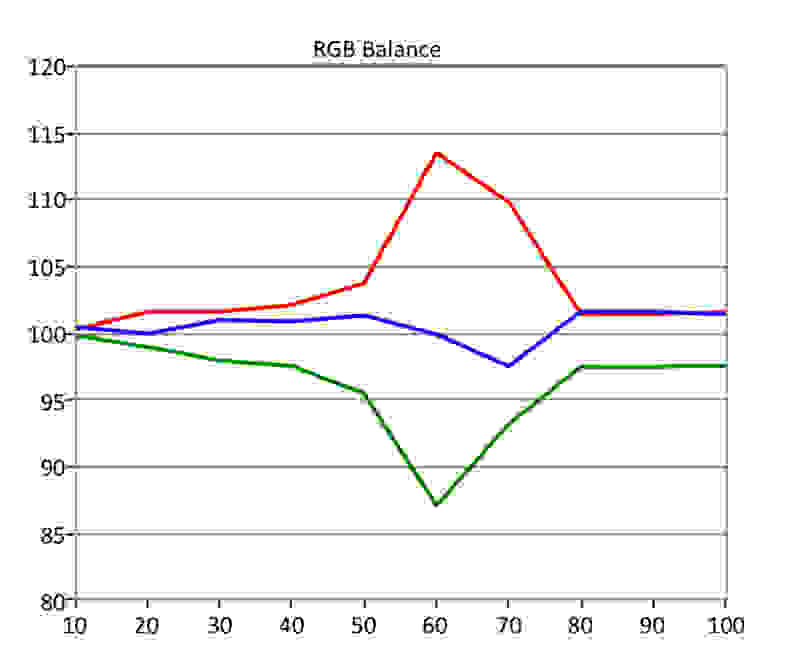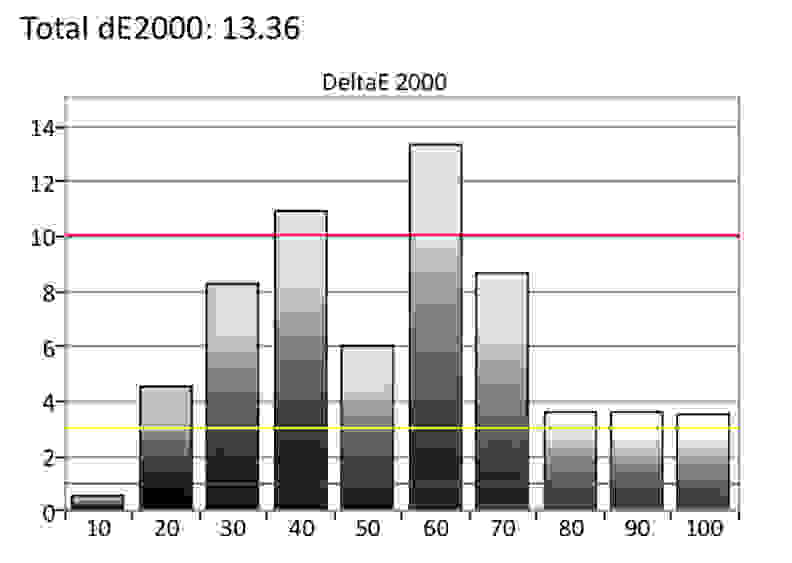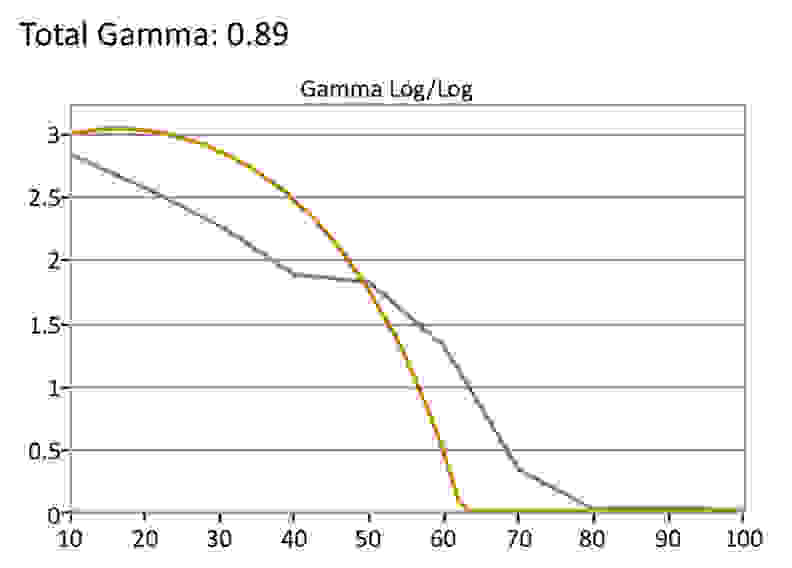 And again this year, the E-Series delivers. While it still isn't going to appease very picky videophiles or satisfy your desire for super-impressive HDR, it's otherwise a very good value for what you're paying. The 65-inch we tested delivered excellent local dimming, contrast, and color—not to mention 4K resolution, smart features, and a better design than past years.
If you don't go in expecting a snappy, premium experience or the top-of-the-pops in picture quality, you're really going to enjoy the E-Series as a reliable 4K TV that—even if it doesn't make HDR content look incredible—still allows you to enjoy it.
---
Vizio's 2018 E-Series is available in six screen sizes:
• 43-inch (Vizio E43-F1), $399.99 MSRP
• 50-inch (Vizio E50-F2), $469.99 MSRP
• 55-inch (Vizio E55-F1), $499.99 MSRP
• 65-inch (Vizio E65-F0), $799.99 MSRP
• 70-inch (Vizio E70-F3), $1,049.99 MSRP
• 75-inch (Vizio E75-F1), $1,549.99 MSRP
Vizio's 2018 E-Series is a step down from the pricier, fancier M-Series, mostly differing in terms of its performance expectations and design. However, whichever E-Series model you're interested in, you can expect the same core set of specs:
• 4K resolution (3,840 x 2,160)
• High Dynamic Range compatibility
• Full-array Local Dimming LED backlights
• Wide Color Gamut
• Vizio SmartCast functionality
The thing that differentiates the E-Series TVs are the number of local dimming zones they have, which increases as you get to larger sizes. The 43-, 50-, and 55-inch all have 10 zones, while the 65- and 70-inch have 12 zones, and the 75-inch has 16 zones.
We received our 65-inch E-Series on loan from Vizio, and gave it roughly 24 hours of warm-up and break-in time prior to testing and review.
---
Not the best-dressed, but it doesn't feel cheap anymore
The first thing I noticed about the 2018 E-Series (especially as compared to the models from previous years) is that it's definitely made of finer stuff than the models from previous years. I particularly like the silvery highlights and firmer-feeling plastic used in the E-Series' chassis.
That's not to say it's super fancy looking—it doesn't have the all-silver aesthetic like Vizio's higher-end P-Series Quantum—but it's still higher quality than the models from a few years ago. Like other Vizio TVs from this year, the E-Series models are supported by very wide-set feet, so make sure you measure your TV stand if you're interested in this TV.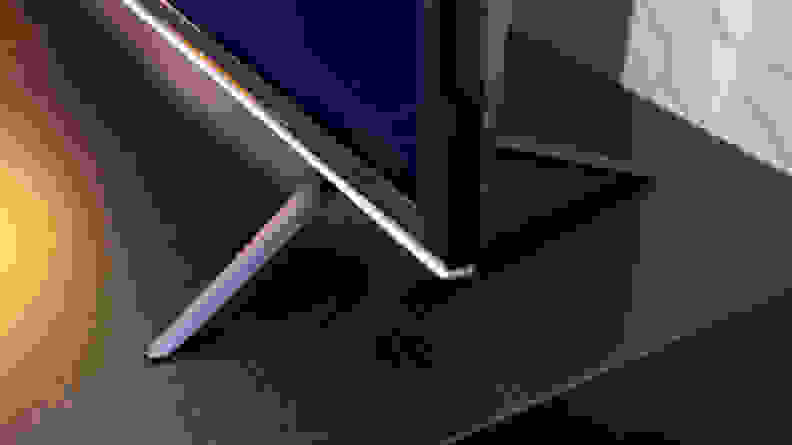 On the back of the panel, you'll find the E-Series' ports: four HDMI 2.0 inputs and a single USB input, alongside the traditional component/composite inputs, a LAN (ethernet) input, and both optical (digital) and analog audio outputs.
Granted, you're not getting as many ports on the M-Series or higher-end Vizio sets from 2018, but that's one reason the E-Series TVs are more affordable.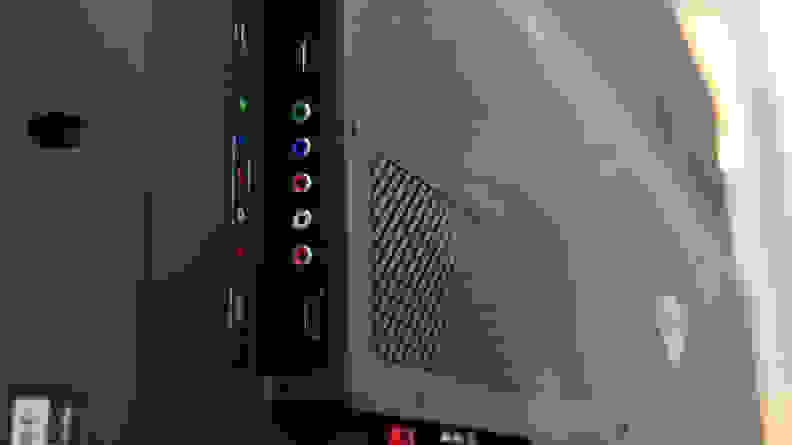 Included with the TV is the standard Vizio remote control for 2018, which looks to be about the same as the ones included alongside the D-, M-, P-, and PQ-Series TVs.
It's a fairly basic clicker, outfitted with a number pad, volume/channel rockers, and dedicated hotkeys for apps (Vudu, Netflix, Amazon Video, Xumo, Crackle, and iHeartRadio, specifically). You can also control the TV and its "Vizio SmartCast" features with a separate app on your phone, if you don't find the remote to your liking.
Robust smart features, but they're not perfect
Vizio's TVs again come equipped with "Smart Cast" features this year, meaning you can connect and cast any app that's Google Cast compatible. But from the get-go, once you connect the E-Series to your WiFi (or to an ethernet cable, if you're so inclined), you'll be able to access core apps like Netflix, Hulu, etc.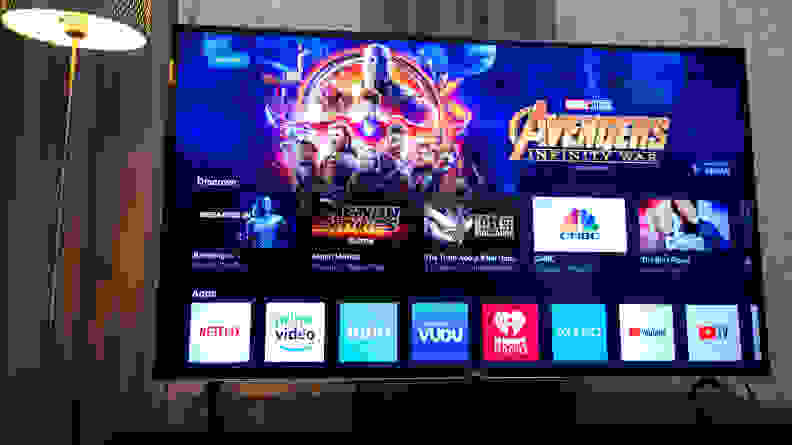 It's easy enough to navigate and use the TV's smart features and system menu using the remote, which is good news for technophobes. Unfortunately, whether you're a second-screen wielding expert or just want to turn the TV on and never look at a menu again, you may find yourself a bit frustrated with the E-Series' general loading and processing speeds.
To wit, the TV is perfectly usable, but sometimes it takes a while to boot everything up and get going, and moving around apps can be frustratingly sluggish at times. However, we also found the higher-end P-Series was a little slow sometimes, so it's possible Vizio will implement a series-wide update to address the smart platform some time this year.
General picture quality is very good
As one of the more affordable Vizio TVs this year, the E-Series sits between pricier sets like the M-Series/P-Series and the entry-level D-Series. While we were expecting solid HDR performance (a certain base level of brightness/color saturation) from the top-level Vizios, the E-Series—while it is an HDR TV—is not going to impress viewers looking for an upgrade into jaw-dropping HDR territory.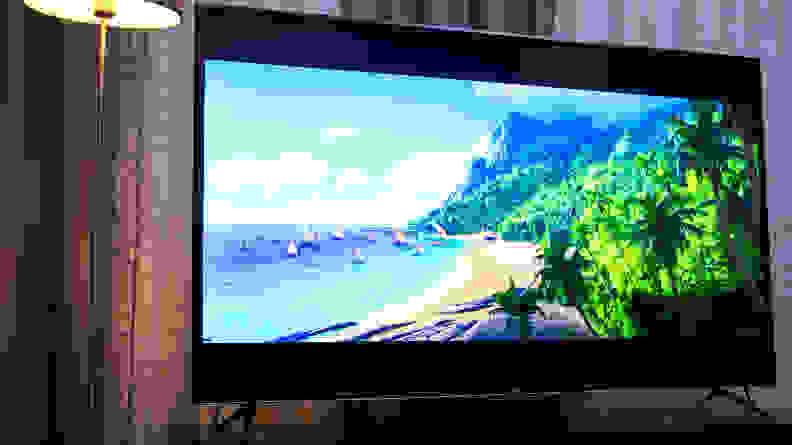 But if you just want a solidly performing 4K TV that also does HDR as more of a bonus, the 2018 E-Series won't disappoint you. Testing revealed the series' usual reliable contrast (thanks to a VA style LCD panel and 12 local dimming zones), accurate SDR (standard) color, and good-enough motion considering the 60 Hz refresh rate panel. Performance is smack-dab in the middle: nothing that's going to knock your socks off, but most content is going to look perfectly fine.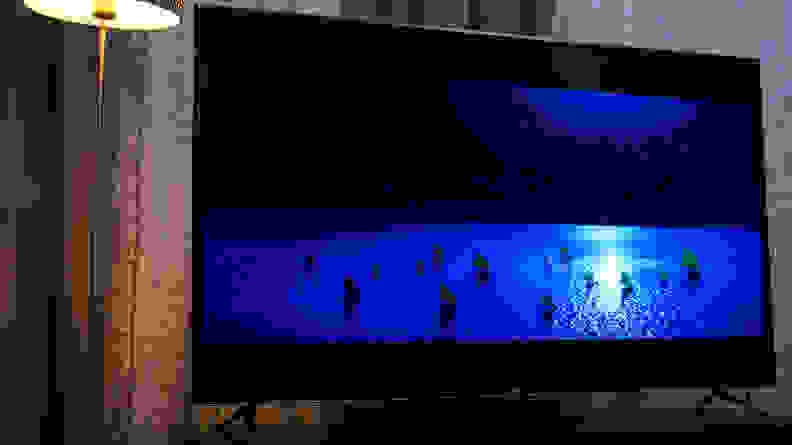 The 2018 E-Series encounters many of the same picture quality pitfalls as other VA-equipped TVs with local dimming, but I'll cover those more extensively in the next section. Because it comes in so many sizes (from 43 to 70 inches), some of the E-Series' picture quality drawbacks will be more prevalent on larger sizes than smaller sizes, but the good qualities (accurate color, good contrast, and bloom-free local dimming) should persist regardless of which model you buy.
If you're not looking for spellbinding HDR or the best possible motion performance, the E-Series is going to check off all your boxes.
Like the other Vizio TVs this year, the E-Series also errs on the side of less bloom, less brightness where its local dimming is concerned. Assuming the algorithm is similar to the one wielded by the P-Series sets, you can expect not to see much by way of bloom or light bleed around speculars, even in HDR mode, but that's because of how the TV throttles its light output depending upon how much of the screen is bright/dark.
Overall, though, if you're not looking for spellbinding HDR or the best possible motion performance, the E-Series is going to check off all your basic requirements for a good-looking TV.
Performance Data (Calibrated mode)
• SDR Contrast: 242.9 / 0.054 nits
• SDR Color Gamut coverage: 99%
• HDR Contrast: 289.2 / 0.057 nits
• HDR Color Gamut coverage: 88%
---
Not a contender for great HDR
While there's no hard and fast rule for how bright a TV needs to get to deliver appreciable HDR content (when compared to its SDR performance), very high brightness is one of the requirements for the most premium HDR sets. Generally, trends point to a minimum brightness of around 400 nits being preferable in entry-level HDR TVs.
The E-Series tops out around 300 nits—so it's close, but it doesn't really take the gold medal where general minimum preferences are concerned. That's not to say you won't enjoy HDR content on this TV, not at all, but simply that it won't look exactly like it's "supposed" to. The TV doesn't have enough brightness nor color saturation to perform at levels that go beyond its standard brightness/color performance, but fortunately, its standard performance is exemplary.
Performance Data (Calibrated mode, HDR)
• 2% white: 9.05 nits
• 10% white: 83.86 nits
• 20% white: 123.50 nits
• 40% white: 268.70 nits
• 50% white: 257.50 nits
• 100% white: 307.55 nits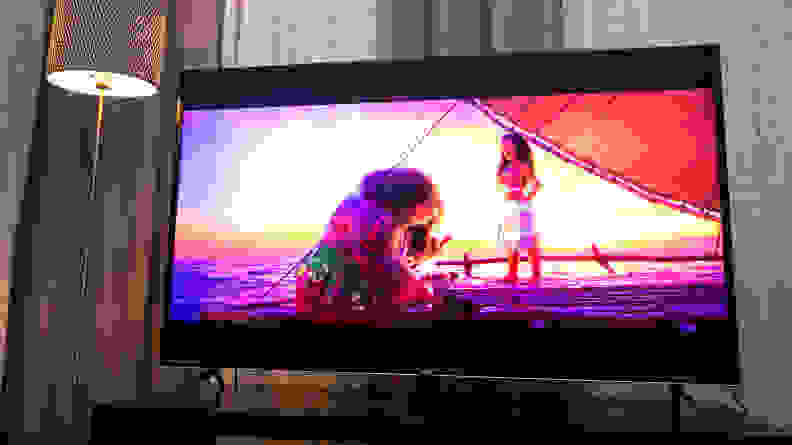 Horizontal viewing may be touch and go
Another drawback of the E-Series is its horizontal viewing angle, which—thanks to the vertical alignment of the liquid crystal element and the better-safe-than-sorry operation of the full-array local dimming algorithm—is pretty narrow.
This shouldn't be a huge issue in the smaller E-Series sizes (the 40s and 50-inch), but if you're getting a bigger E-Series TV and plan on watching with a bunch of people or wall-mounting it, you may find yourself distracted by picture degradation during moderate off-angle viewing.
Performance Data (Calibrated mode)
• Viewing Angle: 18.21°, or ±9.11° from the center to either side of the screen
Yes—if you're looking to save, but don't want the cheapest thing out there
The E-Series inhabits a welcome middle position between the cheapest TVs on the market and more high-end investments. Starting at just $400 and offering a solid 65-inch model for $800, you're not paying a whole lot, but you're getting well-designed 4K smart TVs that give you access to the future HDR ecosystem.
These aren't the value picks for serious videophiles, of course, but between their local dimming, accurate color, Google Cast-ready smart features, and sleek design aesthetics, the 2018 E-Series models are the best ever example of Vizio's commitment to flexibility and value.
While the TCL 6 Series is a better choice if you don't mind paying more for more satisfying HDR, the E-Series is the next option in the chain for budget-conscious buyers. This TV won't let you down, and for many shoppers, that's all they want.
Meet the testers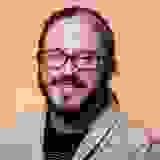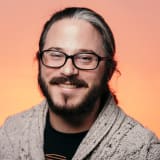 Lee Neikirk
Editor
@Koanshark
Lee has been Reviewed's point person for most television and home theater products since 2012. Lee received Level II certification in TV calibration from the Imaging Science Foundation in 2013. As Editor of the Home Theater vertical, Lee oversees reviews of TVs, monitors, soundbars, and Bluetooth speakers. He also reviews headphones, and has a background in music performance.
See all of Lee Neikirk's reviews
Checking our work.
We use standardized and scientific testing methods to scrutinize every product and provide you with objectively accurate results. If you've found different results in your own research, email us and we'll compare notes. If it looks substantial, we'll gladly re-test a product to try and reproduce these results. After all, peer reviews are a critical part of any scientific process.
Shoot us an email