Televisions
Here's how to build a killer home theater without breaking the bank
Your living room deserves some love, so upgrade affordably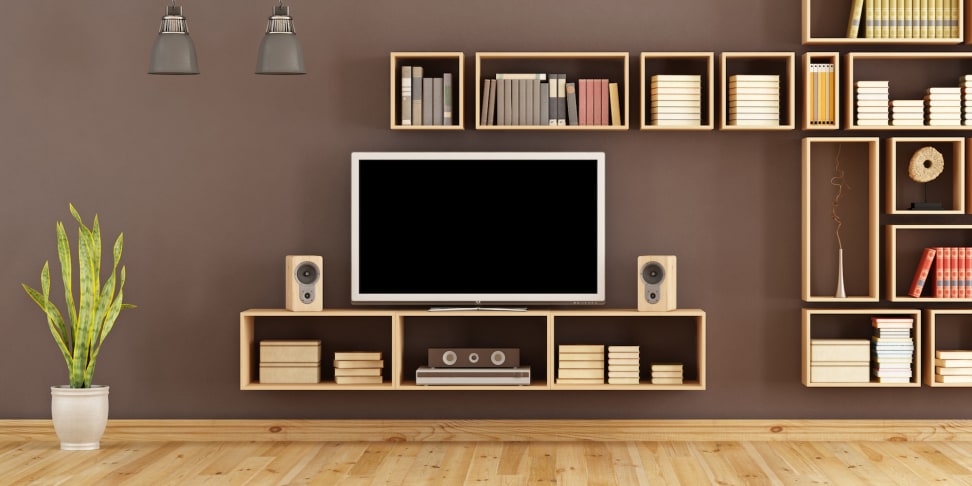 Credit: Getty Images / archideaphoto
Tax season is finally upon us, and if you're lucky enough to be getting a substantial kick-back from Uncle Sam, you may be tempted to splurge on some new gadgets for the living room.
Upgrading your home theater set-up can get pricey fairly quickly if you're not careful, but there are ways to build a satisfying entertainment array without going nuts with the credit card. To this end, we've compiled a list of affordable starting points to turn your boring ol' living room into a fun entertainment center. These might not be the biggest and best options out there, but they're great entry-level options for those of us who might be hurting for cash.
Solid TVs that won't make a big dent in your wallet
I know, I know—no matter how you cut it, TVs ain't cheap. Even the lower-end models are likely going to set you back a few hundred bucks. That said, if you're in need of an upgrade, we've got a few recommendations for affordable sets that don't sacrifice performance. If you're happy with your current TV, just keep on scrollin'.
This 50-inch TCL Roku TV is one of the most affordable ways to upgrade to 4K without spending a ghastly amount of money. When we tested this particular model (the TCL 50UP130), we were impressed with its commendable contrast and easy-on-the-eyes design.
As its name implies, the Roku TV comes equipped with a built-in Roku smart platform, which we found to be insanely easy to use given the lack of external boxes or dongles.
Although the picture might not look as pristine as some of the higher-end models in its size class, the 50-inch Roku TV is a great way to jump into the world of 4K TV without feeling like you just blew way too much money on your living room.
The Hisense H8 series took home both our Editor's Choice and Best of the Year awards last year for its superb value. Right now, the 50-inch Hisense H8 is available on Amazon for just $499.
The H8 offers 4K resolution, HDR support, and garden-variety apps like Netflix, Hulu, and Amazon built into a basic smart platform. Although the H8 doesn't deliver the type of premium performance you'd find in higher-end HDR TVs, it still managed to exceed our expectations.
Like the Roku TV, the H8 is all about value without sacrificing picture quality. And, at a robust 50 inches, it's big enough to be the centerpiece of any home theater.
A soundbar for a premium audio experience
I used to think that an external audio system wasn't really an integral part of my living room, but then I actually got my hands on a wireless soundbar and my movie-watching/video game-playing life has never been the same.
As any audiophile can attest, audio equipment can get pretty expensive. If you're just looking for a little extra oomph for your living room, here's a couple of soundbars that are both reliable and reasonably priced.
This Vizio soundbar earned itself a spot in our round-up of the best soundbars for under $250, and it's currently enjoying a reduced price of around $140 on Amazon.
The Vizio SB3821-C6 is a 2.1-channel wireless soundbar that supports major formats like Dolby Digital and DTS Studio Sound, is capable of 100 dB of volume, and comes with a separate subwoofer to keep the bass thumpin'.
We also really appreciate this soundbar's simple design, which doesn't draw attention to itself and fits well in most rooms. At $140, the price is an absolute steal for the level of performance and the amount of features offered.
The Razer Leviathan came out on top of our list of the best soundbars for under $250—and for good reason. Yes, it's a bit pricier than the Vizio SB3821-C6, but the Leviathan's killer subwoofer and 60-watt output might make the extra cost worth it.
The only caveat here is the Razer Leviathan's design, which can be best described as, well, intense. The aesthetic is bigger, badder, and busier than the average soundbar, so be prepared for it to stand out in your living room.
A console for ultra-HD Blu-rays, gaming, and more
Now that you've outfitted your home theater with a TV and a soundbar, it'd be wise to get an entertainment system in place to supplement the smart features built into your TV. This bundle from Amazon lands you an Xbox One S and Battlefield 1 for just $249.95.
Gaming aside, one of the best things about the Xbox One S is how affordable it is for an ultra-HD Blu-ray player. If you've recently invested in a 4K TV, you're definitely going to want one a UHD Blu-ray player to get the most out of your new set-up. It's simple, really—even if you only use your Xbox One S for watching 4K Blu-rays, you'll still be getting a great deal on a fantastic Blu-ray player.
And, of course, you'll also be able to play all of the Xbox One's game offerings and even stream them to a Windows 10 PC, should you choose to do so. Personally, I've never played Battlefield 1, but if my roommate's competitiveness is any indication, I imagine it's a pretty intense game.
Some killer-looking 4K Blu-rays
Oh come on—you didn't expect to score all of this new gear without loading up on a handful of movies to get you started, right?
This is just a handful of some of our favorite 4K Blu-ray titles; for a more complete list, check out our round-up.
· Mad Max: Fury Road - $29.95 via Amazon
· Jupiter Ascending - $31.99 via Amazon
· The Revenant - $22.49 via Amazon
· John Wick - $15.96 via Amazon
· Arrival - $48.99 via Amazon
· Star Trek Beyond - $27.99 via Amazon
· Fantastic Beasts and Where to Find Them - $29.96 via Amazon
Related Video