Have you ever been watching TV and the screen catches the light in a way that reveals a patchwork of fingerprints, smudges, and dust? How much these blemishes affect your viewing experience sort of depends on how tolerant you are. Sooner or later, though, it will become unbearable.
That's why it's a good idea to periodically clean your TV. Before you do so, there are some important points to keep in mind—like why you should avoid that bottle of Windex. TVs, especially TV screens, are delicate pieces of equipment, and glass cleaners are just too harsh. If you clean your TV with Windex, you'll end up doing more harm than good.
That said, cleaning your TV properly is actually pretty easy, and here we show you exactly how to do it.
---
1. Check the Manual
If you clean your TV with Windex, you'll end up doing more harm than good.
This might seem like a no-brainer, but you should check your TV's manual. Samsung notes that your manual will probably contain specific cleaning instructions for your type of TV.
If, for whatever reason, you no longer have the manual and can't find a copy of it online, that's fine. There are still some general tips and common sense rules for cleaning any television set.
2. Gather Supplies
There are a few items you'll need to pull from your cleaning closet. Most manufacturers agree that you'll need a soft cleaning cloth, preferably one that is lint-free.
As for cleaning solutions, manufacturers differ on what to use. Samsung suggests using a screen cleaner, particularly the ScreenClean brand. Others—including LG, Panasonic, and Sony—suggest using a a mixture of detergent (or any liquid soap) and water. Just make sure the solution is mild enough to prevent damaging the screen.
If you'd like a third option, Vizio recommends a mixture of 50 percent denatured alcohol and 50 percent water. Any one of the three solutions should work fine, but depending on how badly smudged your TV is, you may not even need them.
3. Unplug
Before you actually begin the cleaning process, you should absolutely unplug your TV. This is just to ensure that you don't accidentally electrocute yourself when you get the device wet. Really, this one is a no-brainer—just do it.
4. Clean the Frame
You should avoid spraying the solution directly onto the screen.
With your cleaning cloth, feel free to start wiping dust and grime off of the body of the TV. If the dry cloth won't do, feel free to use some of the cleaning solution you've chosen. Just be sure to wring the cloth out so you don't get excess liquid on the TV set.
Sony notes that it's safe to use a damp cloth on the TV cabinet, but not on the speakers. For sensitive areas like the speakers, use a dry cloth only.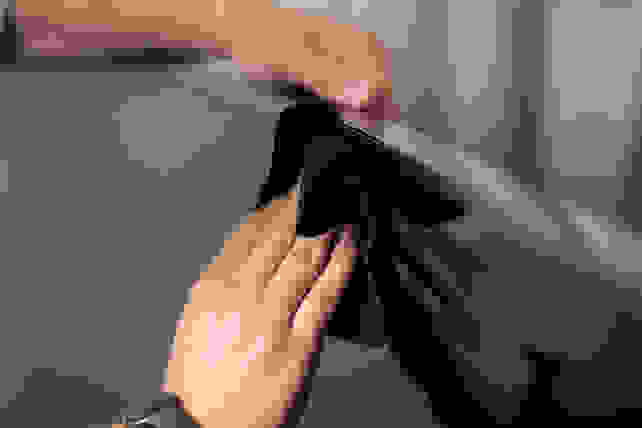 5. Clean the Screen
Now for the final and most important part: cleaning the screen. The screen is by far the most delicate part of the TV, and as such requires very careful cleaning.
Like with the TV body, most manufacturers agree that you should start by wiping down the screen with a dry, lint-free cleaning cloth. If there are still smudges left, you'll need to use a cleaning solution.
If you're using a spray, manufacturers note that you should avoid spraying the solution directly onto the screen. Instead, spray the solution onto a cleaning cloth first. If you're using a homemade solution, wet the cloth with the solution and wring out the excess liquid so the cloth is damp, not soaking wet.
Now you can use the damp cloth to wipe away any lingering smudges or grime. Panasonic warns to be careful not to scratch the screen with your fingernails as you wipe it down. Also, avoid applying too much pressure to the fragile display.
Manufacturers differ on how to best let the TV dry. Some suggest drying it with a cloth, while others call for letting it air dry. Regardless, your safest bet is to simply wipe away the excess cleaning solution with a dry cloth and let the rest of the screen air-dry. Then you can plug in your TV and get back to enjoying your favorite shows.
Related Video
Our editors review and recommend products to help you buy the stuff you need. If you make a purchase by clicking one of our links, we may earn a small share of the revenue. Our picks and opinions are independent from any business incentives.