If you can't start the day without caffeine, a coffee maker is undoubtedly the most important appliance on your countertop. Despite the growth in popularity of pod and cold brew alternatives, the drip coffee maker still reigns supreme. That's largely because its process is deceptively simple—just pour hot water over ground coffee beans.
With thousands of coffee makers available, though, shoppers are spoiled for choice. That's why we tested some of the most popular full-size drip machines to find the best one. We narrowed the field down to drip coffee makers that ranged in price from less than $20 to over $300, and could brew at least eight cups. We looked at ease of setup and use, durability, ease of cleaning, and the overall design and features of each machine. Most importantly, we gathered groups of coffee lovers and handed out free samples, ultimately concluding that the Technivorm Moccamaster (available at Amazon for $299.00) was the best option on the market. After all, taste is king.
Updated January 05, 2018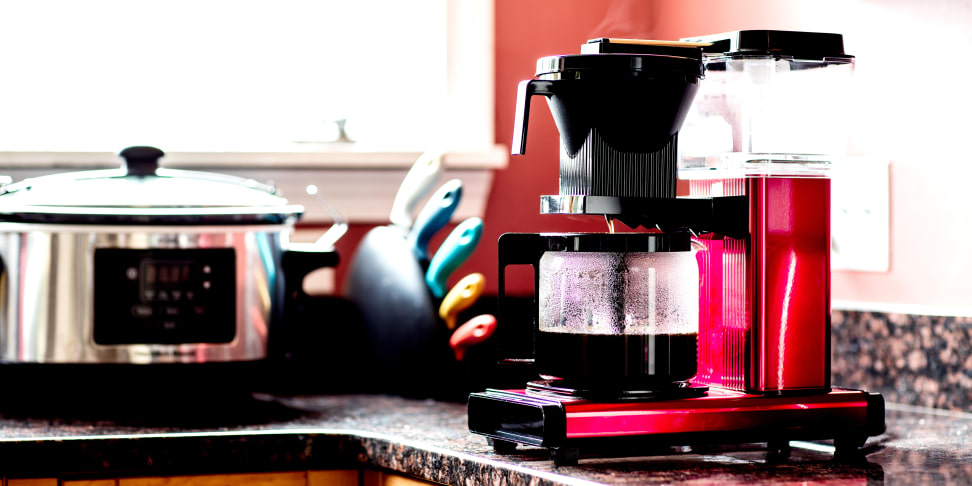 Technivorm Moccamaster
Technivorm Moccamaster
Best Overall
With its mid-century design and an exposed reservoir, you'll want to leave the Moccamaster out on the counter even when it's not in use. But it doesn't just look great. Indeed, the pricey Moccamaster brews a complex and smooth pot of coffee that ranked highest in our taste test. This machine also fills a full pot quickly—a necessity for the morning rush.
Only two optional settings are available: You can control the heating element under the carafe and turn down the temperature if desired. Other than that, the Moccamaster doesn't have—and doesn't need—anything else. Technivorm boasts that its heating element can get water between 196ºF and 205ºF, which specialists say is the ideal temperature for brewing coffee.
The Moccamaster isn't for everyone. Handmade in the Netherlands, it costs around $300—and would never win an award for value. It lacks a programmable timer, and it was also bit more difficult to set up than the rest of the coffee makers—in fact most were ready to go right out of the box. But a quick look at the instruction diagram should clear up any confusion, and the end result is well worth the effort.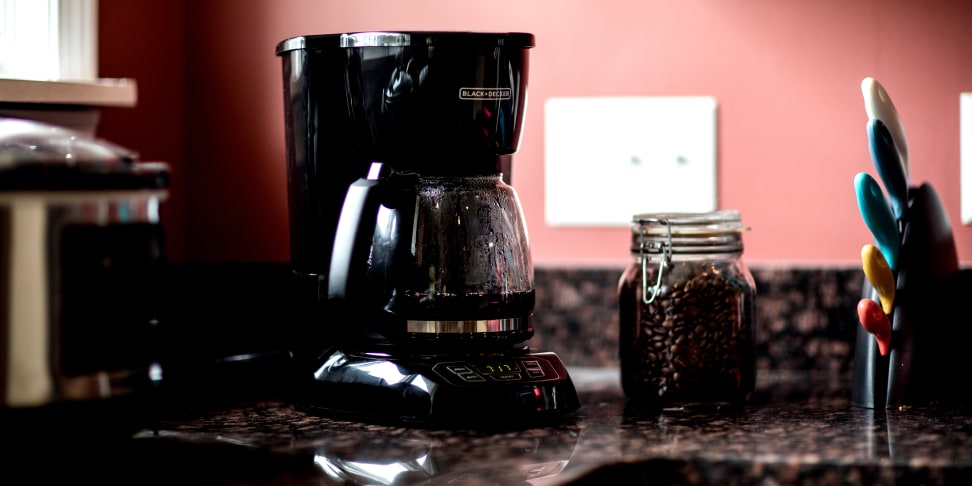 Black & Decker CM1100B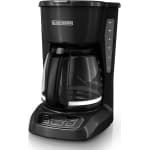 Black & Decker CM1100B
best value
If the Moccamaster is far outside your budget, we recommend the Black & Decker CM1100B. It falls at the lower end of the price scale, but it brews a tasty pot and has some useful features that make it a convenient pick for your kitchen.
On taste, the CM1100B outperformed several more expensive coffee makers. Taste testers found this coffee smooth and not overly bitter, however a few taste tasters found the coffee watery and lacking body.
It's very easy to set this model's timer so you have a fresh pot of coffee waiting when you wake up. For forgetful coffee lovers, there's also an auto-stop so the pot doesn't spill over, as well as a two-hour automatic shut-off.
While the CM1100B isn't flimsy, it's made of materials that feel less durable than more expensive coffee makers. It probably won't stand up to decades of heavy use, but it's an easy recommendation for the price.
Cuisinart 14-Cup Programmable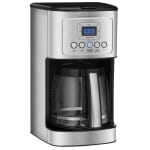 Cuisinart 14-Cup Programmable
The Cuisinart 14-Cup Programmable Coffee Maker brews a solid pot of coffee on its default settings and includes several options that give experts more control.
While it has a an option to brew bolder coffee, on the Cuisinart's default setting the coffee turned out smooth but slightly bitter. Tasters also found this coffee lacking in flavor compared to others. The Cuisinart can be programmed to brew coffee at a set time, but multi-function buttons make the process confusing at first.
At 14 cups, the Cuisinart has more capacity than most. Of course if you don't have 14 coffee drinkers in your home, the 3200 has options for brewing between 1 to 4 cups at a time. Despite its larger carafe, the 3200 doesn't take up much more space than smaller coffee makers, and we appreciate the sleek, stainless exterior.
Braun BrewSense
Braun BrewSense
The Braun BrewSense is a stylish, solidly built coffee maker with a handful of useful options. Its 24-hour timer lets you set up your morning coffee a day in advance and it has a separate setting for brewing a one to four cups, instead of the full 12 cup pot.
With two brew settings, you can choose how strong you'd like your coffee—our taste testers found the regular setting flavorful and smooth. Unfortunately, they also found it on the bitter side, and weren't as fond of the coffee overall.
Like other coffee makers with several options, programming the BrewSense wasn't intuitive. Since some of the buttons serve double duty, less tech-savvy users may find it frustrating.
Black & Decker CM1200B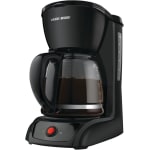 Where To Buy
$17.89
Amazon
Buy
$17.89
Home Depot
Buy
$21.41
Walmart
Buy
Black & Decker CM1200B
There's absolutely nothing fancy about the Black & Decker CM1200B 12-Cup Switch Coffeemaker, but it does brew a decent cup, especially for a machine that costs less than a week of Starbucks.
This coffee was smooth and not overly bitter, according to taste testers. But compared to other coffee makers, tasters found the CM1200B's coffee weaker and slightly bland.
The CM1200B couldn't be easier to use. Once you put in the ground and water, just flip the switch and wait. And just like the other Black & Decker on our list, the CM1200B lets you pull out the carafe mid-brew if the caffeine situation gets desperate.
The CM1200B's durability is in line with its price. It's not flimsy, but don't expect the CM1200B to be the last coffee maker you buy.
Mr. Coffee Advanced Brew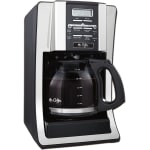 Mr. Coffee Advanced Brew
For an inexpensive coffee maker, the Mr. Coffee BVMC-SJX33GT-AM has a lot of options. This model has both a programmable timer, a "freshness timer" that keeps track of when coffee was brewed and how long it's been sitting, a brew strength selector, and settings for using both a glass or metal carafe.
While all the options are enticing, taste testers weren't so hot on Mr. Coffee's brew. The coffee got high marks for smoothness, but almost all our testers found the coffee weak and lacking flavor when brewed on default settings.
Hamilton Beach 2-Way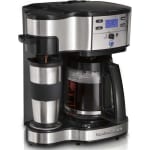 Hamilton Beach 2-Way
For the coffee drinker who needs only a cup or two most days, but wants that full pot option, the Hamilton Beach 2-Way coffee maker has a unique solution. In a machine not much larger than a typical coffee maker, users get the choice between brewing a whole pot, or using a coffee pod to brew just a single cup.
While that's an attractive feature that makes this a popular seller on Amazon, the Hamilton Beach's coffee was taste testers' least favorite. Several testers felt the coffee was bland or watery, while others found it middle of the road.