Having the right luggage can make a business trip or vacation a lot less stressful. For many people, the best suitcase to travel with is a carry-on bag. They're perfect for anyone traveling for a short jaunt or who just likes to travel lightly.
As the name suggests, a carry-on is meant to be carried onto your flight with you. Say goodbye to checked baggage fees and all that waiting around the carousel. And because your carry-on will be in an overhead bin there's no chance of it ending up damaged or lost by the ground crew.
After speaking with the experts at Delta Airlines, conducting days of online research, and then personally testing 12 popular carry-on bags (including the use of a hand-built sizing device to approximate overhead cabin space), we think the Samsonite MightLight 2 21" Spinner (available at Amazon for $125.20) is the best overall carry-on you can find.
Updated January 03, 2018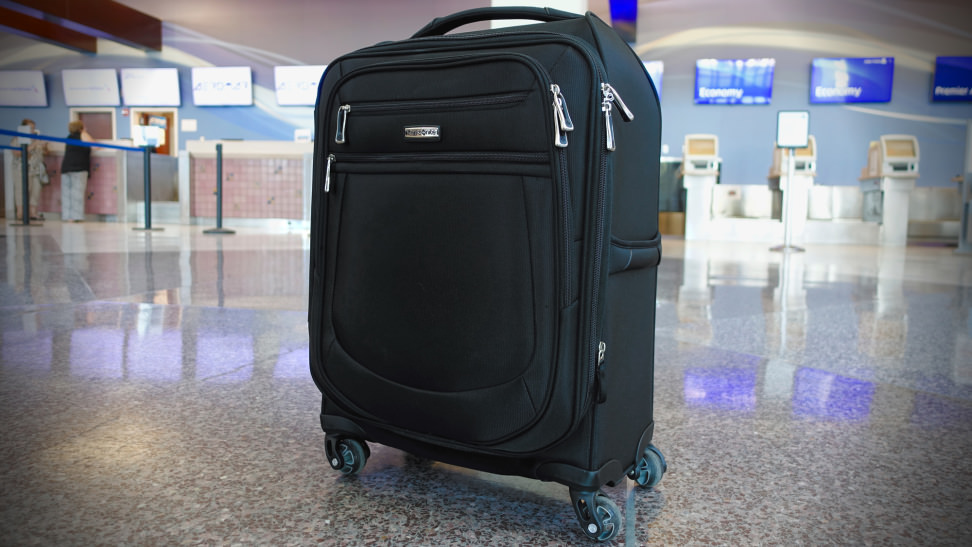 Samsonite MightLight 2 21" Spinner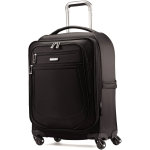 Samsonite MightLight 2 21" Spinner
Best Wheeled Carry-On
The Samsonite MightLight 2 is the best carry-on bag of the moment. Despite the bag's total dimensions, the carry handle op top compressed down far enough that I was able to fit it into our sizing device, wheels and all—and what wheels they are.
During testing, I found that the chunky, spherical wheels on this bag made crossing over sun-cracked pavement, concrete sidewalks, wood floors and tile comfortable and easy. As it's a four wheeled spinner, there was no trouble maneuvering it around obstacles. The handle on the side the bag is oriented to make grabbing it out of an overhead compartment a breeze, while the one on the top is cushy enough to carry the bag comfortably for a long time. Its locking, retractable handle offers two different heights, making this bag easy to wheel along, no matter how tall you are.
The MightLight 2 offers just under 2600 cubic inches of packing space. There are three pockets on the outside of the bag: two that are perfect for stuffing an iPad, snacks and sundries into, and one along the side of the bag perfect for a water bottle. The inside of the suitcase boasts a large open area with elastic retention straps for securing your clothes or packing cubes into place, as well as mesh stash pockets for organizing smaller items. On the inside of the bag's lid, you'll find a zippered, mesh compartment that's perfect for jamming socks or underwear in and a transparent, water-resistant pocket that'll make whipping through a TSA line with your toiletries a breeze. The bag comes equipped with self healing coil zippers. The main compartment can be sealed up using an included TSA-approved luggage lock. Without anything in it, the MightLight 2 weighs six pounds. It strikes the perfect balance of affordability, features and build quality. I highly recommend taking it for a spin (sorry.)
My only real complaint about this bag is that when not in use, it can't be compressed down for storage. If that's a deal breaker, check out our pick for Best Soft-Sided Carry-On.
Dimensions: 23 x 15 x 9 inches
Our bags sizer says: It fits!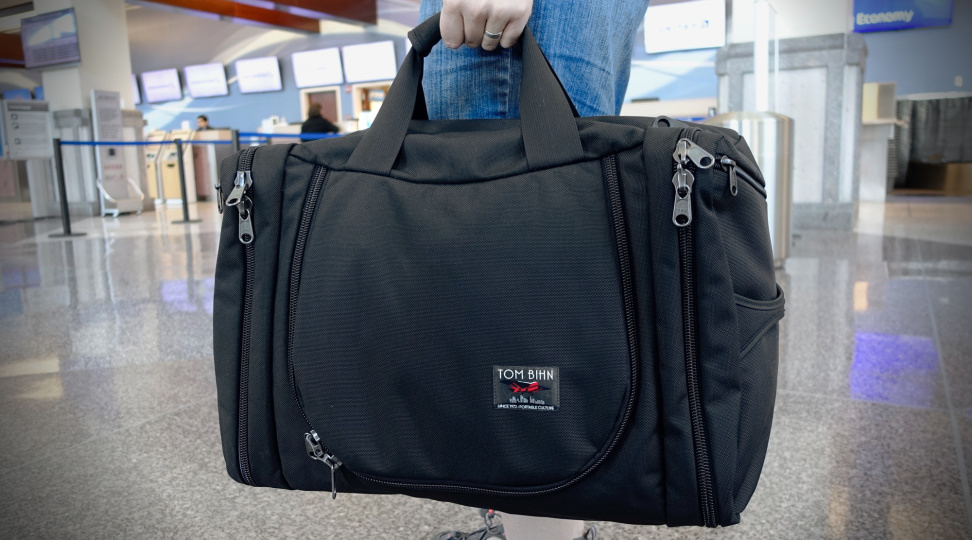 Tom Bihn Aeronaut 45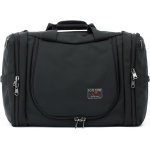 Tom Bihn Aeronaut 45
Best Soft-Sided Carry-On
You may not be familiar with Tom Bihn, but they've been making bags since the 1970s. Since then, they've earned a cult following within the travel community thanks to their intelligent, near bulletproof design. The Aeronaut 45 has a 45-liter (2700 cubic inch) capacity. Measuring 22 x 14 x 9 inches, it had no problems fitting into on overhead. And there's no internal frame or wheels sticking out of it, it's possible to compress the bag to fit even smaller.
The Aeronaut 45 is available in two different fabrics: incredibly tough-wearing 1050c ballistic nylon or 400d Halcyon/420d ripstop nylon, weighing around three pounds and two pounds respectively. The Halcyon fabric isn't as hearty as ballistic nylon, but it won't pick up pet hair. No matter which fabric you go with, you'll be able to snag an Aeronaut 45 in a wide variety of colours with a weather-resistant urethane finish. All of the bag's exterior zippers are waterproof.
The frameless Aeronaut 45 feels featherlight compared to a spinner. Tom Bihn equipped the bag with a plushly padded handles and stow away backpack straps. That the bag can be worn as a backpack makes running through a crowded airport terminal or transferring to a train or bus that much easier. A set of D-rings on the outside of the bag also make it possible to attach a shoulder strap. Tom Bihn's patented $30 Absolute Shoulder Strap is easily one of the most comfortable that I've ever used on any piece of gear.
The bag is broken up into three different sections: the spacious main compartment which is perfect for pairing with packing cubes (although it also comes equipped with a set of compressions traps for your clothes,) and two smaller, zippered compartments on either end of the bag. You'll find sub-compartments in each—a large mesh pocket in the lid of the main section and zippered stash pockets on the outside of the bag, perfect for keeping keys, your passport and other small items in. The interior of the Aeronaut 45 is full of D ring attachment points that allow you to kit the bag out with organizational pockets and pouches, Dopp kits, lanyards for keeping loose items organized, laundry bags and stuff sacks. Tom Bihn offers a ton of such options on their site.
When you've returned home, the Aeronaut 45 can be compressed down flat and rolled up to keep it out of the way.
Dimensions: 22 x 14 x 9 inches
Our bags sizer says: It fits!
Who am I?
My name's Seamus Bellamy. I've got a close to a decade's worth of tech journalism under my belt. I live on the road, full-time, in a 40-foot motorhome, splitting my time between Mexico, the United States and Canada. When I'm not travelling overland, my job as a journalist takes me across the globe. I've danced with Geisha in Japan, climbed volcanoes in Nicaragua and hiked all 500 miles of the Camino de Santiago. I know travel and the gear that makes doing it easier.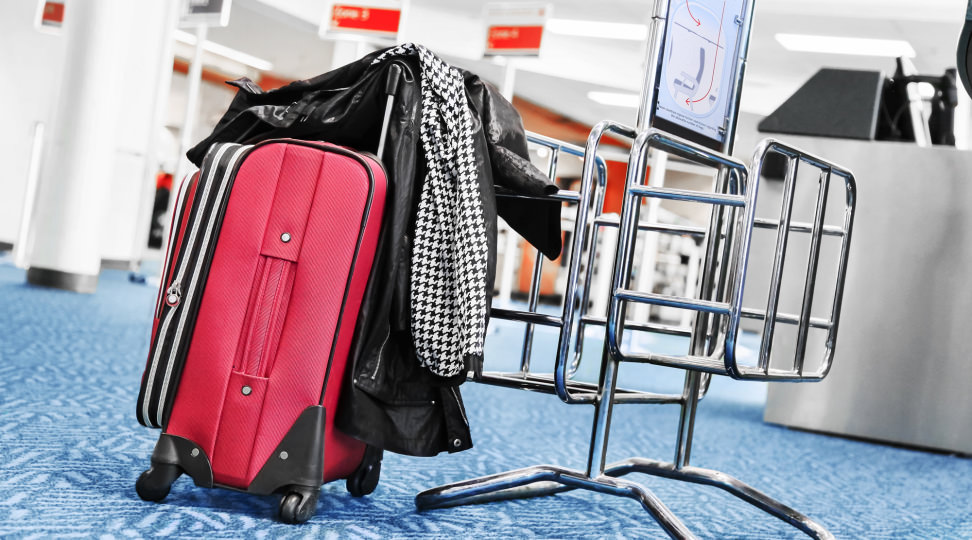 What to look for in a carry-on bag
Tavaya Davis and Frank Giglitto are flight attendants for Delta Airlines. The pair see more time in airports and in the air during a week of work than most of us experience in a year. Before doing any other research, I asked them what features they felt that a good carry-on bag should have.
• Price: In order to find bags of good quality that come with a reasonable warranty, but still be financially accessible to most people, we capped the price at $300.
• Overhead compartment fit: If there's a North American standard for the size of carry-on bag allowed on an aircraft, most airlines don't bother to follow it. JetBlue, for example, allows bags up to 26 x 18 x 12 inches to be placed into their overhead bins, while Virgin America allows up to 24 x 16 x 10 inches.
The most common size agreed upon by major air carriers like United, US Airways, American and Delta is 22 x 14 x 9 inches. After taking a look at carry-on size allotments for European, African, Asian and Middle Eastern carriers, this is as close to a baggage sweet spot as you're likely to get. There are exceptions, of course. Many bags with slightly larger dimensions come with handles or wheels that can be compressed or retracted.
Lesson: don't trust the specs. The only way to be sure is to get your hands on it and test it. So that's just what I did! I built a box measuring 22 x 14 x 9 inches and attempted to jam each of the bags into it. It's true that this is a conservative measurement. We all know that real overhead bins sometimes have a little give. But this is pretty much the same experience you'll encounter at your gate with an airline-approved sizing device. Ultimately, it's the gate agent that gets to decide if your carry-on is getting carried on.
• Tough and Flexible: Bags with a plastic or aluminum exterior are easy to scuff, dent or crack when subjected to casual abuse. What's more, they don't compress, making it less likely that you'll be able to jam one into a tight overhead compartment. As such, I favor soft-sided suitcases made from resilient materials like leather and ballistic nylon. Such bags can stand up to a beating and still look great.
• Wheels: if you prefer your luggage to glide through an airport concourse on wheels, four wheels are better than two. No matter whether you're pushing or pulling your bag along, you'll find it just as maneuverable. That said, two wheeled bags are still a good get—they're more portable and can often cost less.
• Handles: Retractable handles should slide in and out of position, smoothly, and offer at least a couple of height settings to accommodate different sized users. For times when you have to pick up your bag and carry your carry-on, it should come equipped with wide, padded handles to make the weight of what's inside of it feel like less of a strain on your hand. Handles located on multiple sides of a bag are a win, as they make it easy to grab it out of an overhead bin, no matter how you had to place it in there. Carry-on bags without wheels should come equipped with multiple, comfortable handles, too. To make last-minute dashes for your gate or long walks to a hotel more comfortable, I like ones that come with backpack straps.
• Organization: Bags that offer a few interior and exterior pockets, with a single, large interior space are a smart buy. Having a large main compartment that can be used with packing cubes, a garment bag or packed with loose clothes and sundries is great when paired with interior pockets for smaller items like toiletries or socks. A few outside pockets can be used to stash on-the-go items.
Other things we tested
• Capacity: Each carry-on was checked to see if it could fit enough clothes for a week's worth of travel.
• Weight and carry comfort: Each bag, fully loaded, was held by the main handle for 10 minutes. If the bag had backpack straps, I carried it around for another 10 minutes like that.
• Mobility: Each bag was either wheeled (or carried, for those without wheels) over a quarter-mile over tile, hardwood, concrete and sidewalk surfaces, making a 360-degree turn every 20 steps to ensure that the wheels were still spinning freely. Then then were run again through an obstacle course of tables and chairs.
---
Other carry-on bags we tested
Kirkland Signature Softside Spinner 22" Carry-On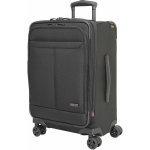 Kirkland Signature Softside Spinner 22" Carry-On
If you're a Costco member, you'll want to consider the Kirkland Signature Soft Sided Spinner 22" Carry-On. The materials and build quality just aren't as good as the Samsonite MightLight 2, and it even costs a little more, but members get a limited lifetime warranty.
While it fit into our sizer with no issues and survived our gauntlet of tests with decent mark, there were issues. The Kirkland's wheels showed signs of pitting and wear early on that don't bode well for their longevity. As for the extendable handle, it's padded with rubber and it feels kind of gross. Testing it in southern Texas on hot day, I found that my hand quickly began to sweat while using it.
Dimensions: 20.2 x 14 x 9.5 inches
Our bags sizer says: It fits!
Travelpro Maxlite 4 International Expandable Carry-on Rollaboard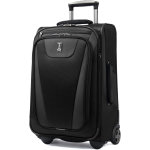 Travelpro Maxlite 4 International Expandable Carry-on Rollaboard
For anyone that's not crazy about using a soft sided carry-on bag but still needs a suitcase that can be partially collapsed down for storage, the Maxlite 4 could be a good option. It has the same capacity as the Tom Bihn Aeronaut 45, but in a semi-rigid package that can be wheeled around an airport. The lid can be pushed into the body of the bag, cutting down the size by about 25%. So you shouldn't have a problem finding a place for it at the back of your closet. It comes with enough pockets to make organizing your travel gear and clothing easy, but not so much that you're forced to compromise on how you want the bag to be organized. Best of all, you can find it for well under $100!
The downsides? First, it has two wheels rather than four. Second, this bag simply doesn't feel as well made as our Samsonite pick. While it is sturdy enough, the polyester material of the MaxLite 4 can't match the MightLight. I also noted that while its wheels showed no wear, the skid plates on the bottom the this bag showed considerable pitting and scuffs after wheeling the bag over uneven pavement.
Dimensions (inches): 22.5 x 15.5 x 8.5
Our bags sizer says: It fits!
Travelpro Platinum Magna 2 21" Expandable Spinner Suiter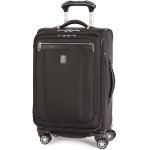 Travelpro Platinum Magna 2 21" Expandable Spinner Suiter
The Magna 2 comes with a removable garment bag for those who need to include business or formal wear in their load out while traveling. Right out of the box, I loved the look, quality and thoughtful organizational aids. The build quality was the finest of any of the spinner-style carry-ons that I tested.
Unfortunately, it's too big. While the Magna 2 has similar interior dimensions as the Samsonite MightLighter does, I wasn't able to slip it into our sizer, no matter how hard I tried to jam it in. The bag's wheels stick out too far and the handle, while exceedingly comfortable to hold, refused to compress. It wasn't a unique problem in this roundup, but it's a problem nonetheless.
Dimensions: 21 x 14 x 9 inches
Our bags sizer says: Too big
Incase EO Hardshell Roller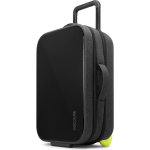 Incase EO Hardshell Roller
As many people like bringing their laptops along on a flight, I briefly considered including a hard sided carry-on in this guide. The InCase EO Hardshell Roller looked like it might fit the bill, so I called it in. Unfortunately, I found that this bag demands too many compromises to warrant a recommendation.
Despite it's size, the EO only boasts a 33.5-liter capacity—that's over 10 liters less than the Samsonite MightLight 2 or the Tom Bihn Aeronaut can manage. A good chunk of this space is eaten up by the bag's laptop compartment and a number of interior compartments for carrying all of the accessories that a computer user might need on the road. As such, I wasn't able to fit our standard load of clothing into the EO during testing. Additionally, the case refused to compress, so, I wasn't able to get it into our sizing device.
If you need to travel with a computer, think about carting along a laptop bag or backpack with you instead.
Dimensions: 23 x 15 x 8 inches
Our bags sizer says: Too big
Genius Pack G3 22" Carry On Spinner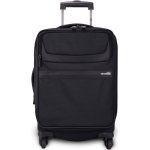 Genius Pack G3 22" Carry On Spinner
Travel & Leisure and Fodor's Travel liked the Genius Pack G3 Spinner. I get it—on paper, this bag has a lot of nice features. It comes with separate, compressible compartment to put your dirty laundry into, a spot to plop a USB charger with a cable guide in so you can keep your digital doodads charged and pocket built into the outside of the bag for stashing an umbrella. But here's the thing: the spots for the USB pack and umbrella are sized to fit Genius Pack gear, which you have to buy separately. And if you don't need those items on your trip, the space designed for them can't be reclaimed and used for more clothes or toiletries. I also wasn't thrilled with the prescriptive nature of the specially designated pockets for stashing socks and other sundries in. Don't tell me how to pack.
Finally, their site claims that the bag, which measures 22 x 14 x 9 inches, is "approved for all major airlines." I feel this is misleading: just because it's approved doesn't mean it'll fit in an overhead bin. I was unable to compress the G3 down to fit into our sizing device, so it could be rejected as a carry-on for most United, US Airways, American and Delta Airlines, cross country and international flights. And that's just the start. If you're taking a regional flight, chances are it'll be going under the plane. Additionally, you'll find that a lot of European and African carriers demands smaller sizes than you'll see here in North America.
Dimensions: 22 x 14 x 9 inches
Our bags sizer says: Too big
Timbuk2 Copilot Luggage Roller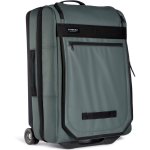 Timbuk2 Copilot Luggage Roller
Timbuk2's high quality gear always looks thoroughly modern and wears well, and the Copilot is no exception. We love the water resistant compartment in the top of the bag for stashing wet shoes or toiletries in and an internal mesh divider in the main compartment. It had the best telescopic handle of the bunch and the handles were very comfortable.
According to Timbuk2, the "medium" 22-inch version of the bag should have been able to fit into the sizing device. Sadly, this wasn't the case. It was close though—so close, that I ended up pushing on the bag too hard and breaking the sizer as I tried to get it in. The sticking point was the bag's wheels. You can remove them, but at that point, it's no longer a rolling bag and loses much of its utility. There's a 19-inch version of the bag that would have definitely fit into our sizer, but it doesn't have the volume required to hold all of the clothes you'd need for a week away from home. And the large 28-inch version of the bag is big enough that it'd have to be stowed under the plane.
Dimensions: inches
Our bags sizer says: It fits, but you may have to take off the wheels
American Tourister iLite Xtreme 21" Spinner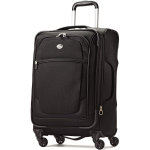 American Tourister iLite Xtreme 21" Spinner
American Tourister is a Samsonite Company that makes decent luggage at middle-of-the-road prices. Their iLite Xtreme Spinner 21 is a great example of this. Available in five different colors, it costs considerably less than the Samsonite MightLight 2, but offers many of the same features—albeit at a slightly lower quality. As with so many of the other bags in this roundup, the iLite's size was too Xtreme to fit into our sizing device. Its wheels and loose polyester pockets on the lid of the bag kept it from sliding in.
And then there's the price: for about $10 more, many people could get their hands on the Kirkland Signature Soft Sided Spinner 22" Carry-On, which offers a similar build quality and, potentially, a lifetime warranty. If you don't have a Costco member, the Samsonite MightLight 2 is only about $35 more and is a much better suitcase.
Dimensions: 21 x 14.5 x 8 inches
Our bags sizer says: Too big
Arc'teryx Covert Case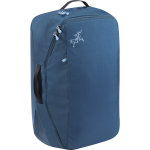 Arc'teryx Covert Case
Arc'teryx is a Canadian company that specializes in making high-end technical outdoor gear and military kit for Special Forces operators. No matter whether you're talking about a hardshell jacket, or a carry-on bag like their Covert Case, you can guarantee that the build quality will be amazing. Despite this, the Covert Case came in second place to the Tom Bihn Aeronaut 45 in the competition for a great soft-sided bag.
The Covert Case easily fit into the sizing device, but with its 40-liter capacity, it can't hold as much as the Aeronaut 45 or the Samsonite MightLight 2 can. That said, it was able to carry all of the clothing and sundries we chose to use during testing. But after carrying around for a bit, I found that its thin handle became uncomfortable. The bag's laser cut backpack straps were much more comfortable to use, but not as much as those built into the Tom Bihn bag or the Patagonia Headway MLC 45L.
Dimensions: 11 x 22.44 x 14 inches
Our bags sizer says: It fits!
Patagonia Headway MLC 45L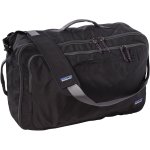 Patagonia Headway MLC 45L
This bag will be an amazing carry-on for someone—but not everyone.
It's immediately evident that this was built with adventure in mind. The bag's durable water repellant (DWR) exterior and tough zippers can stand up to mud, rain or snow. You'll find a small, zippered compartment designed to hold shoes, diminutive pockets for holding your passport, keys or smartphone and a large interior storage space that was able to hold everything we wanted it too.
However, the subdivided main compartment might not be ideal for anyone that wants to use packing cubes to stay organized. Its stow away backpack straps were the most comfortable of the three soft-sided bags that I tested, which would be a big win for anyone wanting to carry the bag on their backs through an airport or on an extended hike through town to a hostel. But I feel that its glossy DWR coating and the daisy chain connection points on the exterior of the bag (not to mention the MASSIVE logo on its lid) might not be everyone's cup of tea. No matter what color you get it in, it looks a little garish and a whole lotta sporty.
Dimensions: 22 x 16 x 9 inches
Our bags sizer says: It fits!