Unless you're a coffee aficionado, you might not be familiar with cold brew coffee. Just like it sounds, this coffee is brewed with cold water instead of hot water, and yields concentrated coffee that requires diluting.
Because of the unique flavor imparted by cold-water extraction, cold brew gained a following in independent cafes and coffee shops across the country. Today, even mainstream chains like Starbucks and Dunkin' Donuts sell cold brew at premium prices.
But it's actually quite simple and much more affordable to make cold brew at home, which is why a host of companies have developed specialty cold-brew coffee makers. We put the most popular models to the test, evaluating them for ease of assembly, use, and cleaning—plus deliciousness of coffee.
Surprisingly, our top pick turned out to be none of the above. In our blind taste tests, no dedicated brewer could compete with a mason jar and a simple recipe.
But if you want a dedicated cold brew coffee maker that's easier to use—and looks good on your kitchen counter—we still have some recommendations for you. Our favorite dedicated cold brew machine was the Takeya Cold Brew Coffee Maker (available at Amazon for $19.11) but we tested multiple cold brew coffee makers you might want to take a look at. These are the best cold brew coffee makers you can buy right now.
Updated January 05, 2018
Takeya Cold Brew Coffee Maker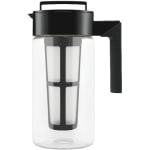 Takeya Cold Brew Coffee Maker
best overall
best value
The dishwasher-safe, BPA free model from Takeya can brew up to a quart of concentrated cold brew coffee. It not only yielded one of the best tasting brews, it also aced our usability tests. The brewer is easy to set up, offers a durable build, and is simple to clean and store for later use. It is also the only brewer that is air-tight while it brews, allowing you to easily store the brewer on its side in a packed fridge.
All of these design choices—combined with a low $25 price tag and glowing user reviews—make the Takeya not only the best cold brewer we tested, but also our best value pick.
Cold Bruer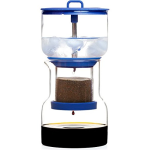 Cold Bruer
best for... hipsters?
The Cold Bruer by Bruer (try saying that 10 times in a row) is easily the most beautiful and unusual cold brewer we tested. It's mesmerizing to watch brew, and is the only cold brewer that yields coffee that's ready to drink instead of a concentrate that should be mixed with water, milk, or ice.
The Cold Bruer makes an excellent cup of joe and its design is a real conversation starter, but its $70 price tag is hard to justify for a specialty kitchen gadget. We also found it harder to use and less durable as the Takeya.
For instance, it requires a lot of set up and it can be difficult to set the valve so the right amount of water trickles into the coffee grounds. The glass exterior is also easier to break. But if you love the design of the Cold Bruer and want coffee with less work, it's worth a try.
OXO Good Grips Cold Brew Coffee Maker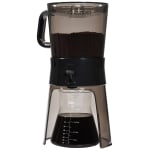 OXO Good Grips Cold Brew Coffee Maker
OXO is well-known for designing durable and user-friendly kitchen products. Unfortunately, the company's cold brewer only lives up to one of those standards.
While it's certainly durable, the OXO cold brewer is really hard to put together. In fact, many of our experienced reviewers could not easily figure out how to assemble the unit without reading the owner's manual. Both the Takeya and Cold Bruer are much easier to set up and take up less counter space when in use.
Toddy Cold Brew System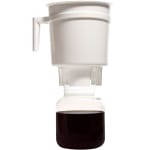 Toddy Cold Brew System
Toddy started selling cold brewers to coffee shops back in 1964. Today, its in-home brewing system is popular, but it performed the worst out of all the brewers in our usability tests. We think it's difficult to set up, takes up too much room to store, and feels cheaper than the Takeya—even though the Takeya costs less. In fact, the Toddy's only saving grace was that it performed well in our blind taste tests.
Filtron Cold Water Coffee Brewer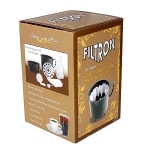 Filtron Cold Water Coffee Brewer
Filtron also has a long history in coffee shops. Its home cold brewer is similar to the Toddy, with a large reservoir for the grounds to steep and a thick, felt filter. But our reviewers found the Filtron to have even worse build quality than the Toddy. It's somewhat easier to assemble and store, but when it came down to the actual coffee, the Filtron just didn't yield as good a brew.