There are dozens of electric toothbrushes out there with wildly differing price points, all claiming to do the same thing: clean your teeth. To get at the pearly truth, I spent two months personally testing 13 brushes, as well as interviewing all the toothbrush brands and a periodontist at the Harvard School of Dental Medicine.
As it turns out, there's not a tremendous difference between most electric brushes. Much of it comes down to preference between two brands: Oral-B and Philips Sonicare. Combined they make up 70% of electric oral care sales online, and choosing your side is akin to a Coke vs. Pepsi debate. (Read more: Oscillating versus Sonic: What's the difference?)
So which electric toothbrush should you buy? The Oral-B Pro 3000 (available at Amazon for $72.45) is our top pick thanks to a few small but meaningful features that make your brushing more effective.
Updated January 12, 2018
Advertisement - Continue Reading Below
Oral B Pro 3000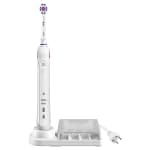 Oral B Pro 3000
Best Overall
The Oral-B Pro 3000 offers the best blend of features that will have a real impact on your oral health. Like every toothbrush we tested, it has a two-minute timer—the recommended duration for a brushing session. And like all but the seriously cheap-o brushes, the Pro 3000 breaks that two minutes up into four 30-second segments, so you can focus on quadrants of your mouth.
There are three cleaning modes that vary in intensity and duration, including a Sensitive mode. That should be a deal-breaker if you're buying your first electric brush, because the vibrations can be an overwhelming experience for some newbies.
The round brush head—standard on Oral-Bs—is small enough to get into every corner of your mouth, and the rubberized handle ensures a solid grip even when your hands get wet with toothpaste slobber. (Don't act like this doesn't happen to you, too.) The lithium ion battery lasts longer and charges faster than cheaper models that use Ni–MH batteries. Expect about a week between recharges.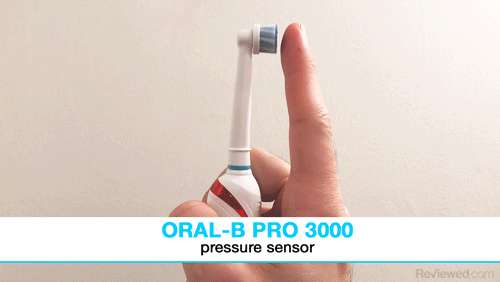 The killer feature is the visible pressure sensor: a big, impossible-to-miss red light that flashes when you're bearing down too hard and potentially damaging your gums. Other brushes have pressure sensors as well, but they alert you with a specific kind of vibration that can be hard to detect. I found the Pro 3000's red light indicator far more effective.
The Pro 3000 is also outfitted with Bluetooth and connects to the Oral-B smartphone app. My advice: Just forget this feature even exists. The apps are, to put it kindly, counterproductive. In fact, I think they make brushing harder. You can ignore them entirely and still enjoy all the meaningful benefits of a great, affordable brush.
Total cost of 3-year ownership = around $133*
Oral B Pro 1000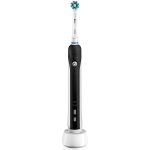 Oral B Pro 1000
Best Value
The Pro 1000 is Oral-B's top-selling brush for a reason. It's a reliable, no-nonsense machine that gets the job done with minimal fuss and frills. You get much of the same look and feel as the Pro 3000, while forgoing the "smart" features that you'll never miss anyway.
What do you lose by not picking the Pro 3000? The Pro 1000 does have a pressure sensor, but the way in which it alerts you—creating a "different sound while brushing" according to the manual—is easy to miss. The battery runs about 28 minutes between charges, while the Pro 3000 runs longer and charges faster. There's also only one intensity setting—no sensitive mode.
If you have good oral health and you're just looking to improve it with a new brush, the Pro 1000 is a perfect choice. Those looking for a more sensitive brush should consider the Pro 3000.
Total cost of 3-year ownership = around $123
Goby Brush Kit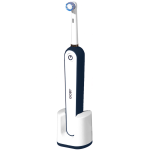 Goby Brush Kit
Best Subscription
Undoubtedly one of the biggest headaches in owning an electric brush is buying replacement brush heads. Oral-B and Philips both have far too many options and the prices are steep enough that they all but encourage you to hold off longer than you should.
Goby aims to change all that by mailing you a new brush head every three months. They only make one variety. It's round, it oscillates, and it gets into crevices well. All in all, it's a pretty good replica of the Oral-B experience—but louder and a little less refined.
The handle has a two-minute timer with 30-second segments, and the battery lasts for about two weeks before it needs a good, long charge.
Despite seeming to fit the mold of Dollar Shave Club and other disrupters that undercut the competition on price, you don't actually save that much money with Goby. The handle is $50 ($65 for non-subscribers), and the brush heads themselves are $6. That's about half as much as a Sonicare heads, but pretty much on par with Oral-B heads.
We recommend Goby for its convenience, first and foremost. If you have easy access and enough self-discipline to replace Oral-B heads as frequently as you ought to, go with the Pro 1000 or Pro 3000. Buy Goby starting at $50
Total cost of 3-year ownership = $116
How we tested
I'm Dave Kender. What do I know about toothbrushes? I'm the Senior VP of Editorial here at Reviewed. I've been reviewing products for over 10 years, which has made me a little obsessive when it comes to the details. Plus my dentist tells me I've got great teeth.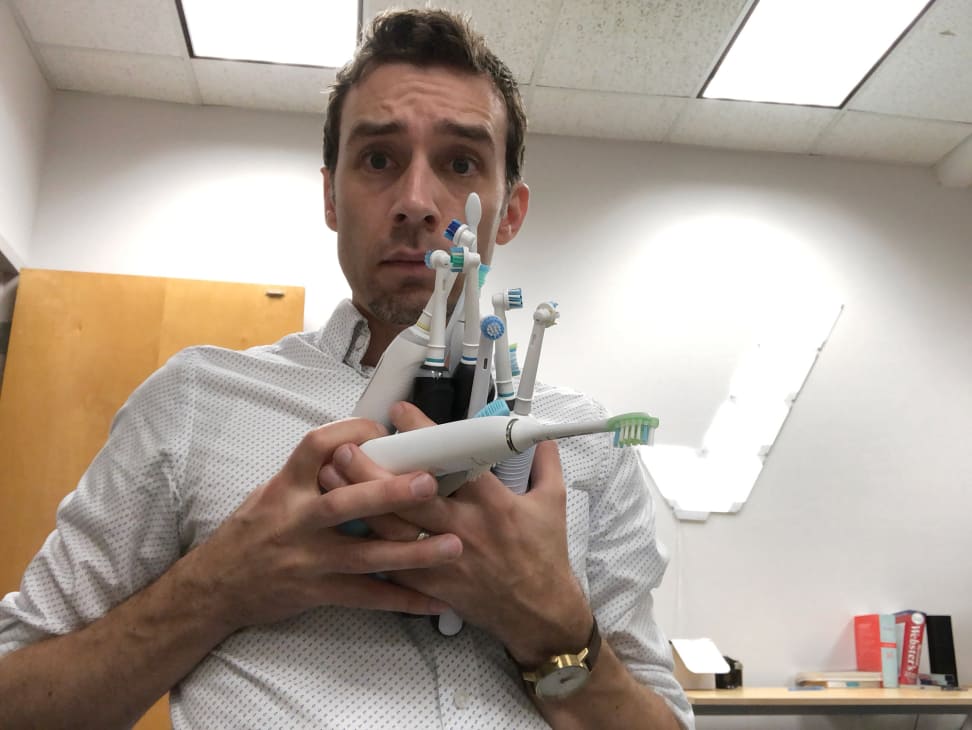 After reading expert reviews, user reviews, and conducting interviews with all the electric toothbrush brands, we narrowed down the list to 13 nominees for testing. We chose products across the price spectrum and made sure to include brushes beyond just Oral-B and Philips.
I took each brush home and used it twice a day for three days, for a total of six sessions. The finalists were given an extra six sessions for further evaluation. If the brush had Bluetooth connectivity, I used the app. (Not something I recommend, incidentally.)
At the end of each three-day run, I posed the following questions:
Setup: How easy was it to start using the electric toothbrush? How easy was it to set up the charging port for electric toothbrush?
Usability: How easy is it to actually use the toothbrush? How easy is it to swap out the different brush heads? How do the controls feel? How easily does this toothbrush get at all the nooks and crannies in your mouth? How comfortable is it to hold the electric toothbrush?
Storage: Does the toothbrush come with a way to store the different brush heads? Does the toothbrush come with a way to neatly store/mount the entire product?
Subjective: Does the toothbrush come with a way to neatly store/mount the entire product? How clean does your mouth feel after using this toothbrush? If it has any special features, how useful are they? How nice are the toothbrush's aesthetics, and how would that affect your willingness to buy it?
Waterproofing: Can the toothbrush run in shower conditions? Can it be submerged in a bucket of water for 30 seconds?
We also decided to get creative about measuring the true cost of an electric toothbrush. While toothbrush handles will last for a while, the brush heads need to be replaced every 3-4 months. Those brushes aren't cheap! So we devised a neat little method for estimating the total cost of a 3-year ownership. You can take a peek at the spreadsheet if you want to see the data in all its nerdy glory. These should be considered rough estimates only and didn't have a significant impact on the scores.
Oscillating versus Sonic: What's the difference?
The moment you start shopping for an electric toothbrush you'll faced with a choice: oscillating versus sonic brush heads. Oral-B (which makes mostly oscillating brushes) and Philips Sonicare (which makes mostly sonic brushes) each make grand, and sometimes misleading, statements about how they work and their relative merits. Here's the simplest way to explain it.
An oscillating brush head moves with a little rotation to the right, then a little rotation to the left—back and forth, really fast. It looks cool, if not a little intimidating to the first-time user. Experientially, I can say that my mouth always "felt cleaner" after using an oscillating brush.
A sonic brush head doesn't spin. Rather, it moves in a "wiggle" action at a very high frequency. The result is typically much quieter and subtler than an oscillating brush head. Newcomers to an electric brush might find it more welcoming.
As it turns out, however, the difference it makes to your teeth is negligible. In a 2011 review of 17 separate trials, no definitive conclusions could be made regarding a superiority of one over the other when it came to reducing plaque and gingivitis.
Dr. Soo-Woo Kim of Harvard School of Dental Medicine concurred that, in his experience, he did not see a significant difference in effectiveness between oscillating and sonic.
"I routinely recommend electric toothbrushes," stated Dr. Kim, but singled out the 2-minute timer as the most effective feature.
Dr. Kim also dispelled one of the stranger rumors that was floating around Reviewed's offices, namely that Sonicare is better for your gums while Oral-B is better for your teeth.
Myths about toothbrushing, it seems, accumulate just as rapidly as plaque does.
Features to look for: The timer matters, the apps don't
The one feature everyone can agree on is a two-minute timer, because the duration of your brushing has the biggest impact on oral health. Every brush in this roundup has a timer. Nearly all the brushes also had a feature that would break that two-minutes into four 30-second segments to help guide your brushing. Among brushes I tested, only the Oral-B Vitality was missing this mode.
Oral-B and Philips both sell "smart" brush handles that connect to an app your phone. The apps are, on the whole, utterly useless. In fact, they make brushing even more difficult.
Granted, the apps aren't intended to become a part of your daily life. At least, that's the sense I got talking to brand representatives. Rather, they're designed to get you on the right track to oral health when the purchase is fresh and you're at your most excited.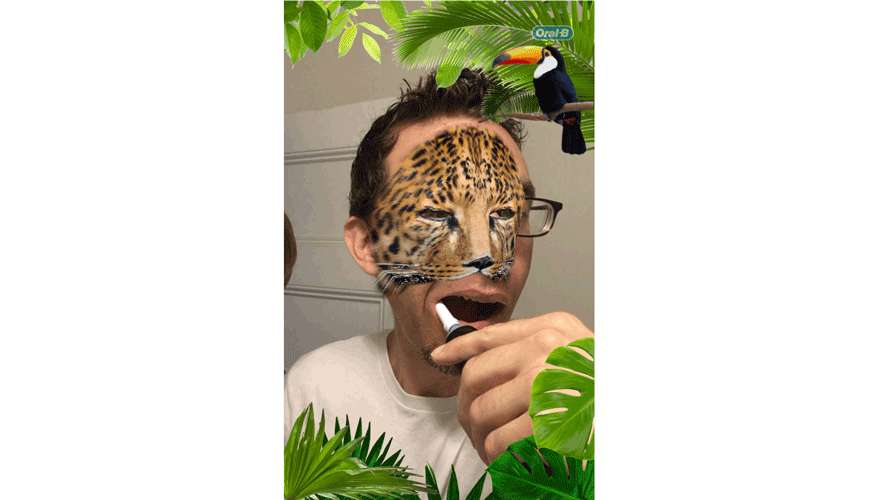 The Oral-B app is the more robust, but asks you to do more work. The 8000 series brush comes with a smartphone mount that sticks to your mirror. The app uses the your phone's camera (plus the Bluetooth in the handle) for a feature called Position Detection. Think turn-by-turn directions for your mouth. Unfortunately, I found the Position Detection feature buggy and unreliable. That would have bothered me if I'd wanted to use it in the first place. I didn't.
The Philips app was more accurate and did a better job teaching me how to use the brush. It also walked me through the myriad of brush head options to guide replacement purchases.
Apps will probably get better in the future. For now, you can safely ignore them.
Buying replacement heads
Regardless of brand, it's recommended that you replace the brush head every 3-4 months. That will be your next pain point as a consumer, and let me tell you, they don't make it easy.
Oral-B and Philips each have as many as 12 varieties of heads. With names like Precision, Deep Sweep, and InterCare, they all certainly sound healthy. (Were they to expand the stock to include options like "Gum Bloodener" and "Enamel Eraser" at least their intentions would be clear.)
Then there's compatibility to consider, both within brands and from third-party knock-offs. And don't forget the prices, which are all over the map depending on how many you buy in a pack and which retailer you choose.
The issue of brush head replacement is so complex that we're spinning it out into a whole other guide (look for it soon).
Our advice, in summary, is to find something you like and buy it in bulk to save a few bucks.
---
Other brushes we tested
Philips Sonicare HealthyWhite+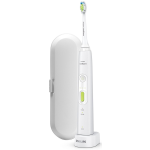 Philips Sonicare HealthyWhite+
The Philips Sonicare HealthyWhite+ was a close second place behind the Oral-B Pro 3000. For those that find Oral-B's oscillating movement too loud or abrasive, the HealthyWhite+ is an elegant, affordable choice that skips "smart" features and focuses on good cleaning for sensitive teeth and gums. It sits squarely in the middle of the pack amongst the Sonicare family. We particularly how easy it was to adjust the sensitivity, thanks to dedicated buttons.
Total cost of 3-year ownership = around $218
Oral B Pro 6000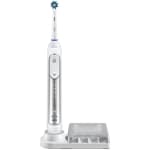 Oral B Pro 6000
The Pro 6000 is a slightly better version of the Pro 3000, our top pick. It has virtually all the same features, but everything about it just feels a little... better. The design is more streamlined and it feels sturdier in the hand. The battery lasts a few days longer between charges. Oh, and of course it comes with the requisite "premium travel case" that accompanies all the high-end brushes. But at nearly twice the price it's hard to recommend it for most people.
Total cost of 3-year ownership = around $172
Philips Sonicare DiamondClean Smart 9500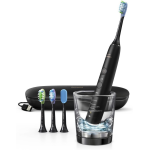 Philips Sonicare DiamondClean Smart 9500
The Sonicare DiamondClean Smart 9500 is Philip's top-of-the-line toothbrush. It drives like a BMW 7 Series and is priced accordingly. There are five brush modes. It comes with two brush heads in the box, and is available in fancy colors like amethyst. This is the toothbrush you "accidentally" leave out on the counter for guests to see. From its elegantly designed charging cup to its deluxe travel case to the illuminated writing that appears from underneath the surface of the handle, the DiamondClean screams "dude, are you seriously going to spend that much on a tooth brush?"
Total cost of 3-year ownership = around $343
Oral B Genius Pro 8000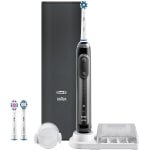 Oral B Genius Pro 8000
With a name like "Genius Pro 8000" this toothbrush certainly isn't playing the modestly card. It's not half as stylish as the Sonicare DiamondClean, but it is just as feature-packed. There are lots of brush modes and the travel case is more luxurious than the box my wedding ring came in.
Several Oral-B brushes connect to the app via Bluetooth, but only the Pro 8000 comes with a smartphone holder that attaches to your mirror. I'll admit I felt a lot of trepidation suspending my phone three feet over a hard porcelain sink, but it held up admirably. Unfortunately, it didn't make me like the app any better. The Pro 8000 has the pressure sensor light that makes the Pro 3000 so good, but the extra features don't add anything.
Total cost of 3-year ownership = around $219
Oral B Black Pro 7000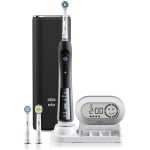 Oral B Black Pro 7000
The Oral-B 7000 predates the rest of the smart brushes in this list, which means the price has come down over time. Essentially, it's the Pro 6000 but with a weird little Bluetooth-powered device called a SmartGuide that's not worth the hassle. And the travel case, of course.
Total cost of 3-year ownership = around $191
Philips Sonicare 2 Series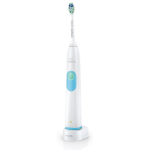 Philips Sonicare 2 Series
The 2 Series is the most affordable Sonicare that we can still recommend. Features are slim: It has one speed setting and no travel case. But it cleans teeth and works with all the brushes in the Philips lineup. Surprisingly, it does have a two-minute timer with 30-second segments to help guide your brushing.
Total cost of 3-year ownership = around $168
Oral B Vitality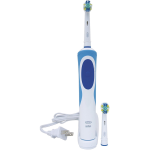 Oral B Vitality
The Vitality was the only truly disappointing Oral-B of the bunch. It looks cheaper and runs louder than the rest. The vibrations felt unpleasantly intense in my mouth. There are no special features—save a basic two-minute timer—and no extras in the box. That said, it works with all the Oral-B brushes.
Total cost of 3-year ownership = around $86
quip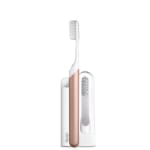 quip
The quip, a well-marketed toothbrush you've probably seen pop up in your social media feeds, just barely scraped by without one of our "Avoid" labels. The vibration is seriously underpowered. You really need to do most of the scrubbing yourself, and yet it costs 5x to 10x more than a manual brush. How does it avoid complete ignominy? First off, it has a two-minute time. Secondly, it's pretty. Thirdly, it's built on a subscription model, meaning new brush heads will arrive in the mail like clockwork.
Combined, that means you're more likely to be brushing for the correct amount of time with intact bristles on a brush you like to show off. When it comes to oral health, you could do a lot worse. But you could also do a lot better. Buy a quip starting around $40
Total cost of 3-year ownership = $80 (plastic) and $100 (metal)
Philips Sonicare Essence+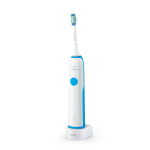 Philips Sonicare Essence+
Avoid
The Philips Sonicare Essence+ will probably give you a better brush than manual toothbrush, but it lacks a two-minute timer, and that's the one feature that we know dental professionals say can make a difference. If oral health is all about building good habits, there are better brushes for that.
Total cost of 3-year ownership = around $158
Foreo Issa Hybrid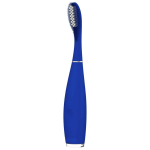 Foreo Issa Hybrid
Avoid
I wanted to like the Foreo. I really did. It's unique, you have to give it that. It's silicone from head to toe, including most of the bristles. And that's precisely the problem. Stiff little nylon bristles, like you kind you find on any other brush, are scratchy. They feel like they're actually cleaning. The Foreo's thick silicone bristles just feel wrong and gross. My mouth actually felt dirtier than it did before I brushed. Then there's the sheer size of the brush head, which is so large I could hardly get it into the back corners of my teeth.
Even if all that could be forgiven and I was able to embrace the novelty of the Foreo, there's the insanely high price. Replacement heads are whopping $25. Unless you've got money to burn, avoid it.
Total cost of 3-year ownership = around $423
Advertisement - Continue Reading Below