Many of us aspire to own a KitchenAid stand mixer, but if you're short on counterspace, or extra cash—or you just don't want the hassle of extra cleanup—you'll probably want to use a hand mixer instead. These small machines might not be as powerful, but they still offer an array of attachments, color options, and even storage cases.
Hand mixers come in a variety of price points, but you don't have to sacrifice quality if you're on a budget. There are plenty of options depending on the number of speeds and attachments you're looking for.
Updated August 11, 2016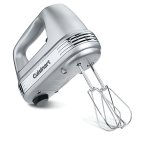 Best Overall
Cuisinart HM-90 Power Advantage Plus
If you want a great mixer with all the attachments, you can't beat this Cuisinart. The Power Advantage Plus is a nine-speed hand mixer that comes with beaters, dough hooks, and a whisk. The mixer also includes a handy power cord lock, preventing the cord from ending up in your batter (yum!).
The Cuisinart is a bit pricey at $79.95, but considering it adds a convenient storage case for the same price as KitchenAid's nine-speed competitor, we think it's worth the extra dough.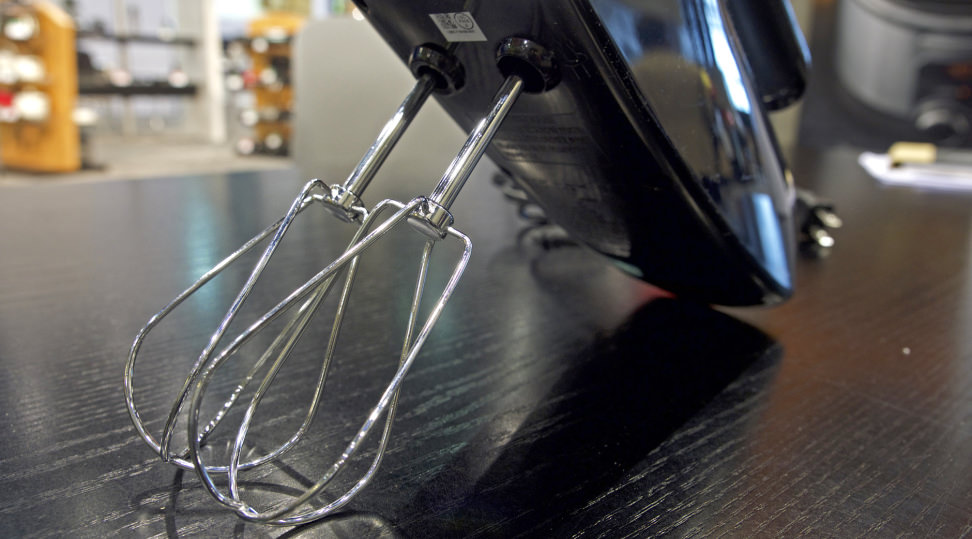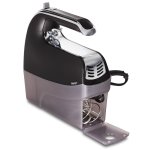 Best Budget
Hamilton Beach w/ Pulse
The Cuisinart is our favorite of the bunch, but the price is a bit high if you're on a budget. That's why we also recommend this model from Hamilton Beach. At just $25 on sale, it offers a similar storage case while still giving you six speeds.
The Hamilton Beach also includes beaters, dough hooks, a whisk, and even a milkshake mixer. It's not the best mixer on the market, but the addition of an easy pulse feature and a burst button make it a great buy for its low price.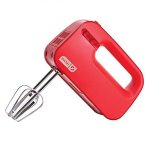 Dash Go SmartStore
While the Hamilton Beach is our best value pick, the Dash Go SmartStore hand mixer is even cheaper, available on Amazon for just $15! It doesn't come with extra attachments (outside of beaters) or a carrying case, but it does offer a small profile so you can fit it in a kitchen drawer and it has convenient snap-in storage slots along the handle for the beater attachments.
The Dash only has three speed settings, but considering the small design, you can't expect too much power from the machine. And at such a low price, it makes the Dash an essential addition to your first kitchen.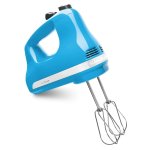 KitchenAid KHM512
KitchenAid's 5-Speed Ultra Power is the company's most popular hand mixer, and for good reason. It brings the brand legacy of KitchenAid's stand mixers to a much more affordable alternative. Its simple five-speed offering made it the best choice over at America's Test Kitchen, and like those fabled stand mixers, it comes in 14 different color options. It's not the best deal, but at $39.99 on sale, it's a good buy if you really want a KitchenAid.
Aside from the KHM512, the company also offers the seven-speed KHM7210 and the nine-speed KHM926. The seven-speed adds a whisk attachment and a digital display, while nine-speed adds dough hooks and a frother attachment on top of the seven-speed's additions. But at $69 and $79 on sale, respectively, we feel the Cuisinart Power Advantage Plus, with its attached case, is a better deal.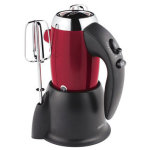 Sunbeam Heritage Series
Sunbeam makes just about everything from grills to toasters, but the company's Heritage Series hand mixer manages to stand out. It comes with a caddy to hold the mixer and its attachments, and brings a sleek, retro-inspired design that would make you feel okay leaving it out on your kitchen counter.
Like the Hamilton Beach, this Sunbeam offers six speeds and a "Burst of Power" button, but it only comes with beaters. With a list price of $29.99, you're better off spending five bucks more for the Hamilton Beach.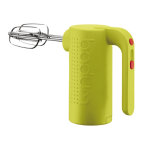 Bodum Bistro
If you're into coffee, you probably equate the brand Bodum with its iconic French press. But the company actually makes an array of small appliances, including a hand mixer.
The Bodum Bistro hand mixer has a very striking design while offering five speeds, beaters, dough hooks, a whisk, and a flat bottom so it's easy to stand up on a counter. However, user reviews find it less favorable than the competition, and its cheap feel only corroborates that.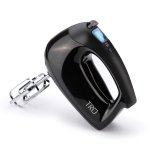 Trū
Trū brings an illuminated display to its five-speed mixer for just $30, and even throws in a carrying case and a whisk attachment. However, with very few online reviews, it's hard to say whether this cheap mixer will stand the test of time. Combined with fewer attachments, we think your money is better spent on another mixer.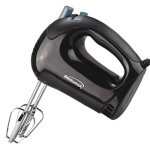 Avoid
Brentwood HM-Series
You've probably never heard of Brentwood, and this mixer proves why. It doesn't really offer a low speed, and user reviews have shown that it readily emits a burning smell, which resulted in the mixer breaking for multiple users. The build quality feels even cheaper than the similar priced Dash Go, making this model a mixer that we simply can't recommend.