If you're looking for a way to beat the heat, a great window air conditioner can be the difference between comfort and misery. To find out which one you can trust when the mercury rises, we put the most highly rated models to the test. Need to beat the heat quick? We'd recommend the LG LW8016ER (available at Amazon)for all your cool air needs.
To ensure fairness, the units we chose were all rated to cool the same room size (340 sq. ft.) at roughly the same rate. Still, there's plenty of other criteria a great A/C needs. A noisy unit can be a deal-breaker for bedroom use, and the weight or general awkwardness of the appliance can complicate installation.
After weeks of market research and thorough testing, we've pinned down the best window air conditioners on the market. Without further adieu, here are the best right now.
Updated March 05, 2018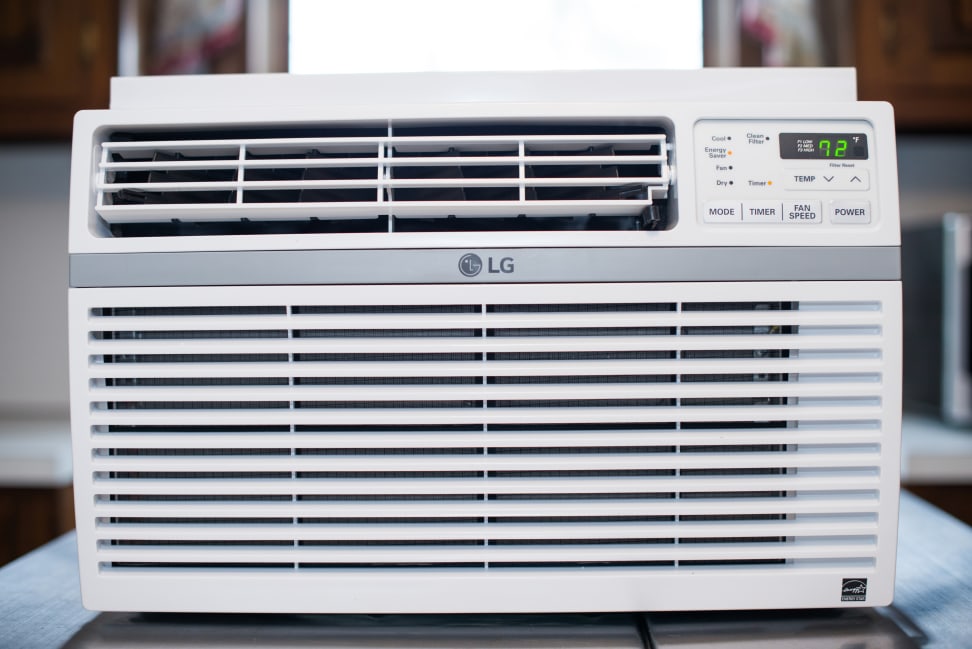 LG LW8016ER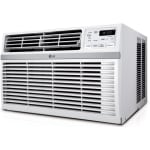 Where To Buy
Click for price
Amazon
Buy
$239.00
Home Depot
Buy
$239.00
Walmart
Buy
$239.00
Hayneedle
Buy
LG LW8016ER
Best Overall
This model appears to be on backorder until the end of July. If you need something sooner, please check out our other great picks.
The LG LW8016ER is the best window air conditioner for small rooms that money can buy. LG's humble 8,000 BTU air conditioner may not look like much, but this workhorse checks off all the right boxes. That's probably why it gets such great reviews from both owners and fellow professional reviewers.
Yes, this unit cooled and dehumidified the testing room more quickly than its closest competition, but details like sturdy construction and convenient side curtains made installation a breeze.
At just 60 dBA the LG is quieter than other air conditioners of the same BTU rating—about as loud as a noisy dishwasher. There's also a separate dehumidify-only mode, perfect for cool but muggy days.
Speaking of which, most inexpensive A/Cs evaporate the air they collect—a process that can make noise and cause water to pool near the unit. The LW8016ER has a removable drain plug in the back of the unit, which allows it to drain while running.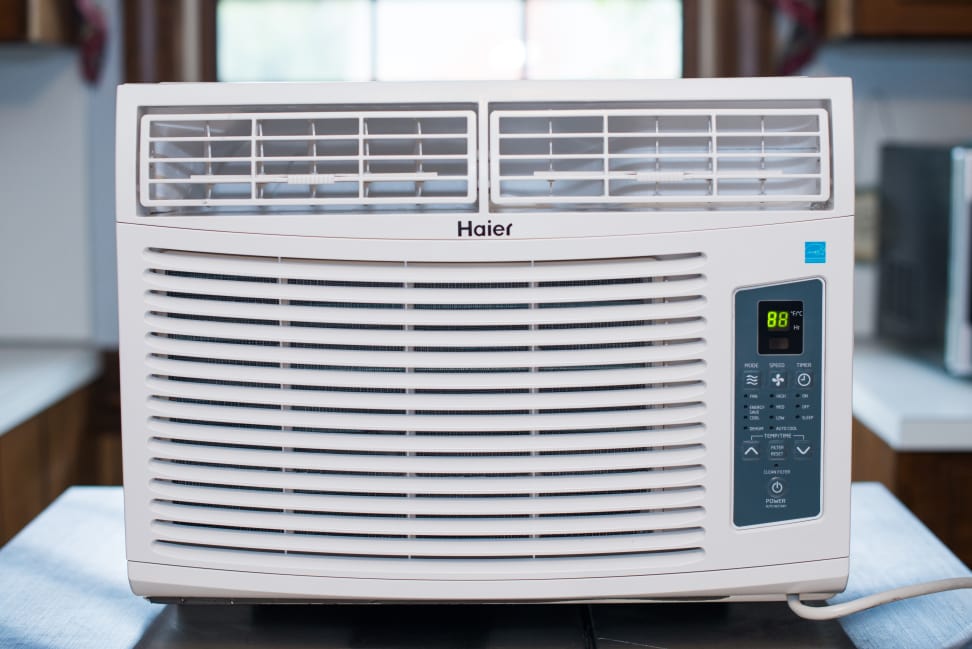 Haier HWE08XCR-L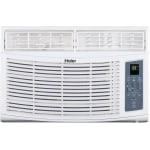 Haier HWE08XCR-L
best value
Haier makes some of the most affordable 8,000 BTU A/Cs that come with remote controls and thermostats, such as the Walmart exclusive HWE08XCR-L and the Target-exclusive ESA408R.
We tested an ESA408R, and found that it cooled a room almost as well as our top-pick LG. We also liked that it features an independent dehumidifying mode. Controls are simple, but still allow the user to set a timer or thermostat, and customize energy usage or fan speed.
However, a few things held this model back from our top spot. At 62 dBA, it's louder than the competition but—even worse—has a higher, more annoying pitch. In fact, many user reviews complain about sound, so we'd think twice before putting it in a bedroom. We also struggled to fit it snug with the window frame, which added to overall installation time.
Frigidaire Cool Connect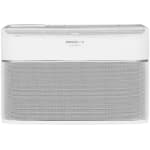 Frigidaire Cool Connect
If you've never uttered the phrase, "That's a good looking air conditioner," it's because you've never seen the Frigidaire Cool Connect.
The Wi-Fi enabled Cool Connect offers remote control through a smartphone app, responsive touch-sensitive controls, and a rather beautiful front panel. Smartphone pairing was easy. The app shows your current settings, current ambient temperature, and even lets you turn the A/C on before you get home.
Unfortunately, the Cool Connect simply felt more fragile than the other units we tested, and the seal needed doctoring to prevent air from leaking in. This unit also took about 20 minutes longer than the LG to cool the same room, and had some drainage issues.
Friedrich CP08G10B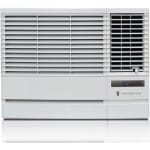 Friedrich CP08G10B
If 60 dBA is still too loud, consider the Friedrich Chill CP08G10B. It also features relatively simple installation—including a slide-out chassis for a through-the-wall application—plus an oscillating fan mode to spread the "chill" more evenly.
In the end, the Friedrich Chill CP08G10B was too pricey for our top spot. However, if there's extra room in the budget, or you're shopping for the bedroom, this unit just may be what you're looking for.
Frigidaire FFRE0833S1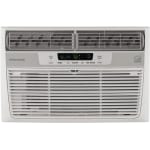 Frigidaire FFRE0833S1
This affordable air conditioner really has a lot going for it. It's around 10 lbs. lighter than the LG LW8016ER, and features a robust remote control with a built-in thermostat, allowing you to program the A/C to shut off when the temperature around the remote itself reaches the target.
This model's fan noise is relatively intrusive, and there's no drain for whatever humidity may accumulate. Still, it's a decent option if our top picks are sold out.