Whether you're an occasional baker or committed to a healthy diet, a kitchen scale is a must-have. It ensures you're using the right amount of ingredients in a recipe, or helps you determine the correct serving size of whatever you're eating for dinner. Our favorite My Weigh KD-8000 kitchen scale (available at Amazon for $45.85) is a wonderful addition to your kitchen lineup.
If you're using a really good scale, it will make food prep easier and more accurate. But kitchen scales come in all shapes and sizes, and some are better than others. How do you know which scale is right for you?
We tested 13 of the most popular digital kitchen scales to find the best ones on the market. We paid attention to ease of use, accuracy of measurements, and even how much work it took to clean them. Our top-scoring scales have a little something for everyone—no matter the size of your kitchen, budget, or mixing bowl.
Updated March 05, 2018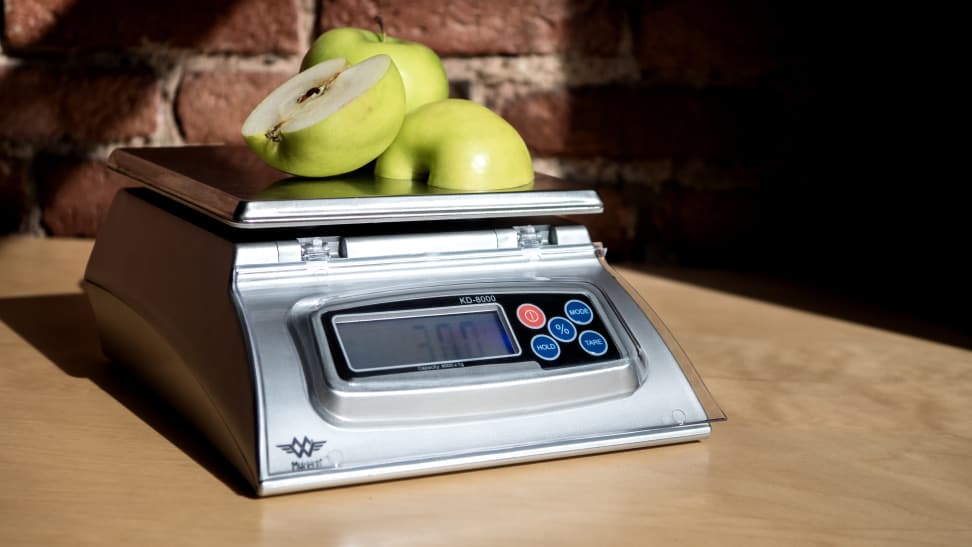 My Weigh KD-8000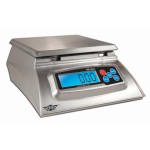 My Weigh KD-8000
Best Overall
With its bulky, lab-style body, the KD-8000 stands out from the smaller, sleeker scales in our lineup. But if you have the counter space in your kitchen, this weighing machine won't disappoint.
In testing, the KD-8000 proved to be the most accurate of the bunch, displaying the correct weights even when we added and removed objects from its platform. We liked the backlit screen, which displays an icon to indicate when a measurement is stable, as well as the cover that helps protect buttons from errant flour. In addition to measuring in grams, kilograms, ounces, and pounds, the scale also offers a baker's percentage mode, allowing you to easily weigh out (for example) a mixture that's two parts oats and one part sugar.
The bottom line is this: Yes, the KD-8000 is an unconventional pick. But it's a joy to use and will measure your food with impeccable accuracy. If you want a more compact scale, you'll have to take a slight hit when it comes to quality.
You might even say, "It's My Weigh or the highway." (Sorry, we had to.)
Modes: lbs, oz, g, kg, %
Capacity: 17.62 lb, 8 kg
Resolution: 0.05 oz, 1 g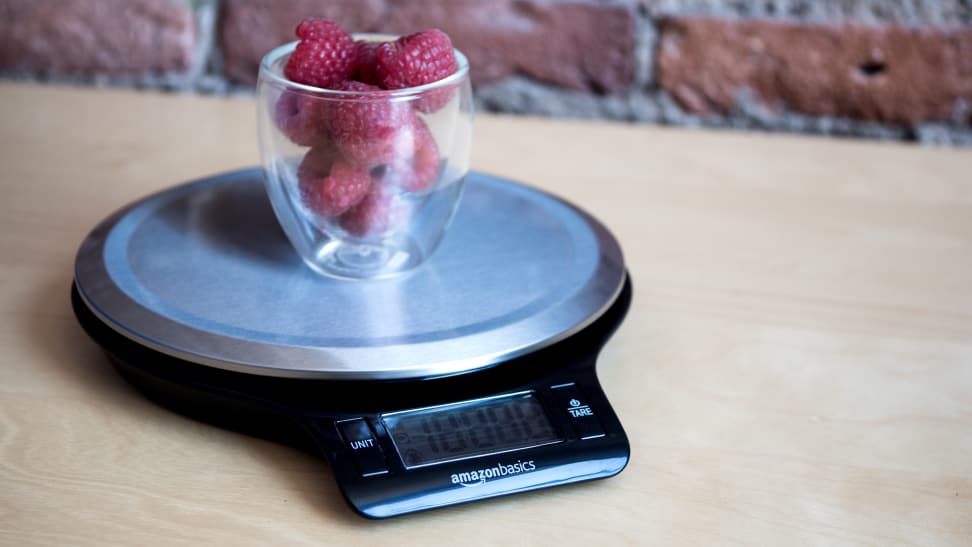 AmazonBasics EK3211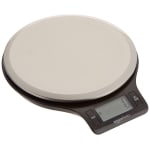 AmazonBasics EK3211
Best Value
This scale from AmazonBasics falls firmly in the middle of the pack. But for the low price of about ten bucks, it's a phenomenal option.
It's accurate enough when it comes to weighing objects—not perfect, but probably good enough for all but the most vigilant of bakers and dieters. We found it mostly easy to use, although the tare button sometimes required a few tries before it succeeded in zeroing the scale. The black base and metal platform feel cheap to the touch, and the platform developed scratches before we even got around to trying it out.
Still, you can't beat that price. This is a solid option for a first-timers.
Modes: g, oz, lb, ml, fl oz
Capacity: 11 lb, 4990 g
Resolution: 0.1 oz, 1 g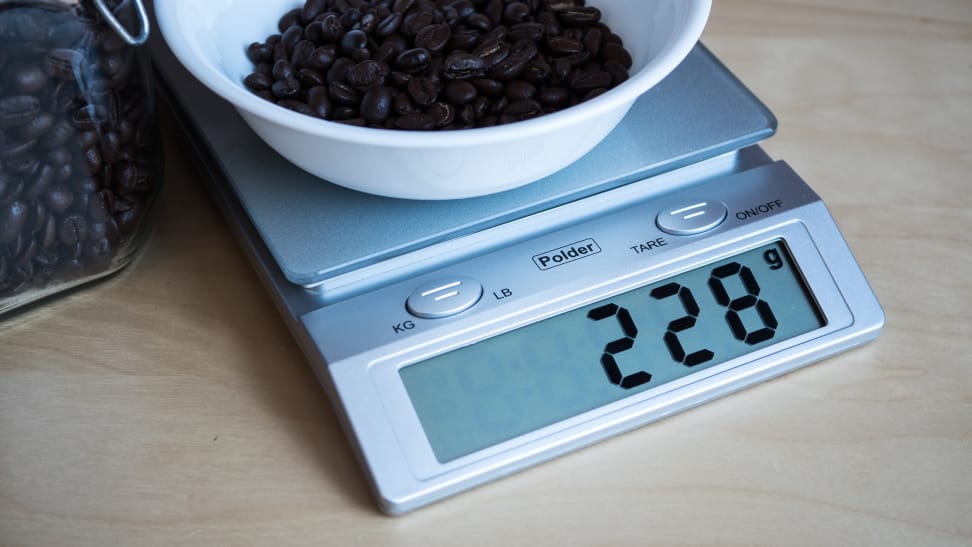 Polder KSC-310-28 Easy Read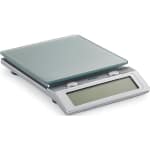 Polder KSC-310-28 Easy Read
Best Compact Scale
Polder's kitchen scale offering earned our admiration. Slimmer and easier to store than the My Weigh, this scale proved capable of reporting accurate weights. It's particularly good at registering lighter weights that other scales can't sense, although the numbers can take a bit longer to settle at lower weights.
We especially liked the Polder's large, easy-to-read numbers, which would be great for someone who has trouble reading smaller text.
Modes: g/kg, oz/lb
Capacity: 11 lb, 5 kg
Resolution: 0.1 oz, 1 g
Taylor 3831BL Biggest Loser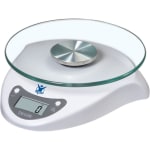 Taylor 3831BL Biggest Loser
This scale from Taylor is supposedly inspired by the Biggest Loser reality TV series. But if you ask us, it's just a kitchen scale—and a pretty good one at that.
The curved white base and disk-shaped glass platform won't win prizes for beauty, but the scale weighs objects accurately enough—just don't futz with it too much or you could alter the reading. Our biggest complaints have to do with the buttons, which click loudly, and the battery plate, which can't be opened without a screwdriver.
Modes: oz/lb, g/kg
Capacity: 6.6 lb, 3 kg
Resolution: 0.1 oz, 1 g
Jennings CJ4000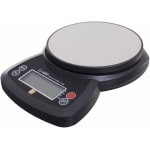 Jennings CJ4000
The CJ-4000 isn't a standout, but it's still a reasonably good scale. Plain black with a stainless steel plate, the base extends far enough out to remain visible even when you're weighing a large bowl. Weights are fairly accurate but, occasionally, may be off by just a little bit. And be warned: buttons beep loudly when pressed.
On the bright side, once the numbers on the scale settle, they're stable—which is more than we can say for most of the other scales we tested. Another positive: The CJ-4000 comes with an optional AC adaptor, in case you'd rather plug the scale into the wall than use batteries.
Modes: oz, lb, g
Capacity: 4000 g
Resolution: 0.01 oz, 0.5 g
American Weigh Scales SC-2KG Digital Pocket Scale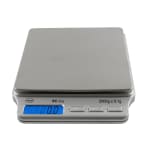 American Weigh Scales SC-2KG Digital Pocket Scale
Best for Coffee
For an itty bitty scale—with a square platform measuring just 4 inches across—the AWS digital pocket scale packs a lot of punch.
You can't throw a large mixing bowl on the device without completely obscuring the numbers, but it's immensely portable and capable of measuring in very small units—ideal for weighing coffee. A resolution of 0.01 oz and 0.1g should do the trick.
Bonus: If you'd like your kitchen scale to double as a jewelry scale, the SC-2KG can weigh in special units like carats.
Modes: g, oz, ozt, dwt, ct, gn
Capacity: 70.55 oz, 2000 g
Resolution: 0.1 g, 0.01 oz
Ozeri Pronto ZK14-S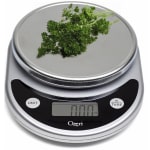 Where To Buy
$14.29
Amazon
Buy
$14.29
Home Depot
Buy
$12.86
Walmart
Buy
Ozeri Pronto ZK14-S
This Ozeri scale is intuitive to use and not bad to look at, especially if you opt for one of the many bright color options. It's extremely lightweight, which makes it easy to move around, albeit slightly flimsy.
Unfortunately, we found the buttons stiff and tough to press, which made it unpleasant to use. It's also so sensitive that any air movement can alter the numbers on its digital screen. It's hard to feel confident in a measurement that's moving up and down on its own.
Modes: oz, g
Capacity: 11 lb, 5050 g
Resolution: 0.05 oz, 1 g
OXO Good Grips 1130800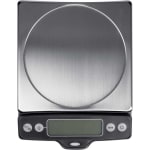 OXO Good Grips 1130800
We expected to love the OXO Good Grips scale, a longtime favorite of America's Test Kitchen, so it took us by surprise when we weren't terribly impressed.
The digital display pulls out from its stainless steel platform, which means you'll never struggle to read it from beneath a plate or bowl. We liked the optional backlighting and responsive buttons.
But much to our dismay, the sensitive scale struggled to settle on a given weight, often shifting between different numbers without end. Testers also complained that when measuring ounces, the scale broke the numbers into fractions rather than decimals.
Modes: oz/lb, g/kg
Capacity: 11 lb
Resolution: ⅛ oz, 1 g
Etekcity EK6015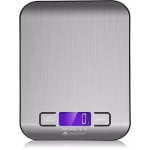 Etekcity EK6015
For under $15, you could do a lot worse than this Etekcity scale. If you like the digital display—purple, with white numbers—and compact size, go ahead and scoop it up.
However, first, you might want to be aware of this scale's shortcomings. It scratches easily, and once it smudges, it's very hard to get it clean. And more importantly, it struggled to weigh irregularly shaped objects consistently, which could prove obnoxious if you're using the scale on a regular basis.
Modes: oz, lb/oz, g, mL
Capacity: 11 lb, 5050 g
Resolution: 0.01 oz, 1 g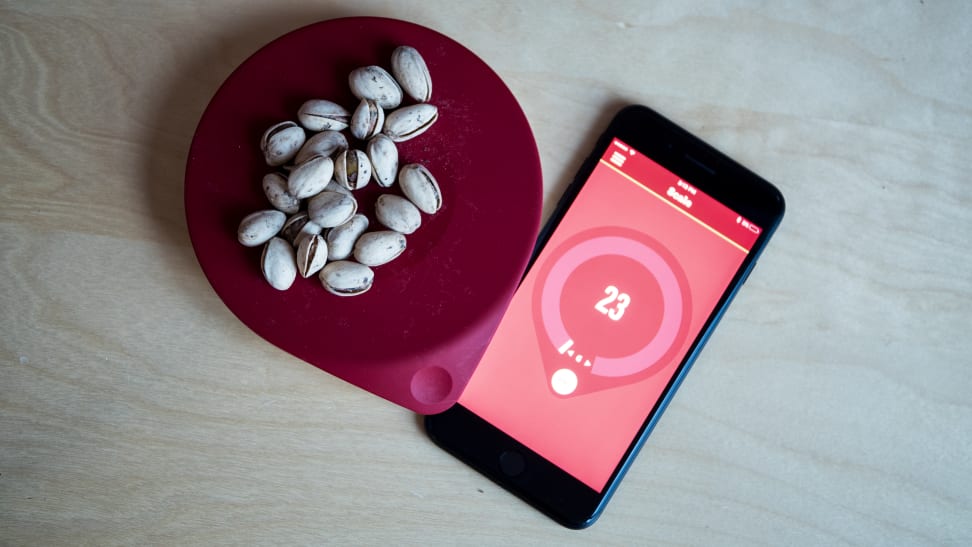 Drop D600A Kitchen Scale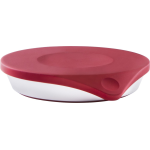 Drop D600A Kitchen Scale
The buzzed-about Drop Scale is the only smart kitchen scale we tested. Unfortunately, that's about the only honor we can award it.
Testers unanimously liked the look of the teardrop-shaped red scale—until they tried to clean it and found that spilled sugar clung relentlessly to its tacky silicone surface.
In use, the scale was inaccurate, inconsistent, and frustrating—it was so sensitive that any movement of air or shift of the table where it rested led to a shift in numbers. Testers liked the phone app that serves as the controls for the scale, finding it straightforward and friendly to navigate.
If you really want a smart, attractive scale that can sync to recipes on your phone, this one could satisfy. But if you're a stickler for accuracy, steer clear.
Modes: oz, g, kg
Capacity: 13 lb, 6 kg
Resolution: 0.1 oz
OXO Good Grips 11176600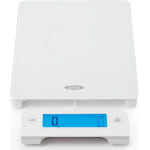 OXO Good Grips 11176600
OXO's newer glass version of their well-loved food scale is sleek and glossy. With the minimalist look of an iPhone and the convenient pull-out display, we wanted to like this scale so much. Sadly, it was annoying to use and prone to reporting inaccurate or inconsistent weights.
As with the original metal version of the scale, testers disliked the way the scale displayed ounces in fractions. It's certainly a good-looking model that would look great on your countertop, but when it comes to actually weighing things, this OXO was thoroughly unpleasant to use.
Modes: oz, oz/lb, g, g/kg
Capacity: 11 lb, 5 kg
Resolution: ⅛ oz, 1 g
Salter Aquatronic 3003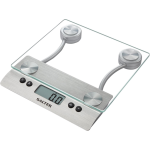 Salter Aquatronic 3003
Salter's scale was a mixed bag, but let us be upfront: It can't weigh accurately, whether it's lab weights, loose sugar, or even just a spoon. None of the scales we looked at were horrifically off base, but Salter was among the worst scales we tested when it came to doing what it's designed for.
That said, the glass top was easy to clean (although prone to smudging) and the buttons were responsive. The Salter can apply units of measure for weighing liquids, in addition to the usual ounces and grams one typically sees on a kitchen scale—a nice touch, but not enough to make up for its other issues.
Modes: oz, g, mL, fl.oz
Capacity: 11 lb, 5000 g
Resolution: 0.1 oz, 1 g
Joseph Joseph 40071 TriScale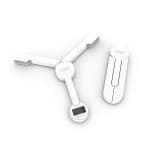 Where To Buy
$20.74
Amazon
Buy
$34.00
Home Depot
Buy
$29.99
Kohl's
Buy
Joseph Joseph 40071 TriScale
Avoid
Joseph Joseph is known for its unique, playful design solutions to common household problems. The TriScale is the most portable scale we tested, folding into a compact shape that could be easily thrown into a bag or stowed in a kitchen junk drawer.
But when it came time to test the scale, we had to face the facts: We cannot, in good conscience, recommend this scale to anyone.
Unfolded, it forms a Y shape, which makes it supremely difficult to weigh anything that isn't in a large mixing bowl. The shape also means the gadget is rickety, which affects the weights it measures. Pressing the button to tare the scale tips the whole thing to the side. In addition, spilled ingredients are tough to clean from the plastic scale's many corners and joints.
Inaccurate, inconsistent, and a frustration to use—we'd suggest you give this one a pass.
Modes: oz/lb, g, mL, fl.oz
Capacity: 11 lb, 5 kg
Resolution: 0.1 oz, 1g