A high-performance blender is increasingly becoming a kitchen essential for modern home chefs. Whether it's smoothies, nut butters, soups, sauces, or slushies you're after, blenders that go above and beyond will help you tackle even the toughest blending tasks with relative ease.
But with so many blenders out there—including some very well-known brands—which of these high-end machines is really worth your buck? We applied a rigorous testing routine of mixing, chopping, crushing, and tasty-treat making to the best blenders on the market to see how they stack up.
Updated October 28, 2016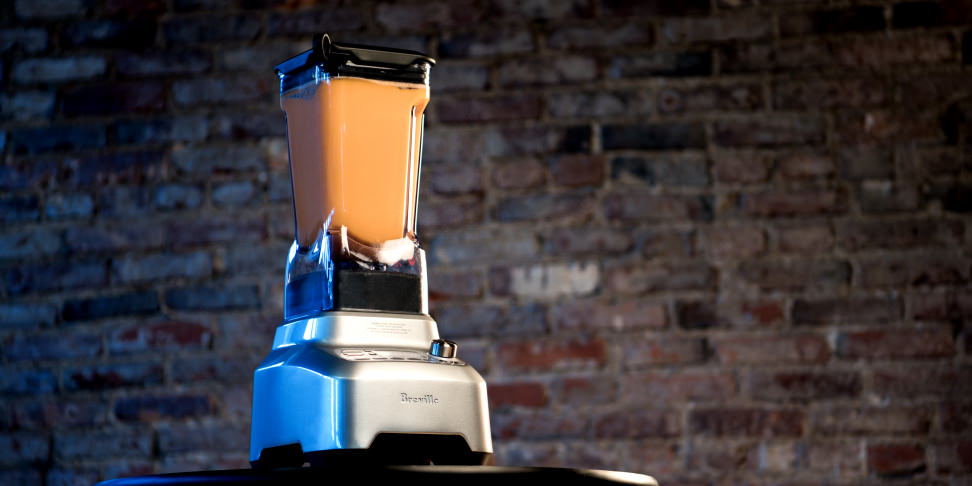 Breville Boss Super Blender
Best Overall
The Breville Boss Super Blender is the boss for a reason: It can do it all. This all-in-one machine might have been slow, but it performed steadily throughout all our tests. From liquid mixing to tough chop jobs, ice crushing to preset choices—not once did we find a fault in the Breville's performance.
The Breville also wowed us with its sleek and intuitive design. Our fingers floated naturally to every button and knob, and presets are foolproof. That's because they're written out in words—there's no need to decode any hieroglyphics or use trial-and-error. There's even a distinction between making "smoothies" and "green smoothies." Of course, we decided to test out this feature with some hulk-like kale, and the Super Blender liquified it in true hero form.
Other blenders surpassed the Boss on individual tasks—and they're definitely worth looking at if you don't need a generalist. However, the consistency and versatility of the Breville Boss, as well as its relatively low price point, lands it our top spot as best overall.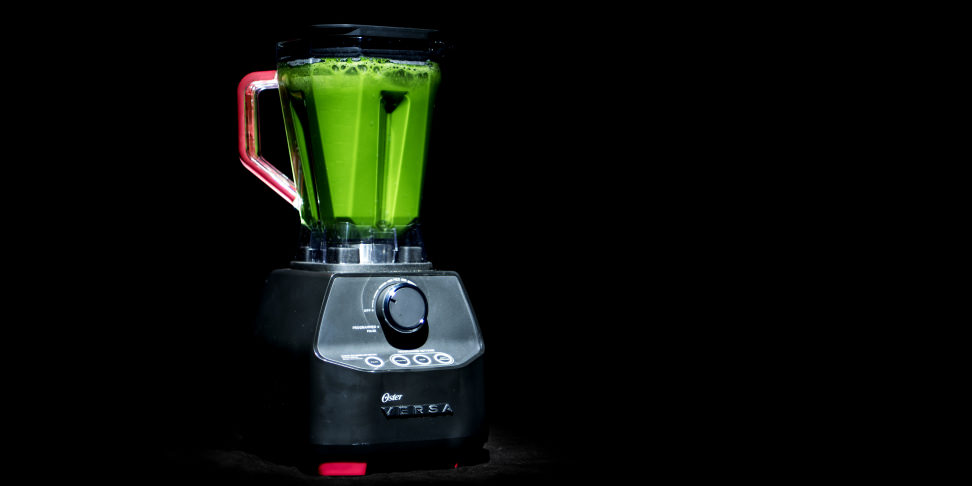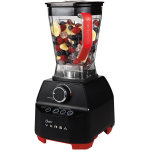 Oster Versa 1400
best value
The Oster Versa doesn't quite stack up against it's powerhouse competitors, but when you take into consideration the fact that it's about $200 cheaper than any other the high-end blenders on the market, it's an affordable alternative. The Versa mixed and chopped as well as some of the priciest blenders on our list, and only really fell short on the toughest tasks like blending ice and liquefying hefty greens.
With a black base, a pop of color, and straightforward controls, the Versa has a classic look to it. It only has a few programmed presets for smoothie, soup, and dips/spreads, but that's still a plus at this price point. We like how the control knob offers a full analog range of power, so you can create your own settings and recipes with total control. Even basic Vitamix modls don't have that level of versatility. This no-nonsense machine is a great value for those who want the luxury of a high performance blender without the overwhelming price tag.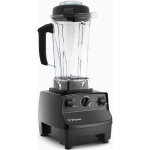 Vitamix 5200
Vitamix is a well-known name in blenders for a reason: Customers rave about the American-made blenders' build quality and robustness. Despite being part of the older generation of C-series of "classic" Vitamix blenders, this sturdy machine still sells, and that's no surprise given its price compared to other Vitamix machines.
The 5200 is simple and stripped down, with no presets and a cost as low as $329 if you're willing to go for a certified reconditioned model, yet it's still nearly as powerful and offers the same range of control as the Next-Generation or G-series machines.
The design is narrower and taller than those in the G-Series, with a 3 inch blade instead of a 4 inch blade. That's good for small batches, but you'll need to use the tamper more often when blending larger loads. What's more of an issue is the added height: Unless you have a whopping 20.5 inches between your countertop and your upper kitchen cabinets, this lanky model won't fit. With the amount of money you save on the 5200, though, you can always opt to buy the 3-inch shorter compact jar.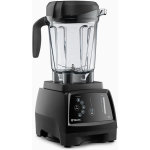 Vitamix 780
The Vitamix 780 is the company's flagship, with looks that will impress your guests as much as its performance impressed our testers.
The 780 is part of the updated G-Series, and is controlled with a touchscreen. The downside of this interface is that the control screen wasn't as sensitive as we had hoped. It was sometimes difficult to select the right setting, and—for a blender as expensive as this one—we demand perfection.
Performance-wise, its sharpened blades also had trouble pulverizing ice, but that's not what this machine was designed for. Indeed, when we tested the Vitamix 780 in its comfort zone of chopping challenges, it blew us away. The 780 chopped up nuts and other hard ingredients into fine powder and liquified kale with ease. And of course, its perfectly tuned smoothie preset left us only the silkiest sips.
Vitamix Pro Series 750
The Vitamix 750 is essentially the same machine as the 780, but with manual controls and a lower price. We think it ultimately offers a greater level of control and feedback. If you care more about function than fashion, and are looking to save an easy $220, then the Vitamix 750 is definitely the better buy. To simplify more and save even further, the next step down in the Vitamix G-Series is the 7500, which drops the 5 presets and shaves another $70 off of the price tag.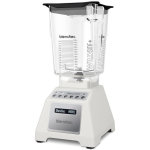 Blendtec Total Blender
With its 3.0 hp motor, the Blendtec Total Blender is a powerhouse—and it showed in our testing. The simple, square jar is easy to clean, and its shape is ideal for mixing liquids, driving them to the bottom quickly and with very little splatter up the walls.
The Blendtec's power made it better suite for particular tasks. For instance, every other blender on the list failed to turn a full jar of ice into snow, but the Blendtec managed to crush it. If frozen treats and cocktails are your top priority, the Blendtec Total Blender is really the best option.
The Blendtec's duller blades, however, didn't perform as well when it came to finely chopping up ingredients, and the smoothie setting left us with something to chew on.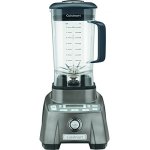 Cuisinart Hurricane Pro
Avoid
The Cuisinart Hurricane Pro is by no means a bad blender, but with a price point that's on par with our Best Overall winner, this machine looks mediocre in comparison. It initially gained our favor for its sleek, intuitive design that offered a few straightforward presets, and a range of control usually reserved for the biggest budgets. As our testing progressed, however, we began to see past its shiny exterior.
While its smoothie preset was on par with the highest ranked Vitamix blenders, this Cuisinart fell short in both mixing and chopping, and it completely tanked on tougher tasks like crushing ice and frozen berries. For the price, we expected a lot more.