Whether you're making smoothies, whipping egg whites, or pureeing veggies for soup, a good blender is an essential kitchen tool.
High performance blenders are the best choice for pure power and warranty coverage. However, most of us can't afford to drop a few hundred dollars on a Vitamix or Blendtec.
That's why the experts at Reviewed.com tested a bevy of more affordable models. After two weeks of chopping almonds, blending smoothies, crushing ice, and pureeing veggies, we learned that the best affordable blenders are more than sufficient for occasional use—especially our favorite KitchenAid 5-Speed Diamond Blender (available at Amazon for $101.18).
Updated January 04, 2018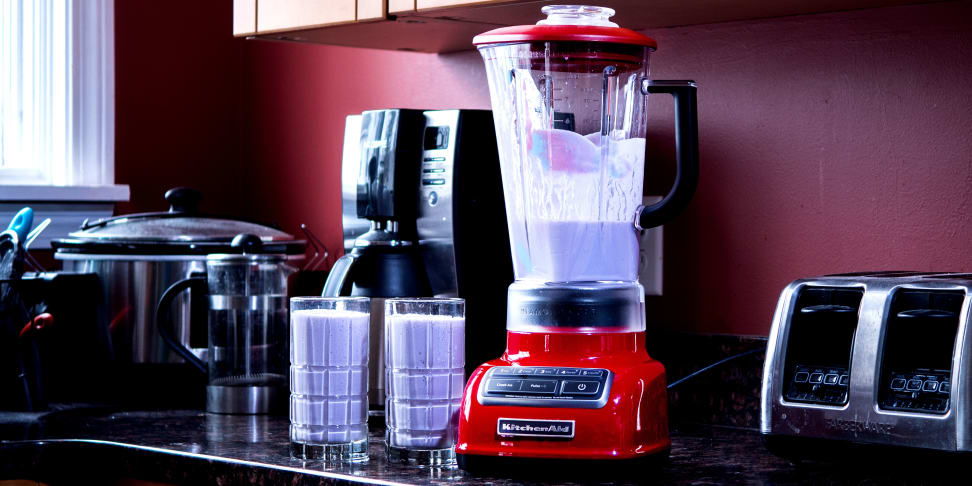 KitchenAid 5-Speed Diamond Blender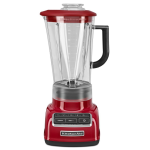 KitchenAid 5-Speed Diamond Blender
Best Overall
The KitchenAid KSB1575 Diamond blender is absolutely the best affordable blender we've tested. Frequently on sale for around $100 (depending on color), this five-speed model did exceptionally well in our chopping and mixing tests. It obliterated ice cubes into a fine slush, made creamy nut butter, and liquefied fruit and yogurt into a delicious smoothie.
Our testers liked the easy-to-read and intuitive controls, and each button has enough resistance that you shouldn't worry about accidentally engaging the wrong setting. The components are dishwasher safe for easy cleaning, and KitchenAid's five-year warranty is almost as good as the seven years offered by Vitamix.
The KitchenAid Diamond comes with a 60-oz. BPA-free jar, and is available in over 15 colors, including Boysenberry, Tangerine, Espresso, and the classic Empire Red.
Kenmore 40708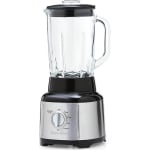 Kenmore 40708
Best Value
Our budget pick, the Kenmore 40708, can be found for just $29.99 on sale. This simple, 6-speed blender may not feel as substantial as some others we tested, but it gets the job done.
For instance, this little blender made a yogurt smoothie faster than any of its competitors. Crushing ice was no problem, although it did struggle in our chopping tests compared to more expensive models.
However, our biggest complaint was this Kenmore's lid, which was surprisingly difficult to remove. Still, given how well it actually blended, that's a minor inconvenience we're willing to tolerate. You get three colors to choose from, plus a two-year replacement warranty.
Nutri Ninja BlendMax DUO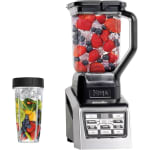 Nutri Ninja BlendMax DUO
The Nutri Ninja BlendMax Duo comes with both a huge 88 oz. jar for big blends, and two 24 oz. cups for to-go smoothies. In our tests, the sturdy Ninja aced every blending task we put it through.
So why aren't we giving it our top honors? At $170, its price inches into refurbished Vitamix territory. It also takes up a fair amount of counter space, and we found its AutoIQ presets less useful than more traditional settings. Nevertheless, we think it's a good choice if you frequently blend individual drinks, or in large quantities.
Wolfgang Puck Commercial Blender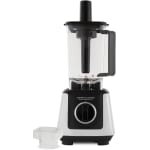 Wolfgang Puck Commercial Blender
Unlike all the other blenders on this list, the Wolfgang Puck Industrial Blender has no preset options of any kind. That means you're in complete control (albeit uninformed control) over the speed of the blades.
This blender shone in our smoothie tests, cranking out a beautifully smooth beverage in just a few seconds. Unfortunately, it had a hard time making nut butters. Small chocolates immediately fell to the bottom of the 68 oz. jar, where the blades couldn't reach them... unless we cranked it up to 10, at which point everything got obliterated into a cloud of chocolate dust.
Ninja Nutri Bowl Duo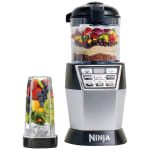 Ninja Nutri Bowl Duo
The Nutri Ninja Bowl Duo is probably the most unusual entry on this list. It has two options for blending: a 24 oz. cup for personal smoothies, and a dome-shaped "Nutri Bowl" that lets you use the Ninja like a food processor. It's versatile, takes up minimal counter space compared to conventional blenders, and there's even a special blade for mixing dough.
You can absolutely use it as a blender—we did, and it was great—but the smaller jar means large quantity blending is out. Plus, for its sale price of about $100, you can buy both a good food processor and our budget blender pick.
Oster Pro 1200 7-Speed Blender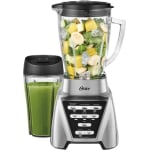 Oster Pro 1200 7-Speed Blender
With its silvery buttons and stylized logo, the Oster Pro 1200 has cool retro looks. Unfortunately, the results of our chopping tests were comically bad. The blades simply didn't reach low enough to have any effect on heavier items, while lighter items just bounced around the jar, avoiding the blades.
It did well blending smoothies and liquids, and it's a popular choice at online retailers, but we think you can do better for $70.
KitchenAid 5-Speed Classic Blender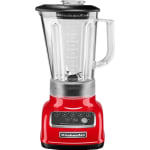 KitchenAid 5-Speed Classic Blender
Though the two blenders look the same, the KitchenAid Classic blender costs about $15 less than the Diamond. We still think you should upgrade for the warranty coverage alone: You only get a one-year warranty on the Classic, compared to the five year warranty on the Diamond.
The Classic has the exact same settings and console layout as the Diamond, except for one key thing: none of the buttons have labels like Mix or Liquefy. You just get numbers from one to five, which is fine but offers a less intuitive user experience.
We also found that that difference in blade and jar shape actually had an impact in both our chopping and mixing tests. While the Classic did fine, it couldn't quite live up to the high bar set by the Diamond.
Oster Versa 1400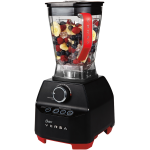 Oster Versa 1400
At about $200, the Oster Versa 1400 straddles the line between expensive and not. While substantially cheaper than many pro blenders, it's also the most expensive model on this list.
For the extra cash, you get a sturdy base, a pro-style minimalist design, and a powerful motor. While it generally had no issues chopping and mixing, it did have some trouble crushing ice. It's not a bad blender, but we'd still stick with the $99 KitchenAid.
Hamilton Beach Power Elite 58148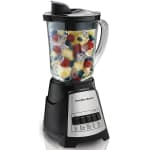 Hamilton Beach Power Elite 58148
Avoid
At $27 on sale, the Hamilton Beach Power Elite was the cheapest blender we tested. It also failed all our tests.
The blades were too short for chopping, so almonds and ice cubes got stuck on the edges of the jar. Even after a full minute of attempting to make a smoothie, yogurt failed to mix. If you need a budget blender, we recommend the $29 Kenmore 40708 instead.
Oster Precise Blend 200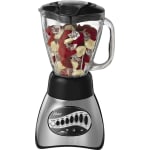 Oster Precise Blend 200
Avoid
The Oster 16-speed blender had a lot going for it: 16 speed settings, a sleek design, a $40 price tag, and a 10-year limited warranty. It did well in our crushed ice and nut butter tests, but a loose-fitting jar led to leaks whenever we blended liquids at high speeds.