Having a new baby is stressful, and part of that stress is all the stuff you feel like you have to buy before the little one arrives. Cribs, mattresses, mattress pads, sheets, blankets, clothes, changing tables, a pack-and-play, toys, books... the list just goes on and on. And if you're like most parents, you have no way of knowing what's good and what's bad.
We're here to help. I just went through this whole process with my daughter, so I know what you're going through. As someone who obsessively tests products for a living, I couldn't help but put everything under a microscope to make sure I got the very best. Below you'll find some of the top diaper bags that my wife and I found during our research and the ones that we highly recommend. But if you simply must have the best the Skip Hop Duo Special Edition (available at Amazon for $55.99)is the way to go.
Updated January 05, 2018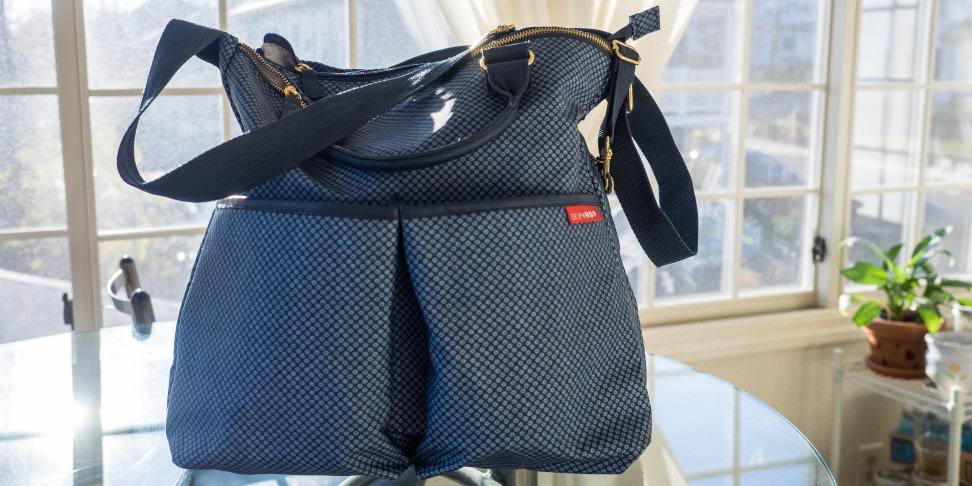 Skip Hop Duo Special Edition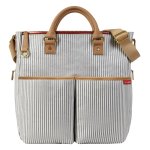 Skip Hop Duo Special Edition
Best Overall
The best diaper bag that we found was the Skip Hop Duo. Available in a number of colors and styles, the Duo can be used as a tote, shoulder bag, or on the back of a stroller. It has just enough room to hold everything you'd need for a full day out and about, including multiple diapers, wipes, outfits, toys, and whatever Mom and Dad need (other than a good night's sleep).
The Duo is stylish, affordable, well-built, and easy to clean. The bag comes in two versions, the standard Signature Duo and the Special Edition. The Signature Duo doesn't have an insulated pocket, but it does have a handy "tech" pocket that zips shut and faces out when it's on a stroller, so your keys, wallet, and phone are easily accessible. The Special Edition (pictured above) doesn't have this pocket but it features a long, shallow insulated pocket, rolled tote handles, and comes in "contemporary" prints.
Graco Gotham Backpack Diaper Bag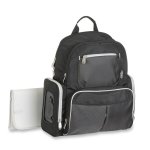 Graco Gotham Backpack Diaper Bag
Best Value
The Graco Gotham smart organizer system is very inexpensive as far as diaper bags go, but it's got some brilliant little design touches that make it a great choice for some parents. At first glance it looks like an ordinary black backpack, with a few zippered pockets and a main compartment that houses a changing pad. But look inside and there's an insulated bottle pocket and a special wipe-dispensing pocket on the side, letting you access your wipes with a single hand without having to pack a specific "travel pack" of wipes.
The backpack design is a bit different from the messengers, and there are some positives and negatives. On the positive side it's huge and very well built, and the design makes it easier to access everything since there are larger individual pockets. The bag also better distributes weight across both shoulders, so it's easier to carry this than a shoulder bag if you've also got your baby in a front-facing carrier. On the negative side, the backpack's straps likely won't fit across most strollers, though the black design will appeal to some buyers who don't like designer prints.
Hip Cub Weekender Tote
Hip Cub Weekender Tote
The Hip Cub Weekender Tote is a narrow runner-up to the Skip Hop Duo, as it is similar in price, design, and style. It's available in mostly neutral colors, is well-built, and is just big enough to hold all of the essentials. It's a tad heavier than the Skip Hop Duo, but still under two pounds so you're unlikely to mind that too much. It's a fantastic bag that I see everywhere. (Once you start reviewing diaper bags, you see them everywhere)
The Weekender's main advantage is the sheer number of pockets; it's got four exterior pockets, including two cinched bottle pockets that are perfect for holding bottles of water, an exterior back pocket with a zipped closure, and lots of internal organization as well. The Duo got the nod for us based on the wider array of designs and styles, as well as the stroller clips which we found compatible with a wider array of strollers.
Skip Hop Grand Central Take-it-All Diaper Bag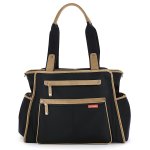 Skip Hop Grand Central Take-it-All Diaper Bag
The Skip Hop Baby Grand Central bag is massive. If you want a bag that can hold literally everything you think you might need, this is the way to go. The bag has eleven pockets in total, including three massive central compartments, zippered front pockets, and two large bottle pockets on either side. When reasonably packed, the bag isn't that bulky, and at just over two pounds it isn't that heavy, either, though it's extremely well-built.
The problem? It's hard to reasonably pack only what you need when you've got a bag that's the size of an SUV. You can very easily fit 3-4 small toys, teethers, 5-6 changes of clothes, a dozen diapers, two packs of wipes, and everything you'd need for Mom and Dad and still have room left over. That makes this a great choice if you're going on a trip and just want everything in one place, but if it's your only daily driver you may find that you spend just as much unpacking things before you go out as packing what you need. Still, if you want one bag to rule them all, this is the way to go.
Petunia Pickle Bottom Glazed Boxy Backpack
Petunia Pickle Bottom Glazed Boxy Backpack
The Petunia Pickle Bottom Boxy Backpack is a popular, stylish diaper bag that can be worn as either a shoulder bag or a backpack. As the name suggests it's got a boxier backpack style, but unlike most backpacks it's very well structured and will stand up easily on its own. It's got plenty of room for all of the essentials, and it includes one of the nicer changing pads we saw.
The best things about the Boxy Backpack are the stylish prints and the outer material, which is easy to clean but feels great. There are some notable downsides, though. The biggest one is the price, since it's definitely among the most expensive diaper bags out there. It's also fairly heavy at almost three pounds when empty, which a lot of users also complained about. It also lacks an insulated bottle pocket, though that's easy enough to work around.
Lekebaby Backpack Diaper Bag
Lekebaby Backpack Diaper Bag
The Lekebaby is a cool backpack-style diaper bag that ticks just enough boxes to be worth considering, but has some downsides to be aware of. From a design standpoint it's stylish, with a neutral gray tone and a water-repellent polyester coating. In most respects, it's like any other backpack, with two main zippered enclosures and two elastic side pockets for quick access to water bottles.
One big difference between this and the other bags is that it does not include a changing pad, so you'll want something like the Skip Hop Pronto (below) to go with this. The inside is well-organized otherwise, with room for multiple bottles and all the other essentials. One weird quirk is that the wipe pocket doesn't accommodate the travel packs for most brands of wipes, which are quite thick. You may need a separate wipe pack that you fill periodically as a result, but if want a neutral, stylish backpack this isn't a bad option.
Skip Hop Grab & Go Pronto Changing Station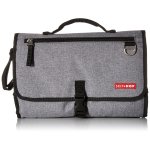 Skip Hop Grab & Go Pronto Changing Station
While not exactly a diaper bag, the Pronto is an essential accessory to any of the diaper bags listed here. It's cheap, small, and has a great roll-out changing pad that is very easy to clean. It's got a zipped compartment for wipes and a netted pocket that is big enough to hold 2-3 diapers and an extra change of clothes.
The Pronto is awesome because it is cheap, while still carrying the bare essentials while being as small as possible. We toss this on the stroller all the time when we are just going for a short walk and we even put this inside our other bags when we go out. If you have some shoulder bags or backpacks that you love and you don't want to go all-in on a diaper bag, you could even just get a Pronto and use it to "convert" any other bag into a diaper bag.