The Best Diaper Pails and Diaper Genie of 2019
By TJ Donegan, May 31, 2018, Updated March 12, 2019
Having a kid means dealing with all kinds of new challenges, and none is more daunting than dirty diapers. If you're planning on using a diaper pail, we think the best bet for most people is the Diaper Genie Complete (available at Amazon for $37.97).
After testing all the most popular diaper pails on the market, we settled on the Diaper Genie Complete for a few reasons: It is easy to use, affordable, and does the best job of containing the stink of dirty diapers—something most diaper pails actually struggle with.
Though a great diaper pail won't make dealing with dirty diapers any more pleasant, a bad one will certainly make the process much, much worse. Many of the pails we tested had at least one critical flaw, either because the liners were tough to change, they required you to shove squishy, messy diapers through an opening, or they simply stunk up the joint. The Diaper Genie Complete isn't perfect, but it's the best bet in the long run.
The best diaper pails we tested, in order, are:
Diaper Genie Complete
Ubbi Steel Diaper Pail
Dekor Plus
Munchkin Step
Diaper Genie Expressions
Updated March 12, 2019
Advertisement - Continue Reading Below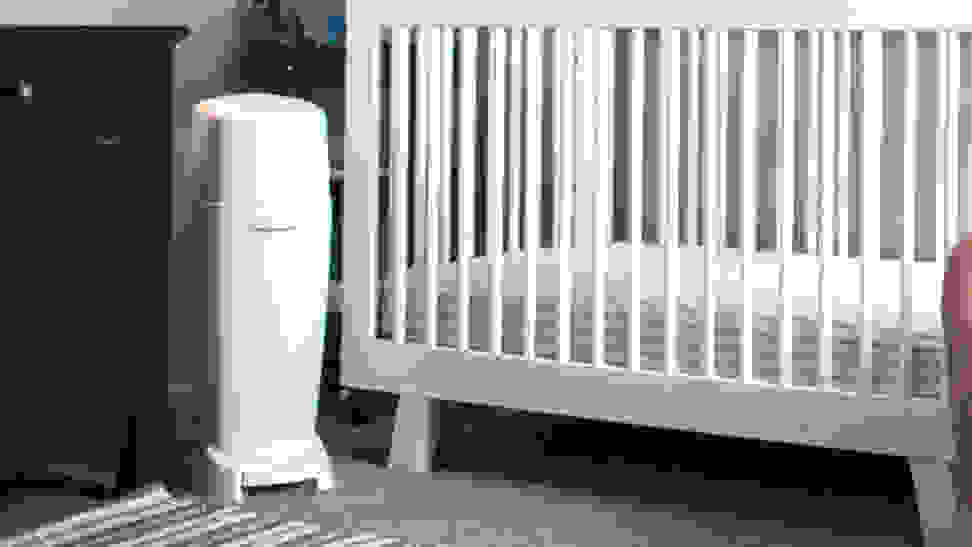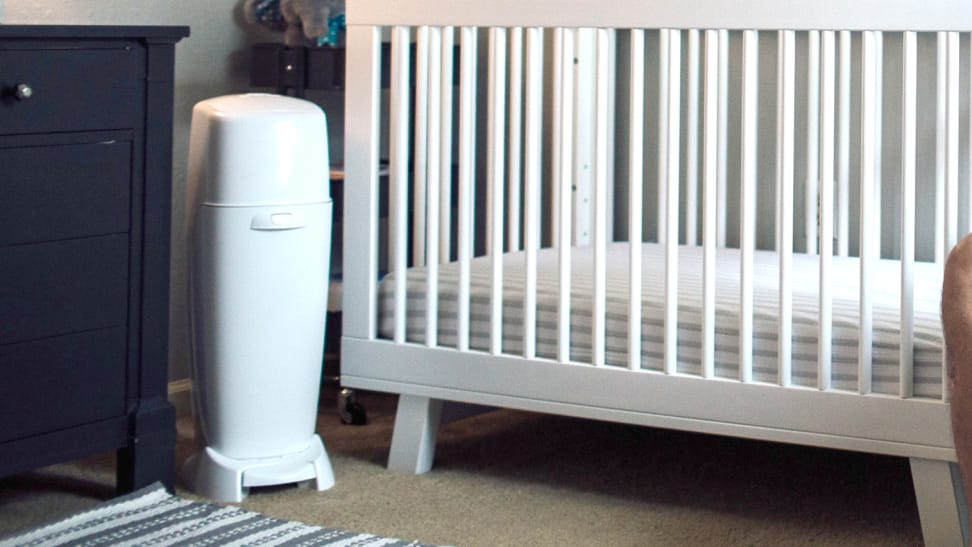 Diaper Genie Complete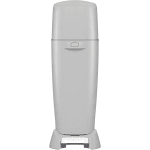 Diaper Genie Complete
Best Overall
The Diaper Genie has been around for decades, but the company's latest models include the Complete and the Expressions (which we'll discuss in a moment). The Complete is the best current Diaper Genie, replacing the Diaper Genie Elite. Though the redesign has been much-maligned in customer reviews online, we don't feel it's that much of a step down from the previous edition.
The Diaper Genie Complete has arguably the best diaper disposal mechanism of any that we tested—at least in terms of cleanliness and odor control. Inside the bin there are two spring-loaded arms that pin the bag shut and create a little chamber at the top. Just drop the diaper in, close the lid, and the dirty diaper gets released into the bag—without you having to force it with your hand.
Though the Complete doesn't hold as many diapers at once as the old Elite, there is an upside to that: fewer dirty diapers hanging around means your nursery gets significantly less stinky. Yes, it's annoying having to change the pail every 2-3 days, but personally we prefer anything that cuts down on the smell. The Complete also includes a carbon filter to help cut down the stink, and you can buy replacements if it becomes ineffective.
The refill system is basically one gigantic, long trash bag that is condensed into the familiar ring shape. You pull the bag through and tie it off at the bottom. When the pail is full you just pull it out, cut the bag using the attached blade, and tie off the loose ends. This lets you fill up the pail several times before having to replace the refill ring, and you can empty it right away if there's a particularly smelly diaper.
The main hangup with the Diaper Genie Complete is cost. It's about $40 upfront and comes with one full refill, but costs quickly add up. The refills cost about $5-6 per ring and last about 10-14 days depending on how many diapers you use, which adds quite a bit to the lifetime cost of the pail. You can cut down on this by using third-party refills like these best-selling ones on Amazon, which cost a little over $4 per refill and work nearly as well.
Ubbi Steel Diaper Pail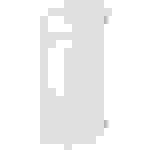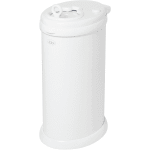 Ubbi Steel Diaper Pail
Best Value
Best For Cloth Diapers
Though it's just not as good at odor control as our top pick, the Ubbi Steel is one of the few options for anyone who doesn't want to get stuck buying expensive, proprietary refills—or anyone planning to use cloth diapers. This is because it's basically just a big, steel trash can with a sealed lid that slides to open—meaning you can use regular trash bags or Ubbi's own cloth diaper wet bag.
That's why it's our pick for Best Value: With trash bags costing about 10 cents per bag, you'll save upwards of $200 (or more) over the life of the pail. The Ubbi also looks great, with a steel frame, low-profile hinge, and a variety of attractive color options.
So why isn't it our top pick? It just isn't that great at containing smells. It's much better than a standard trash can and way cheaper than pails that use proprietary refills, but you'll have to live with a bit more stink. The hinge can also often catch the bag if you pull it straight up and out, meaning it's very easy to wind up with a ripped bag full of dirty diapers—pretty much every parent's worst nightmare.
But if you're using cloth diapers or you want to cut down on your monthly bills, the Ubbi is a great value that shouldn't be overlooked—especially when you kids are little and their diapers just don't smell that bad.
Who We Are and How We Tested
My name is TJ Donegan, I'm a parent of two and Executive Editor at Reviewed. Assisting on this guide is our video producer Mike Roorda, who also has a daughter. In short, we know our way around a stinky diaper. For this guide we first began by researching all the most popular diaper pails at major retailers such as Amazon, reading guides by other parenting websites and publications, and consulting with family and friends.
Of course, with three kids between us (ranging in age from 3 months to 2 years old) Mike and I both have extensive experience with our own pails, which have included two Dekor Plus models, the now-discontinued Diaper Genie Elite, the now-discontinued Arm & Hammer Munchkin Diaper Pail, and the Ubbi Steel Diaper Pail.
Ultimately, what we found is that there's no such thing as a perfect diaper pail.
We've used all these pails for at least six months in our own homes, and the only models we hadn't used personally prior to working on this guide (the two newer Diaper Genie models) were both tested for over a week.
Ultimately, what we found is that there's no such thing as a perfect diaper pail. People have their favorites, but when you're filling something with a bunch of soiled diapers it's going to smell eventually. Finding the right pail means finding the right one for you, which is a balance of multiple factors.
Though we think our top pick does the best job of containing smells and cleanly disposing of diapers with minimal fuss, it's much more expensive than a basic trash can or our value pick. As a result we'd encourage you to read up on all the pails we tested, price things out, and balance what you think the most important factor will be now and going forward.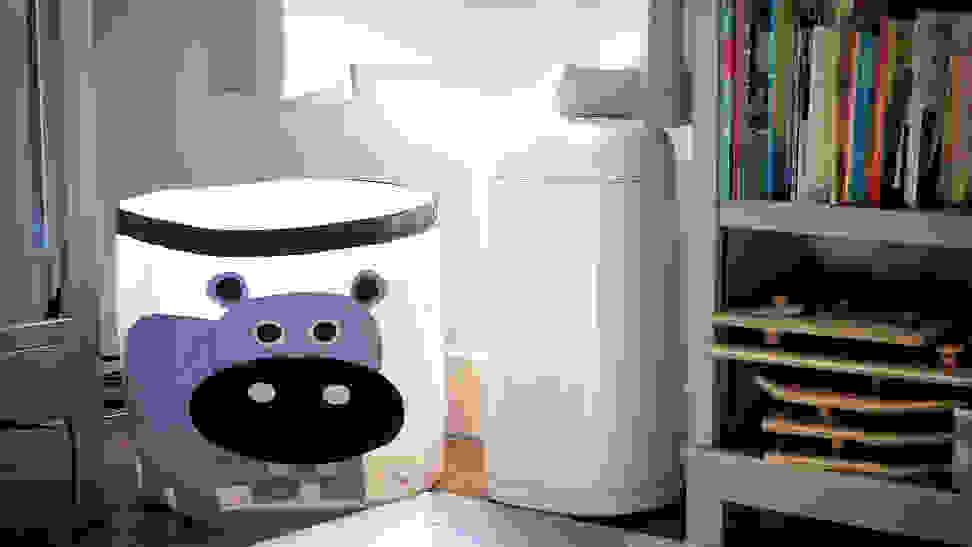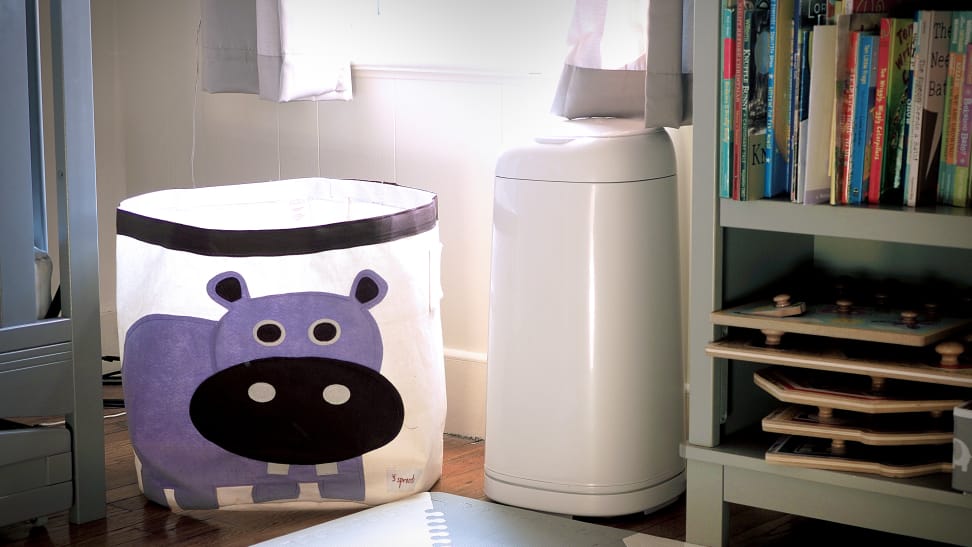 Other Diaper Pails We Tested
Dekor Plus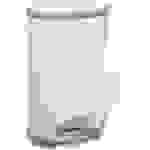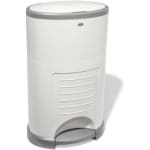 Dekor Plus
The Dekor Plus operates with a very similar system to the Diaper Genie, with a refill consisting of one long trash bag you have to tie off and cut as the pail fills up. Where the Dekor differs is the smell-trapping mechanism, which is basically a plastic trapdoor that you push the diapers past. It's not a bad design, but it doesn't contain smells as well as the Diaper Genie.
As with the Ubbi it's not noticeable with a newborn or just 1-2 diapers, but when the bag is nearly full it's impossible to escape. As the bag fills up you also have to put more force onto the plastic door to get the diaper through. It's not as gross as with the Munchkin pails, but there is a chance you'll touch the pail itself, which isn't great.
The Dekor Plus is also expensive to buy replacements for, with refills costing around $7 online—if you buy them in bunches. The refills last a bit longer than the Diaper Genie ones, so it is a tiny bit cheaper in the long run, but it's much more difficult to find Dekor Plus refills in brick-and-mortar stores and there are not as many third-party options.
Munchkin Arm & Hammer Step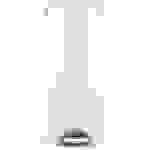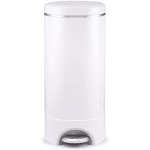 Munchkin Arm & Hammer Step
The Munchkin Step diaper pail has a lot going for it: it works with both single bags and Diaper Genie-style ring refills, the pail does a good job of containing ambient stink when closed, and the pail can hold a lot of diapers at once.
That falls apart when you have to put any remotely messy diapers into the Step. Unlike the Diaper Genie, which creates a small "antechamber" for the dirty diaper to sit in, the Munchkin Step twists the top of the bag to create a mini seal when you close the lid.
With compact, small diapers this isn't a big deal. But with heavily soiled, squishy diapers you're going to have to shove them into the bag. It's also inevitable that you'll rub your hand against the bag, and the lid is louder to close than our top picks.
Worse, as someone who owned the predecessor to the Step for nearly two years, I can tell you that you're inevitably going to let the bag fill up to the point that it doesn't quite close all the way. And when the pail is that full, the closing action squishes all the diapers when you close it, creating a literal gust of poop air that rushes into your room. It's foul.
Still, the pail does a good job containing the smell otherwise. As long as you're diligent about changing the bag regularly, you shouldn't run into too many problems.
Diaper Genie Expressions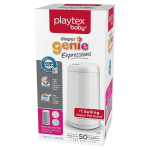 Diaper Genie Expressions
The Diaper Genie Expressions is just like the Diaper Genie Complete, but if you got rid of the things we liked and kept most of the things we didn't. Playtex did add the option to buy sleeves with geometric prints that make the pail look prettier, but that does little to justify the other drawbacks here.
The biggest issue is the odor control mechanism, which is basically one big plastic arm that seals the bag shut. To get the diaper in you have to force it past this arm, which is gross. You almost always wind up touching the bag, which is already touched at least one other dirty diaper.
This design is actually very good at sealing in odor so it doesn't affect the room—though when you empty the bag you're probably going to stink up the joint anyway. You also have to flip up the lid with your hand (there's no foot pedal) and the internal chamber is smaller, so it has to be emptied more often.
The Expressions may look great with the designer sleeves, but it's small, expensive to own, and requires you to force squishy diapers into it. It's a little more money upfront, but we highly recommend jumping up to the Diaper Genie Complete.
Advertisement - Continue Reading Below