A beauty subscription box is a hand-picked collection of popular beauty products that's delivered to your doorstep on schedule. They're wonderful for everyone from beauty junkies who want to build out their bursting-at-the-seams collections, to newbies who need to learn how to apply eyeliner for the first time.
My interest in finding the best beauty box is personal and professional: Yes, I'm a beauty editor, but as a consumer, I want a subscription box that fits my lifestyle, is reliable, a good value, and delivers high-quality products. I don't want to be made confused by my retailer and I want to be able to change my mind—without penalty—if I so feel. So, for you and I both, reader, I sifted through all of the beauty subscription boxes on the market to narrow the pack down to the best of the lot.
We ended up loving Play! by Sephora (available at Sephora for $10.00) most, since it reliably delivers high-quality, personalized products to your doorstep at a great price. But we were surprised by what else we found out about top-rated subscriptions—for example, we recommend avoiding FabFitFun because of its high price and lack of set cancellation policy. To learn how we tested and selected the products, scroll to the bottom of the article.
Updated March 16, 2018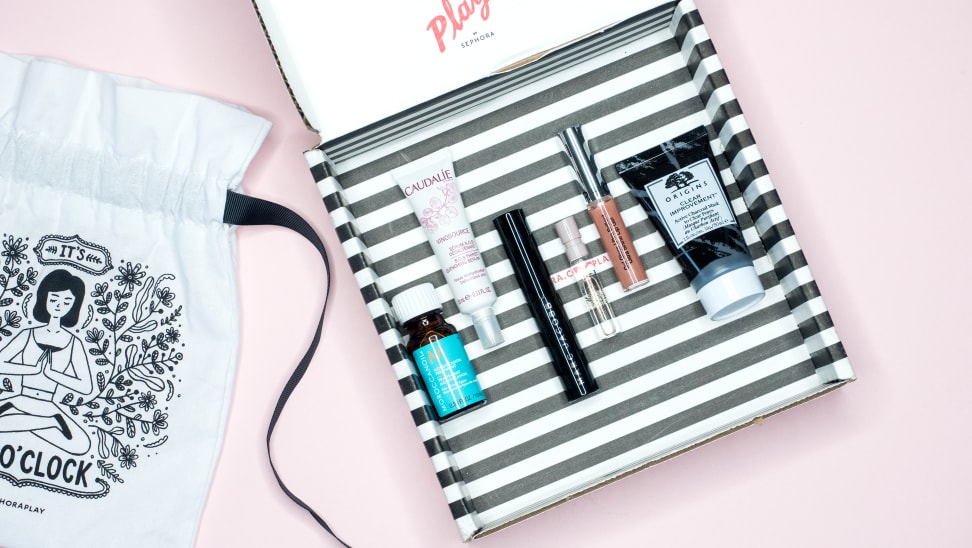 1. Play! By Sephora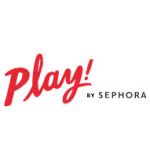 1. Play! By Sephora
best overall
The bottom line: High-quality, personalized selections at a great price with an easily navigable site, good perks, and helpful tutorials.
Number of items: 5 sample-sized products plus one mini bonus
Cost: $10/month
Customization: 19-question survey with questions about coloring, hair and skin concerns, and familiarity with makeup. You can't choose anything specific for your boxes, but by filling out your Sephora profile, you can plug in your Pantone Color IQ for perfect color matches.
What I got: In November, Marc Jacobs Velvet Noir Major Volume Mascara, Sephora Collection Ultra Shine Lip Gel, Origins Clear Improvement Active Charcoal Mask, Caudalie Vinosource SOS Thirst Quenching Serum, Moroccanoil hair treatment, My Burberry Blush perfume.
In October, Urban Decay Optical Illusion Complexion Primer, Make Up Forever Ultra HD Invisible Cover Foundation, Tarte Rainforest of the Sea Setting Mist, Make Up Forever Ultra HD Skin Booster, Dr. Brandt PoreDermabrasion Pore Perfection Scrub, Tory Burch Bel Azur perfume.
Cancellation policy: Cancellations must be made before the first of the month to avoid charges and shipping for the unwanted month. It's very easy to cancel—The button is easily located, and in under five clicks and no run-around, you can opt out.
The details: If you shop at Sephora, this beauty box is very much worth its $10 a month. Each box is filled with high-quality samples of Sephora's cult-favorite brands that matched my preferences and interests—I found myself reaching for the products on weekends.
Each box has a theme and includes a voucher to redeem with purchase for an extra 50 bonus Beauty Insider points. There's also a themed instructional pamphlet with tips, tricks, and how-tos for each sample.
The site is easy to navigate with helpful information on products and orders, and makes cancellation simple. While some beauty box subscriptions put you on a lengthy wait list, the Sephora Play box was reliably delivered between 13th and 24th of every month. It's a slam dunk for consistent, luxury products at a great price.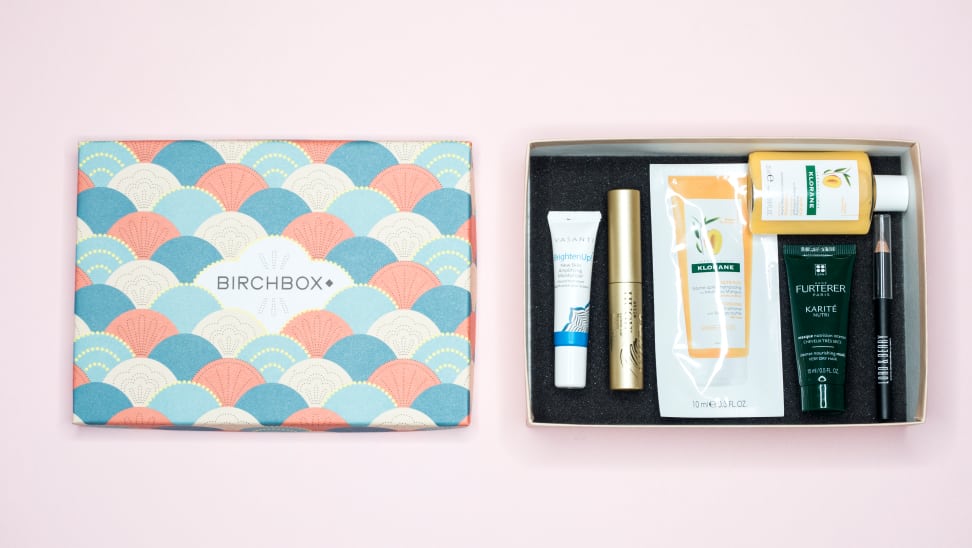 2. Birchbox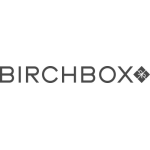 2. Birchbox
The bottom line: This OG beauty box subscription is a fine pick with a decent array of products and an easy-to-navigate site.
Number of items: 5 sample-sized products
Cost: $10/month plus tax
Customization: 15-question survey which asks you about coloring, hair, skin, makeup preferences and routine, your preferred style, and favorite products. You can't specifically choose which items go into the box.
What I got: In November, Lord & Berry Magic Brow Pencil, Rene Furterer Karité Nutri Intense Nourishing Mask, Stila Cosmetics Huge Extreme Lash Mascara, Vasanti BrightenUp! Moisturizer, Klorane shampoo and conditioner with Mango Butter.
In December, Pure Marula Facial Oil, Love of Color Liquid Shimmer Shadow, Marcelle Ultimate Volume Nano Mascara, Sand & Sky Brilliant Skin Purifying Pink Clay Mask, Matrix Total Results Miracle Creator Multi-Tasking Treatment.
Cancellation policy: Cancel prior to the first of the month to stop shipments and avoid being charged for the next month. It's very easy to cancel: In under five clicks, you'll be opted out.
The details: Birchbox is synonymous with beauty subscription services, and this market veteran is a solid benchmark. Your box will arrive shortly after you order with reliable delivery—They all came between the 13th and 23rd of each month.
Birchbox didn't clinch the top spot because the brand notoriety and quality of the samples seemed markedly below Sephora's. As the subscription wore on, the products lowered in quality and overall, I only felt compelled to use two of the 15 products.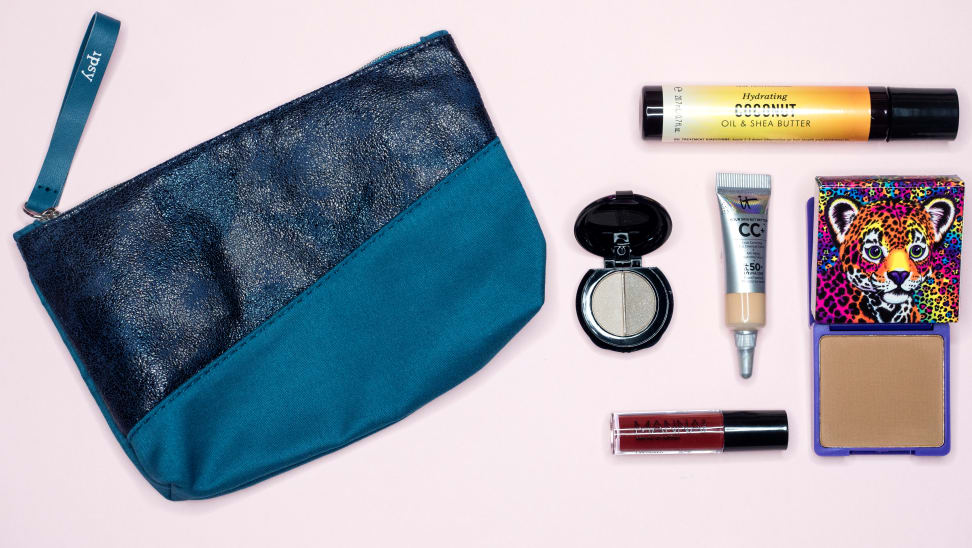 3. Ipsy Glam Bag
3. Ipsy Glam Bag
The bottom line: A decent value with a mix of luxury and lesser-known products (including some duds), many subscription options, but an involved cancellation process.
Number of items: 5 sample-sized products
Cost: $10/month
Customization: 16-question survey with questions about preferred brands and products, level of expertise, coloring, favorite colors to wear, and skin and hair concerns. You cannot cherry-pick any items you want in your bag.
What I got: In December, Smashbox Be Legendary Lipstick, Pixi Mesmerizing Mineral Duo eyeshadow, First Aid Beauty Face Cleanser, Luxie Beauty Precision Shader Onyx Brush, Lottie London Lottie Lacquer.
In November, Nomad Cosmetics Multi-Perfection Duo Brow Powder, Marc Anthony hydrating hair treatment, Glamour Dolls x Lisa Frank matte bronzer, Manna Kadar lip stain, IT Cosmetics Your Skin But Better CC+ Cream.
Cancellation policy: You must cancel your subscription by 12 p.m. on last day of the month to avoid being charged for the next month's bag. After cancelling on-site (the cancellation page is not exactly easy to find), Ipsy will email a link that you must click to confirm your cancellation or it will not be processed.
The details: While Ipsy is somewhat comparable to Birchbox, it falls behind for a few reasons: I received products that didn't match my specifications and a few duds (i.e.: an eyebrow filler that was a shimmery silver color, which wouldn't work for anyone).
There were some high-end products that piqued my interest, like the Smashbox and First Aid Beauty inclusions, but by and large there were mostly brands that I wasn't familiar with or particularly impressed by.
The site is great, with helpful tutorials for each product and is easily navigable—until you try to cancel your subscription. Lastly, though I signed up for Ipsy on October 12, at the time of publication (mid-December), only one bag had arrived.
4. Glossybox
4. Glossybox
The bottom line: Decent products (and some full-sized!) at a reasonable price, but the site is extremely confusing.
Number of items: 5 products, 3 of which are full-sized
Cost: $21/month
Customization: A 14-question beauty profile with questions about your style, your skin and hair types and concerns, and coloring. Boxes "are matched as closely as possible to your specifications," though when I accidentally double-ordered one month, I was matched with two different box versions. You cannot individually select products you want in your box.
What I got: LAQA & Co. Cloud Lips lipstick, Kat Von D Sinner perfume, Nature Queen shampoo and conditioner, Evelyon Iona Green Tea Primer, Tarte tartiest clear brow gel.
Cancellation policy: The monthly subscription must be cancelled by the 14th of the month to stop the next month's delivery and avoid charges. It can be completed online, but takes a lot of clicking around and the FAQ page that details the process is outdated, so it won't be of help—I had to call customer service.
The details: Glossybox's website and customer experience tanked its score. The website is difficult to navigate and the receipt doesn't accurately reflect what comes in each box: My order listed missing and incorrect photos, included products that weren't actually in the box, and even listed the wrong products.
The site's setup is confusing enough that I had to call customer service a couple times. The frustrating user experience was enough to turn me off to the brand, despite really enjoying the product selection. It's a shame because the box's display was the most beautiful—opening it felt like a luxurious gift, and the products inside were high-end and varied across all steps of a makeup routine.
What to skip
5. Julep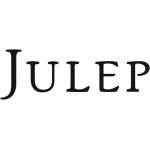 5. Julep
The bottom line: Highly customizable box, but not worth the price and the wait time.
Number of items: 2-3 products
Cost: $25/month
Customization: Complete a 7-question beauty survey with questions like preferred cosmetics colors and products and your coloring to determine which products go into your box. You can fully choose what goes into your box between the 20th and 24th of each month.
What I got: Feels Like Velvet Eyeshadow duo, Eyeshadow Brush, and Charcoal Konjac Sponge, all by Julep.
Cancellation policy: Cancellations must be submitted by the 24th of the month to prevent billing for the next month.
The details: Julep's Beauty Box claims to include more than $40 in beauty, skincare, and limited-run nail colors, but neither the initial box nor the one I selected seemed worth $25, let alone the MSRP. The option to customize your box is open for four days a month, and since I was initially matched with two nail colors and a matte lip color that I didn't love, I swapped out for an eyeshadow duo, a shadow brush, and a charcoal face buffer.
The option to fully customize your box is nice by one token, but it also eliminates the element of surprise we crave in snail mail. The quality of the products was mid-line, but didn't seem worth the price or the wait time—I placed an order on November 2 and it arrived on December 6.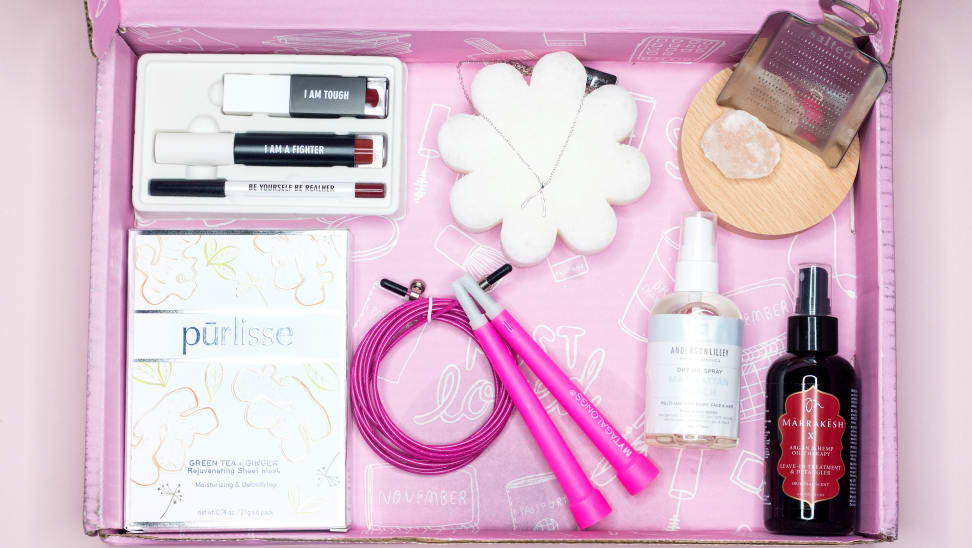 6. FabFitFun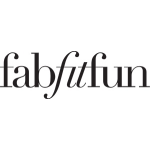 6. FabFitFun
Avoid
The bottom line: Low quality full-sized products with confusing policies and a hefty price tag.
Number of items: 7-10 full-sized products each season
Cost: $50/box, shipped quarterly (March, June, September and December)
Customization: 35-question survey with questions ranging from preferred products, frequency and type of exercise, jewelry preference, clothing sizes, coloring, and hair and skin types and concerns. This robust survey is extremely strange since FabFitFun doesn't curate boxes or allow customization without Select Membership, which requires you to pay $180 upfront for a full year's subscription.
What I got: In the Editor's Box (October), Summer & Rose foldover clutch, Sterling Forever wishbone necklace, Purlisse sheet masks, Spongellé body wash-infused buffer, skipping rope, RealHer Lip Kit, Marrakesh Leave-In Treatment & Detangler, Anderson Lilley body oil, Himalayan pink salt kit.
In the Winter Box (December), Kate Somerville ExfoliKate Intensive Exfoliating Treatment, BB Dakota Poncho, Doucce Freematic Eyeshadow Pro Palette, Ahava Mineral Hand Cream, Ayesha Curry Mug, Pointe Studio aloe-infused sock, FFTV fitness ball, Nelson j Beverly Hills moisture healing mask, Nine Lives choker.
Cancellation policy: "We don't have cancellation dates. We only have the bill dates. The bill dates can help you determine when you can cancel."
The details: Don't be fooled by the overwhelming number of reality stars who rave about this service: I opened this box and was disenchanted by the products inside. They seemed chosen at random with no regard to my preferences, and rather low quality.
Boxes are shipped sporadically and are curated for the season rather than for each member, meaning that crazy in-depth survey will not help personalize your box. Worse, there is no cancellation date, only billing dates which change by the month, so you can't be sure that you can even cancel your subscription on time! You have to check the shipping and billing schedule and cancel your subscription ahead of billing. At the time of publication, the date for the spring box had yet to be announced, so a customer service agent advised me to cancel immediately after receiving my winter box to be safe. Skip this box. You're better off walking into the sale section of a TJ Maxx and picking the first 7 things you see.
How We Tested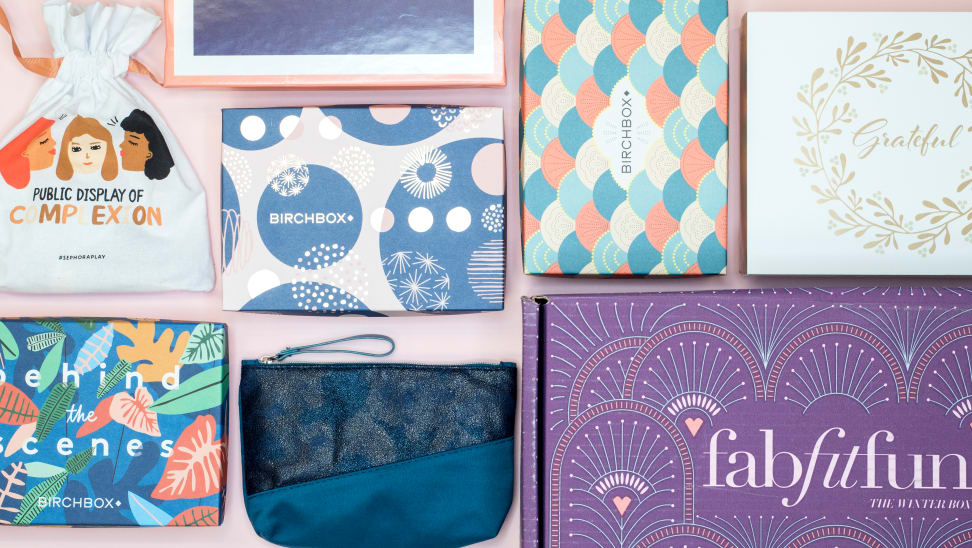 I'm Reviewed's resident beauty expert, longtime makeup experimenter, and habitual cosmetics hoarder. I've been playing in makeup since before I could walk and things have only progressed from there. I not only write about beauty for a living, but I've long been the go-to source among people in my life for all things makeup and hair. I live and breathe this.
I ordered the eight top-rated boxes like any consumer would: Navigated each website, filled out each questionnaire to my specifications, and impatiently waited by the mailbox to see my loot.
With so many subscription boxes on the market, it can be difficult to decipher which one will send you the best products for your lifestyle and preferences at the right price. We spoke with numerous customer service reps to decode the policies, and, of course, tried the included products to find the best of the best.

Since none of the retailers knew we'd be testing and rating these boxes, there was no additional curation or preferential treatment in their selection. We rated the boxes based on things like:
Pre-shipment: How in-depth did the survey feel? Were you notified that the box would be arriving soon? How long did it take for the box to arrive?
Arrival: How was the box's presentation upon opening? Are the products well-matched to your survey answers? What is the quality of the products? Are there instructions for how to use the products?
Wrap-up: How easy is it to cancel the beauty box subscription? Is this beauty box worth what you paid for it?
I ran them all through the same scoring rubric to decipher the best—and the worst. We placed orders in October and November. At the time of initial publication (mid-December), we had received 3 Birchboxes, 2 Sephora Play! boxes, 1 Glossybox, 1 Ipsy Glam Bag, 1 FabFitFun box, 1 Julep box, 0 Walmart Beauty box, and 0 Boxycharm.
We will continue to update this article as additional subscription boxes arrive, accounting for the frustrating user experience of being put on an indefinite waitlist for some of these subscriptions.