The Best Makeup Mirror with Lights of 2019
By Jessica Teich, December 27, 2018, Updated March 21, 2019
When it comes to makeup application, here's the truth: Even the best products and the greatest makeup artistry will look bad without the proper lighting during application. If you do your makeup in poor light, it will look completely different—and likely a lot worse—when you step outside. So, if you want to look your best every day, you need to shed some light on the subject—your face.
The solution? Lighted cosmetic mirrors. Unlike a plain-old bathroom mirror, or a vanity mirror with lights, these luminescent reflectors project a halo of light directly on your face to make cosmetic application simple and accurate, so you'll never again walk out of the house with too-harsh blush, or a telltale line of foundation drawn along your jawline.
It's easy to get overwhelmed by the sheer volume of options on the market, but don't worry—we've done all the hard work for you and tested all of the best lighted makeup mirrors. Our favorite? The DeWeisn Tri-Fold Mirror (available at Amazon), which features three panels of mirrors, bright LED lighting, and up to three times the magnification for precision tasks like tweezing brows.
To learn how we chose the products, read the how we tested section of this story. Here are the mirrors we tested, in order of performance:
DeWeisn Tri-Fold Mirror
Sanheshun 7x Magnifying Round Mirror
Big House Tri-Fold Mirror
Absolutely Lush Rectangle Mirror
Conair Double-Sided Oval Mirror
Gotofine Rectangle Mirror
Maker2 Tri-Fold Mirror
Beautural 10x Magnifying Round Mirror
Simplehuman Mini Sensor Round Mirror
Fancii 10x Magnifying Square Mirror
Jerdon Tri-Fold Two-Sided Mirror
Updated March 21, 2019
Advertisement - Continue Reading Below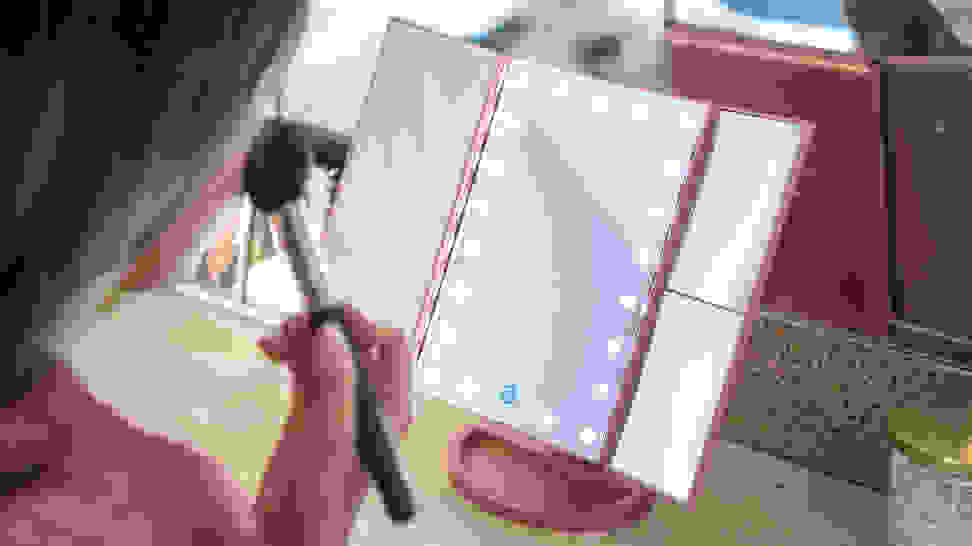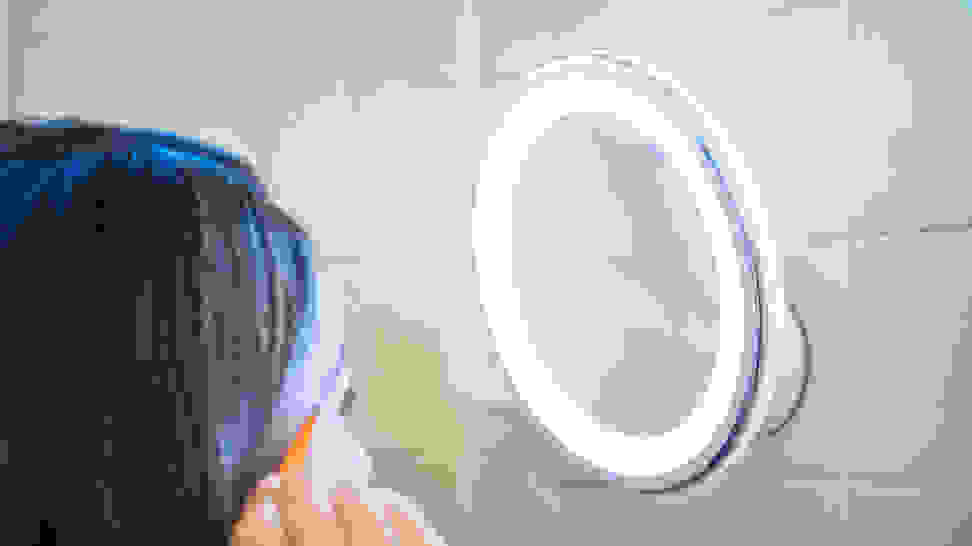 How We Tested
I'm Jessica Teich—I run the health and beauty section at Reviewed, which means I'm in charge of trying everything from the best liquid eyeliner to the greatest hair dryers money can buy. My day job requires plenty of beauty product testing, and not shockingly, none of this hands-on testing can be done without a good mirror. Since I'm knee-deep in makeup and haircare for both work and play, I've learned the importance of a well-lit mirror (and the nightmare of testing products in poor lighting).
A lighted makeup mirror is essential to really see what you're doing in any "getting ready" routine, whether you're trimming your beard or applying a full face of makeup: An artist doesn't paint in the dark, so why should you do your art in poor lighting? To find the best cosmetics mirrors on the market, we scoured best-seller lists across retailers, Reddit threads, and best-of lists at every price point. Then, we pitted the top-rated picks against each other to find the winner.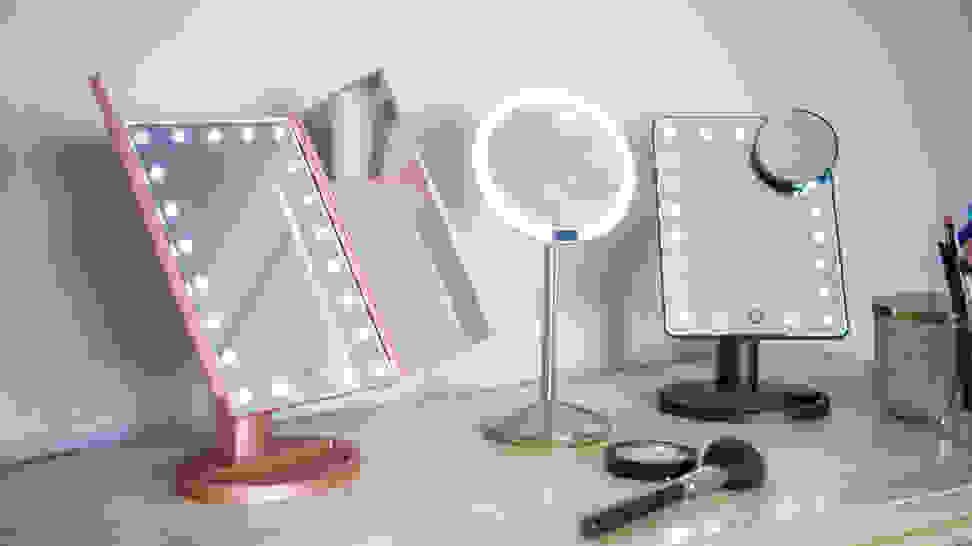 I tested them in the same way you might: Used each one over a few days to apply and remove makeup, style my hair, and try precision tasks like tweezing my brows and applying false lashes. Unlike you (probably), I teamed with Reviewed's senior scientist to rate my experiences. For each mirror, I answered questions like:
Lighting: Is the lighting on the mirror effective, or is not quite bright enough? Are the lights well-placed, or do they hinder your sight when applying makeup? Are there multiple lighting settings, and how useful are they?
Features: Are there multiple magnification settings, and are they strong enough for precision tasks? Does the mirror come with any accessories, and if so, are they useful or just gimmicky?
Usability: Is the mirror adjustable in height and/or angle? Is the mirror portable, or is it a hassle to bring it to other parts of the house or toss in an overnight bag? Is the mirror easy to clean, or does dust collect in hard-to-reach nooks?
We then scored and weighted the results on a scientifically calibrated rubric. Not all questions are equally important: For example, lighting effectiveness was weighted more heavily than portability and ease of cleaning. All things considered, it was clear that some mirrors we tested are far superior, and some, just not worth your money.
Other Mirrors We Tested
More articles you might enjoy
The Best Curling Irons and Curling Wands
Advertisement - Continue Reading Below