We put our feet through a lot. We jam them into ill-fitting shoes that cause blisters, walk in paper-thin sandals, and squish around wearing damp sneakers in the rain. Arguably, our feet are the most neglected parts of our bodies because of everything they endure with very little gratitude shown toward them. Sure, they may get the occasional pedicure during sandal season, but what about sustained self-care at home? Enter the foot spa.
Foot spas circulate warm water with vibration or jets to massage the feet, which softens hardened dead skin in preparation for removal. Some have additional features such as rolling massagers or heaters to keep the water warmer longer. Our top pick, the Ivation Foot Spa Massager (available at Amazon) has all of these things and makes for a comfortable, relaxing experience.
If you're only looking to soak the feet in warm water, you can do that without a motorized foot bath. But having one makes the experience more pleasurable and spa-like—if you get the right one, of course.
Here are the best foot spas we tested ranked, in order.
Ivation Foot Spa Massager
HoMedics Bubble Spa Elite Footbath with Heat Boost
Kendal All In One Foot Spa Bath
Lee Beauty Professional Large Foot Soaking Tub
MaxKare Foot Spa/Bath Massager
Prospera PL028 Pure Calf and Foot Spa
Belmint Foot Bath Massager
ArtNaturals Foot Spa Massager
DRESHah Foot Bath Tub
Hammacher Schlemmer The Hydrotherapy Heated Foot Bath
Revlon Invigorating Pedicure Foot Spa
Conair Foot Spa/Pedicure Spa
Sharper Image SMG1552PK Foot Spa, Pedicure Foot Soaking Tub
PB Teen Splendid Spa Foot Bath
Advertisement - Continue Reading Below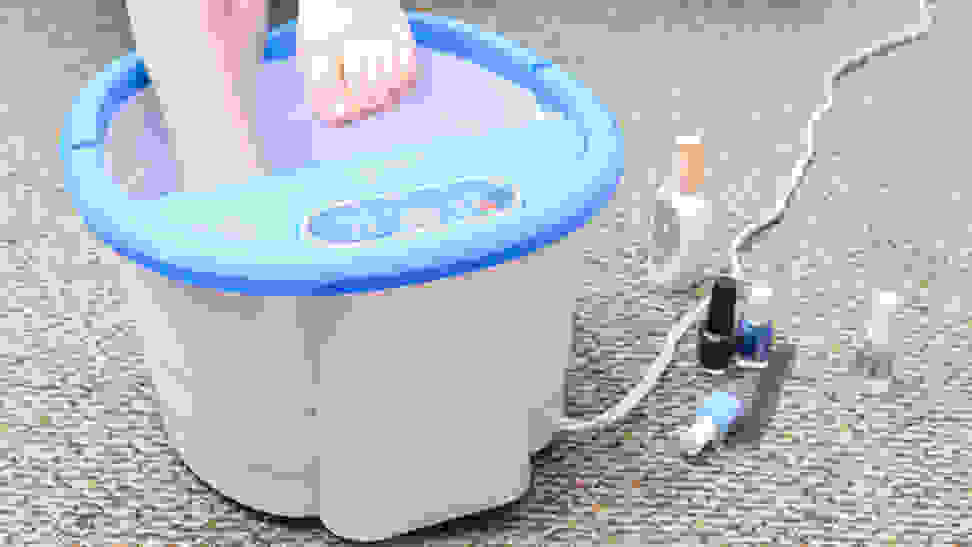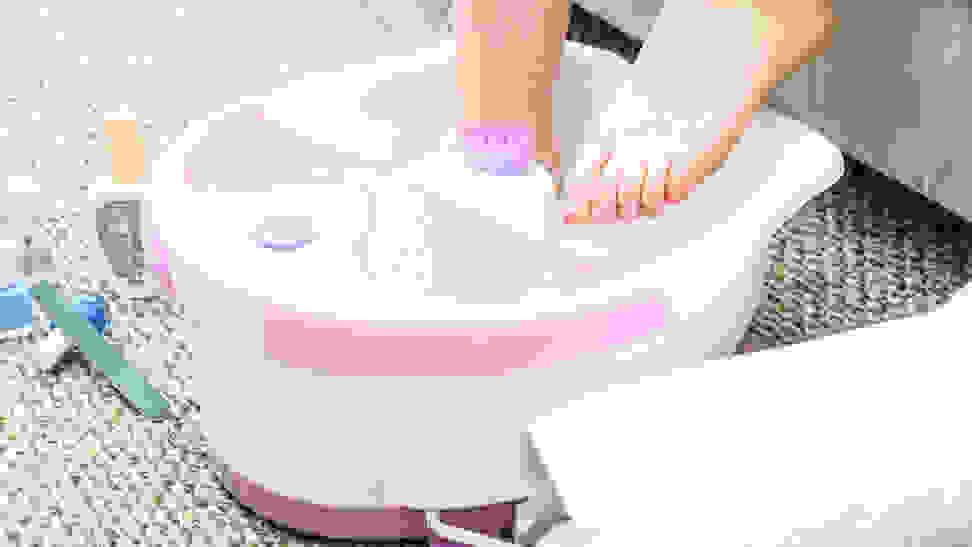 How We Tested
The Tester
Hey there, I'm Jessica. I'm the lifestyle writer here at Reviewed. I tackle all things beauty and health, and foot spas happen to bridge the gap between the two. I spent years of my childhood tagging along to the nail salon with my mom, where she generously let me get my nails and toes done beside her. Those trips to the nail salon taught me that feeling clean and polished (pun intended) is how I feel my best, and that pampering yourself is a good thing. In more recent years, I received a foot spa (the Conair) to use at home. When I came to Reviewed, I thought about products that are specifically designed to pamper us, to bring us relief and joy in our everyday lives. I thought about my foot spa. I'm passionate about reviewing at-home spa-like products because I want you to treat yourself, too.
The Tests
After scouring the internet for a variety of foot spas with different features and price points, I decided on 14 for our testing. The subjects ranged from a $16 bucket with zero bells and whistles to a $180 "spa-quality" bath with water jets, heat, motorized massage rollers, and red lights (that supposedly boost circulation).
As the heat of the water is paramount to the benefits of a foot soak, I filled each bath in the office sink and then plopped three heat sensors inside: one in the shallowest part of the bath, one in the deepest part, and one right underneath my big toe. These sensors gauged how the baths retained heat throughout the 30 minutes (or longer, in some cases) I was soaking my feet. If the bath had special features (heat, vibration, light, massage rollers), I slowly added in the settings, allowing each one a full 10 minutes to see if it affected the water temperature in the bath and to evaluate the baths subjectively.
Reviewed's senior scientist, Julia MacDougall, scientifically nailed down how these baths function and wrote a list of questions for me to answer about the overall bath experience. Maybe the temperature sensors showed that the bath was losing heat, but could I feel the difference? Did my feet feel more or less soothed after the bath? How portable was the foot spa? Many of these questions are subjective, so I answered them to the best of my ability and then called for reinforcements.
When I finished my testing, we selected the top four foot spa choices and asked four Reviewed coworkers to test them, one bath a day, 15 minutes each, for four days straight. These testers came with their own preferences: Melissa has ticklish feet, Lee has colder feet due to reduced circulation from his diabetes, Kyle doesn't like any massage rollers, and Betsey is down for all of it. They answered the same survey questions I did, based on their own experiences with the foot spas.
What You Should Know About Foot Spas
The short-term benefits: Foot spas not only feel pleasant and soften skin, they also promote circulation in the feet, which relaxes muscles, reduces strain, and reduces swelling. "Our veins become progressively more tired as the day goes on because of the accumulative effect gravity has on fluid retention in our lower extremities," says Gotham Footcare's Cunha. When we heat up our feet, like in a foot spa, the veins dilate, which increases blood flow to deliver more oxygen, nutrients, and growth factors (vitamins or hormones that stimulate growth in living cells), and in turn soothe achy muscles and tendons.
The long-term benefits: The benefits of a foot spa may appear temporary—soak your feet and get instant relief. But as Cunha says: "The long-term benefit is the stress relief...if a foot spa helps you reduce your stress levels, then the benefit of a regular foot spa is worth it in the long term."
---
Other Foot Spas We Tested
More Articles You Might Enjoy
Advertisement - Continue Reading Below