Once the provision of foodies and chefs, immersion circulators are the new, must-have kitchen gadget. That's because they allow home chefs to cook sous vide, a style of cooking where food is vacuum sealed and submerged in a temperature-controlled water bath.
Immersion circulators heat that water bath and keep it flowing, which allows food to cook at a precise temperature over a long period of time. That keeps food tender and juicy, and all but eliminates the possibility of accidental overcooking or undercooking. It's this lure of repeatable perfection—along with the convenience of slow-cooking—that's led a massive growth in demand for immersion circulators. But with an array of options out there, which model should you go with?
In our opinion, the Anova Precision Cooker WiFi (available at Amazon for $191.23) is the best on the market, but there are immersion circulators for every palate. We've put eight top-selling immersion circulators through a series of rigorous tests in order to find the best of the best. Whether you value preheat speed, temperature accuracy, design, innovation, or price, we have a pick for any would-be sous vide enthusiast.
Here are the best immersion circulators out there—and a few you should steer clear of.
Updated July 17, 2017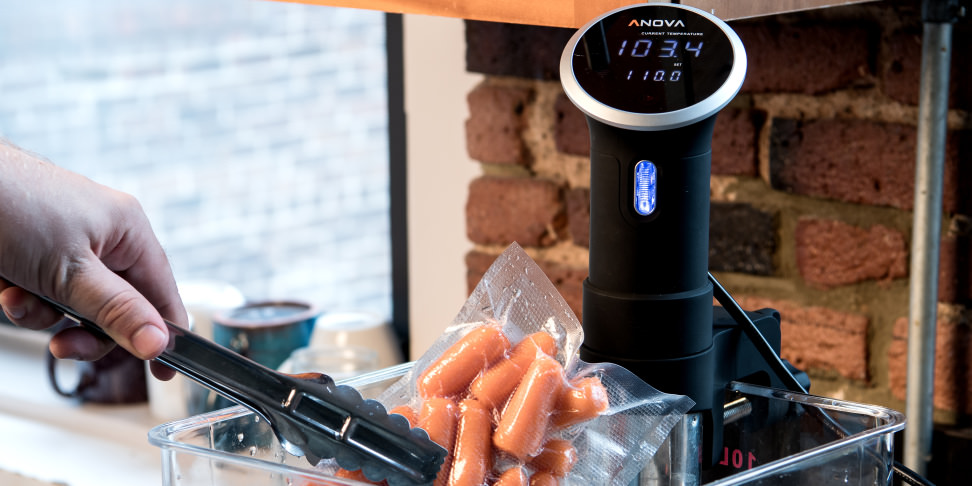 Anova Precision Cooker WiFi (1st Gen)
Best Overall
Best Value
Editor's Note: Anova has recently released a newer model, the 2nd Gen Precision Cooker WiFi, with increased cooking capacity and a brand new companion app. We expect it will compare well to our pick here, and we'll update this guide once we've been able to test it.
It comes as no surprise that the Anova Precision Cooker WiFi boasts everything we could want from an immersion circulator. After all, it has the undeniable honor of a partnership with the food experts at Serious Eats, not to mention a place on the shelves at Apple's retail stores—a first for any cooking device.
After extensive testing, we can say that this device measures up to the hype.
We're big fans of the design, which is polished but not overly hefty. The black plastic and contrasting stainless steel of the Anova should match most kitchens, and the digital display is both easy-to-read and intuitive. You can also connect to a companion app via WiFi if you want to access recipes or control your cook from your smartphone.
Where the Anova really shines, however, is its ability to accurately stick to your desired temperature, which is what sous vide cooking is all about. It might take a little longer to get up to temp than some of the other machines we looked at, but let us be clear—it's worth the wait. And with a retail price of $199, the Anova isn't just our top performer; it's also the best value you'll find.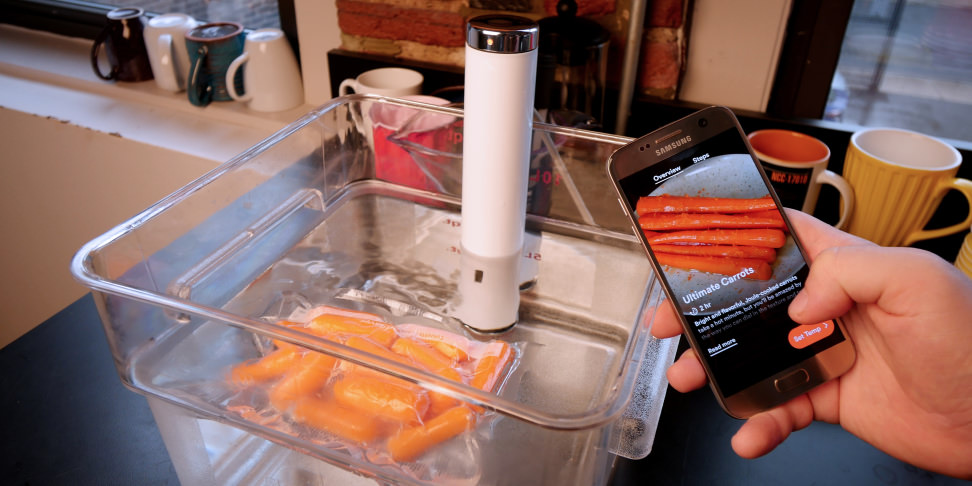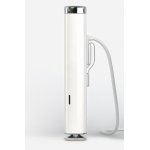 ChefSteps Joule
The Joule may be our runner-up, but don't let that fool you—this is a standout product and all-around solid performer. The elegant device has the lightweight, minimalist style of an Apple product, but it's actually a first foray into hardware for ChefSteps, a company known for providing instructional cooking content.
ChefSteps' expertise is apparent in the Joule, which is operated exclusively via Android or iPhone app. That's right: There's no control on the unit itself. We loved the simple, attractive design of the app, which was nearly flawless in use, but had some concerns about the practicality of a cooking device that requires contact between our grubby, food-covered fingers and our precious smartphones.
Design, of course, is where the Joule impresses the most. When it comes to consistent cooking temperatures, we found it solidly average.
The newcomer of the bunch, the Joule retails at $199. If you don't mind cooking with an app, then it's a great way to learn about a cooking method that's growing in popularity.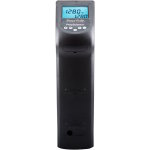 PolyScience Creative Series Immersion Circulator
Cooking is a science—a fact you'd be hard-pressed to forget when looking at the PolyScience Professional Creative Series. The chunky, clunky immersion circulator looks like lab equipment, but it performs like it too. It's not a tool that will win any prizes for beauty, but it will heat your water bath quickly and hold it to your desired temp with above-average accuracy.
PolyScience Culinary is a longtime provider of innovative culinary tech for both home and commercial kitchens, so we can almost overlook the steeper $399.95 price tag. While it lacks some of the conveniences of the newer Joule and Anova, it offers the credibility of a more established brand with a focus on food science.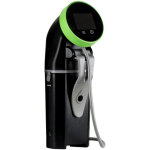 Nomiku WiFi
We had high hopes for the WiFi Nomiku, which comes as a follow-up to an earlier model that we tried and liked in 2015. Unlike the previous version, the new model can connect to a smartphone app via WiFi, but that's not the only change Nomiku has made to its immersion circulator.
The weighty Nomiku isn't as bulky as PolyScience's offerings, though it felt somewhat cheap overall. It comes in either black or white with a green control ring, and sells for $199.
Impatient cooks will appreciate the Nomiku's quick climb to the desired temperature, but should take note that the device didn't do a great job consistently holding the water to that temperature.
Use of the companion Tender (yes, that's an intentional joke) app ultimately falls short. Multiple users found connecting Nomiku to a phone to be complex and confusing. In fact, we found it impossible to accomplish without combing Nomiku's support website for explainers—and still remained unable to connect an Android phone.
This was no big loss, as the app was clunky, unintuitive, and frankly not worth using. Grab the Nomiku if you're a fan, but don't expect the app to add to your experience.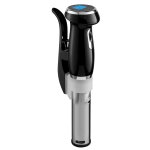 Gourmia GSV130 Immersion Circulator
Smaller, lighter, and cheaper (just $129!) than the competition, we really wanted to like the Gourmia Digital Sous Vide Pod. But low cost alone does not make something a good deal. We ran into trouble right away, with a power button that at least 8 of our 10 testers were unable to operate without consulting the manual.
Once you jump the hurdle of actually turning the thing on, it gives a rough performance: During cooking, the water stayed about 2°F above the temperature we set it at. When you're dealing with such precise temperatures, that kind of a fluctuation is not ideal.
You could do worse for $129.99. But if you ask us, a $100+ piece of kitchen equipment should do what it's supposed to, and the Gourmia simply doesn't.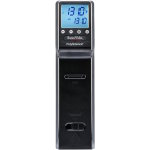 PolyScience Chef Series Immersion Circulator
Avoid
If you thought the PolyScience Pro Creative Series was hefty, try the PolyScience Sous Vide Professional Immersion Circulator Chef on for size. It's large, boxy, and loud—all qualities we'd sooner seek in a 90's-style boombox than a cooking device. And at $799.95, it's one of the priciest models on the market. In fact, the only thing we liked about the Chef was the masterful control it offers over water bath temperature, which fell second only to the Anova during testing.
An ability to precisely control water bath temperature is what matters most when it comes to sous vide, but only if you can keep the food you're cooking submerged. The Chef allows you to adjust flow pressure for larger baths—but when we used the recommended highest pressure setting in our home-size water bath, the force of the water circulation constantly pushed our food to the surface or propelled it into somersaults. Entertaining, yes, but not exactly what we had in mind. As an extra bonus, the overzealous flow means you're likely to end up with hot water splashing out of the container.
For these reasons, we'd recommend giving the Chef a hard pass unless you've got a commercial kitchen. It does a great job with temperature, but the Anova does better. And if you want the PolyScience branding or enjoy that bulkier design, the PolyScience Pro Creative Series has both for half the price.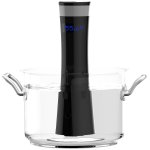 Sansaire Sous Vide Machine
Avoid
The whole point of an immersion circulator is to provide precision in cooking. If you set your immersion circulator to 132°F, then that's the temperature your food should reach and be held at until you're done cooking. Unfortunately, our tests showed you can't trust the Sansaire Sous Vide Machine ($199) to achieve that task.
The Sous Vide Machine has a pleasant curve to it, with a sleek black look that keeps its larger size from feeling too bulky. It's extremely slow to heat, but the biggest disappointment is that it failed to bring our test food to the set temperature at any point during testing. A small inaccuracy in temperature can be a big issue when you're cooking food at a low temperature that's just on the cusp of what's safe to consume, so we cannot recommend the Sansaire.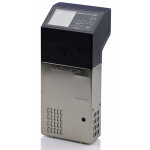 VacMaster SV1 Immersion Circulator
Avoid
Like PolyScience's immersion circulators, the VacMaster SV1 has a boxy, almost industrial style. But looks can be deceiving. The device is easy enough to use, but never managed to meet the set temperature during testing. In fact, it was pretty significantly off base, failing to reach even 129°F when the set temperature was 132°F. That becomes an issue of food safety at worst, or too-rare steak at best.
For this reason, we recommend avoiding the SV1. For $299.99, you'd be better off with pretty much any other immersion circulator.