Instant Pots, so hot right now. Everyone from The New York Times to your old high school friends on Facebook are talking about them. And for good reason: An electric multi-cooker, like our favorite Crock Pot Express Crock Multi-Cooker (available at Amazon), can transform your weeknight dinner routine and expand your cooking repertoire. What used to take an hour now takes 20 minutes, and recipes that once dirtied all of your pots and pans now only require you to wash a pot, a lid, and your cutting board.
But before you add yet another gadget to your already crowded kitchen cabinets, it's worth learning what a multi-cooker is, and which model might be best for you. The answer to the first question is easy. A multi-cooker is a countertop appliance that combines the functions of a slow cooker, rice cooker, pressure cooker, yogurt maker, and more in one unit. It allows you to cook almost anything you'd like in a single pot, quickly and without overheating. You can think of it as the one-stop shop of the home cooking world.
Given the spectacular success of the Instant Pot, we wanted to put it to the test and see if it really is a cut above the rest. To that end, we researched the various models and brands on the market, then tested four of the most popular and well-regarded. We judged them on ease of use for different recipes, how tough they were to clean, and of course, how well the food turned out. By the end, I knew which one I'd clear space on my counter for.
Here are the best electric multi-cookers, in order:
Crock-Pot Express Crock Multi-Cooker
Instant Pot Duo Plus 9-in-1 (6 Quart)
Midea MY-SS6062
GeekChef 11-in-1 Multi-Functional Pressure Cooker
Updated September 22, 2018
Advertisement - Continue Reading Below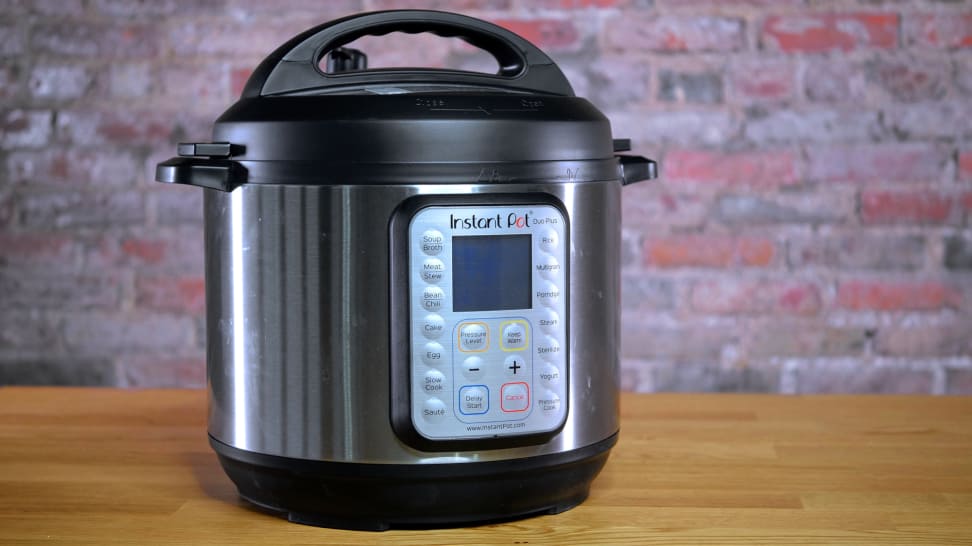 How We Tested
The Tester
I'm Bethany Kwoka. I love a good, healthy dinner—and I love to cook! However, I have zero patience when it comes to being hangry on a Tuesday night. By the time I get home from work, I'm exhausted and starting to fantasize about takeout. The last thing I want is to spend an hour and a half slaving away over the stove.
This made me the ideal candidate to test multi-cookers. I also enjoy leftovers for lunch (and who doesn't love saving money?). In other words, bulk cooking—easily accomplished in a 6-quart multi-cooker—is my friend. If you similarly strive for leftovers, or are cooking for a large family, a multi-cooker makes a lot of sense.
So after some initial research, I cleared my countertop, tucked away my 6,000 other kitchen gadgets, and convinced my similarly time-constrained housemate to give me his thoughts on the results.
The Initial Lineup
Before selecting our final list of multi-cookers, we looked at a total of 16 Instant Pots and competitors. We passed over some of the earlier Instant Pots, as the newer models (like the Duo Plus) offer features we wouldn't want to pass up. Otherwise, we chose the ones with the best combination of high reviews, great features, and reasonable pricing. (If a multi-cooker was twice the price with half the features, it didn't make the cut.) We exclusively tested moderately sized 6-quart versions, although you can find many of these multi-cookers in 3- to 8-quart models.
The Tests
To ensure each multicooker was a good all-rounder, I tested three recipe types. A classic comfort food (chicken noodle soup), a date night special (saffron risotto), and a finicky breakfast bowl (yogurt from scratch). I used the same ingredients for each, and took detailed notes about how easy or difficult it was to select the cooking functions and times, how the food came out, and how tough the multi-cooker was to clean.
I also noted any surprises. Did the milk heat up to the right temperature for making yogurt? Did the multi-cooker flash a weird symbol during cooking? Did the steam valve spray hot milk everywhere and startle me so much I accidentally threw a recipe book across the room?
For cleaning, I did everything by hand. While most models say they're dishwasher safe, I don't own a dishwasher. I probably wouldn't put this pot in one anyway, for fear of hurting the pot and because it would take up more space than it's worth.
I also took into account how helpful the manual was (and how much I needed to use it while cooking), whether or not it came with a recipe book, whether you could manually set cooking temperature and pressure rather than rely on pre-programmed functions, and whether or not those pre-programmed functions worked as expected. All of these were important in assessing the overall ease-of-use for these multi-cookers.
One of the nice things about multi-cookers is that with enough time spent consulting the manual and Googling your questions, you can figure out even the most confounding of tasks. That said, if a multi-cooker left me wondering whether or not my food would be edible when it was finished, I took that into account.
One cooking note: I learned quickly that you should have all of your ingredients ready to go before even turning on your multi-cooker. These things work fast, so your ingredients should be prepped and ready to go before you start.
---
Other Multi-Cookers We Tested
If you're shopping for small kitchen appliances, check out our guide, The Best Toaster Ovens.
Advertisement - Continue Reading Below