The Best Rice Cookers of 2019
By Bethany Kwoka, March 27, 2018, Updated January 02, 2019
Is there anyone who doesn't like rice? It's a pantry staple. And while it's completely possible to make great rice on the stove, doing so means hovering over the pot to ensure that your grains cook fully without burning. By using a rice cooker, like our new favorite Panasonic One-Touch Fuzzy Logic Rice Cooker (available at Amazon for $62.49), you can avoid that hassle and focus on the rest of your meal. There's a reason these devices are a fixture in professional kitchens—they promise fluffy rice every time, and they do the work for you.
But which rice cookers fulfill their promise of perfection? If you're going to give up precious kitchen counter space for yet another gadget, it needs to be worthy. I tested six of the top rice cookers on the market to find out which ones were convenient, consistent, and—ultimately—which ones could make that ideal bowl of rice.
Here are the best rice cookers, in order:
Panasonic One-Touch Fuzzy Logic Rice Cooker
Aroma Digital Rice Cooker and Food Steamer
Zojirushi Micom Rice Cooker and Warmer
Oster Rice Cooker with Steamer
Hamilton Beach Rice & Hot Cereal Cooker
Instant Pot 9-in-1 Pressure Cooker
Updated January 02, 2019
Advertisement - Continue Reading Below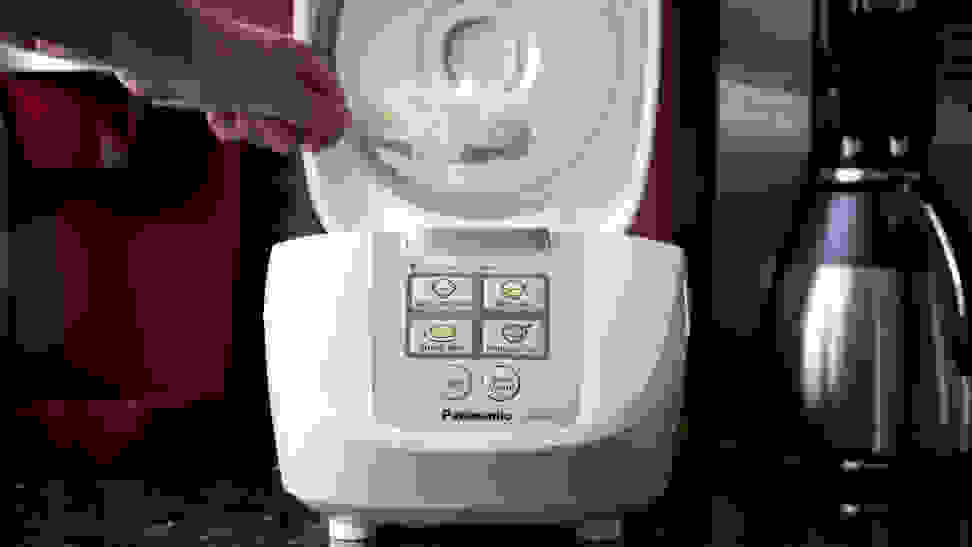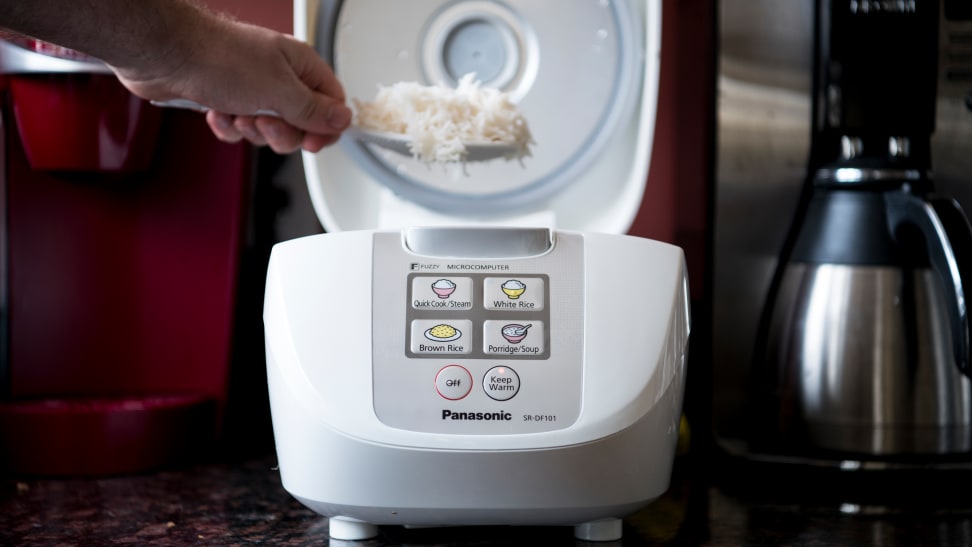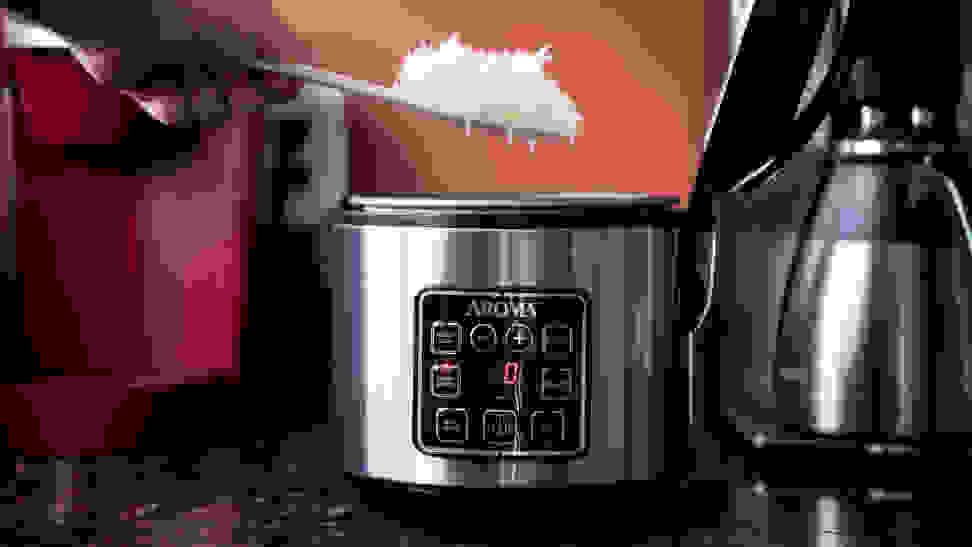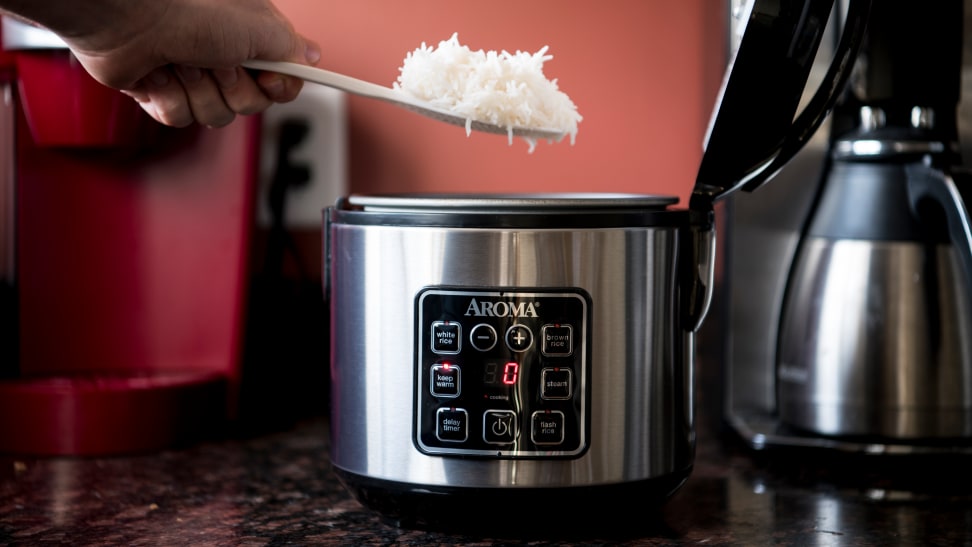 How We Tested
The Tester
My name is Bethany, and while I'm primarily a baker, I also home cook most of my meals. For me, this means a lot of tofu and veggies -- and a lot of rice or other starch. If I'm frying up a batch of tofu and simultaneously stir frying a batch of vegetables, I don't have time to babysit a pot of rice. All of this translates to a desire for a rice cooker that can take care of that all-important task for me -- while I spend my time instead on making sure the rest of my meal is perfect.
The Tests
Before I began testing, I turned to the internet. I spent hours scouring other reviews, various cooking sites, and manufacturers websites to find the rice cookers worth their counter space. I then narrowed down my list to six of the best rice cookers that made the best rice as well as were easy to use and/or were budget friendly. If the cooker didn't seem intuitive or get absolutely rave reviews elsewhere, it didn't make the cut.
I then considered what to test. I decided that both white and brown rice were important, as they cook quite differently (white rice tends to be quick and easy, while brown rice takes longer and requires a different water-to-rice ratio). I wanted to see if each rice cooker could handle both a tougher, long grain brown rice and a sticky, short grain white rice. I also thought beyond rice, ultimately choosing to test the steaming baskets often included with rice cookers using frozen dumplings. (It's 2018 – If my rice cooker can't also help me make vegetables or steam dumplings, have I really chosen the right one?)
The next step was to put our rice cookers through their paces. I tested each rice twice to gauge consistency across tests—and judged each cooker harshly on its results. I also steamed my favorite Costco dumplings in each cooker, using the steaming basket provided.
Alongside its cooking results, I considered how easy each rice cooker was to clean, whether it cooked rice consistently from one batch to the next, and whether it could handle cooking a single cup of rice (enough for just a couple of people) or needed to cook up enough for an army before being able to cook evenly. Because while I love having leftovers to make fried rice, I don't want to be required to cook the same few dishes one after the other every time.
A final consideration was how much counter or cabinet space was required to house this new piece of kitchen gadgetry. Was it going to take over my apartment counter, or fit neatly next to my microwave? Could I even tuck it away if I needed the counter space to make Christmas cookies or pie?
From all of this data, I determined our top contenders and noted various features and bugs others would benefit from knowing.
What You Need to Know About Rice Cookers
To be frank, I consider rice cookers to be an "extra" piece of kitchen gear. They're absolutely phenomenal if you make a lot of rice, but you can also make rice on the stove. So, a rice cooker has a lot to live up to if I'm going to purchase a separate product. It also has to beat out a multicooker like the Instapot, which we tested here as well. Because why have both if you can get away with one? (Fortunately for today's products, they all scored higher than the Instapot, proving that a dedicated rice cooker indeed makes better rice than an all-purpose machine.)
So before buying a rice cooker, ask yourself: How frequently do I cook rice? And how many features do I want from my rice cooker? Do I cook both white and brown rice frequently? Do I enjoy making sticky sushi rice? Would a warming function help me pull off those rice-based dinner parties I'm always planning? These questions are probably connected, and good to lay out before you make your purchase.
Some rice cookers, like the Oyster we tested, have a single function controlled by a single lever. These are the most basic, more economical, types. Others, like the Panasonic, have multiple cooking functions and a "keep warm" option along with an inner bowl that tells you exactly how much rice and water to use for different types of rice. Both types are useful, but it's good to know which you want and how much you want to spend.
In general, if you want perfect rice every time—regardless of which type of rice you're cooking—then you're probably better off getting a cooker that offers different settings for brown and white rice. You might also want to splurge for a "fuzzy logic" rice cooker, but we'll get to that in a bit.
How Do Rice Cookers Work?
Before we dive into fuzzy logic, let's look at how rice cookers work. It's pretty simple. Rice cookers are constructed of five main parts: an insulated outer container, a non-stick removable inner pot, a selection of thermal sensors, a heating element, and a lid. Much like cooking rice on the stove, you just add uncooked rice and water to the inner pot, pop on the lid, and add heat. In this case though, the internal heating element boils the water while the thermal sensors ensure that heating stops once all of the water is absorbed.
These sensors are where the magic happens. On the stove, you have to judge your rice carefully—too much time cooking and the rice will absorb all of the water and start to burn. But pop the top to check too frequently and all of your steam will escape. With a rice cooker, the sensors know when the internal pot is heating up too much and can stop the cooking for you. (If it's getting past water's boiling point, 212°, that means your rice has absorbed all of the available water and its becoming overdone).
Many rice cookers also have warming functions. These work by simply turning the cooking temperature way down after the pot reaches 212°, rather than totally off. This keeps the rice warm without adding enough heat to burn your food.
What Is Fuzzy Logic?
A few of the higher-end rice cookers, such as Panasonic and Zojirushi, rely on what they call Fuzzy Logic to cook the perfect rice. It seems to work, but what does it do exactly? And how is it different than a typical rice cooker?
Jessika Toothman from HowStuffWorks explains it in more detail, but in brief: fuzzy-logic rice cookers use computer chips that let the cooker make micro adjustments in real time. These programs allow more flexibility for cooking time and temperature, based on how the cooking process is going. So rather than always cook to 212° and then switch off, a fuzzy logic cooker may change the temperature or cooking time depending on how fast the rice is absorbing water or what type of rice it knows you're cooking. In essence, it's reacting to your rice.
So How Much Should I Spend?
That depends on your budget. Think about the features you want and how much you're willing to pay for them. If you know you'll cook different types of rice, and rice quality is your highest concern, then I'd suggest splurging on a rice cooker with more features. Fuzzy logic programming makes phenomenal rice and you can easily set the cooker to different types of rice that require different water and cooking times. Plus, the nicer cookers come with that warming feature. It's fantastic if you're like me and enjoy going back for seconds.
---
Other rice cookers we tested
Advertisement - Continue Reading Below