In the past few years, a whole new category of appliances have popped up on store shelves: air fryers. With their promise to cook up crispy yet juicy foods without all that unhealthy fat, they sound too good to be true. Well, we're here to tell you that the best of them can live up to the hype. It's important, however, to choose the right one.
To help you spend wisely, we selected seven highly-rated air fryers, as well as two toaster ovens with air fryer capabilities, and put them to work air frying potatoes and chicken.
Our winner, the Philips Collection Airfryer XXL (available at Amazon for $299.99), yielded results closest to conventionally-fried food. However, if you're looking for an air fryer at a much lower price, we found the smaller Krups Air Delight will satisfy your crisp tooth. The Cuisinart Airfryer Toaster Oven is also a great buy if you want an appliance that can multitask.
Here are the best air fryers, in order:
Philips Airfryer XXL
Cuisinart Airfryer Toaster Oven
Krups Fry Delight
Breville the Smart Oven Air
GoWise 8-in-1 Air Fryer XL 5.9 Qt.
Power Air Fryer XL
Black and Decker 2L Purifry Air Fryer
NuWave Brio Digital Air Fryer 6 Quart
Oster DuraCeramic Air Fryer
Updated January 02, 2019
Advertisement - Continue Reading Below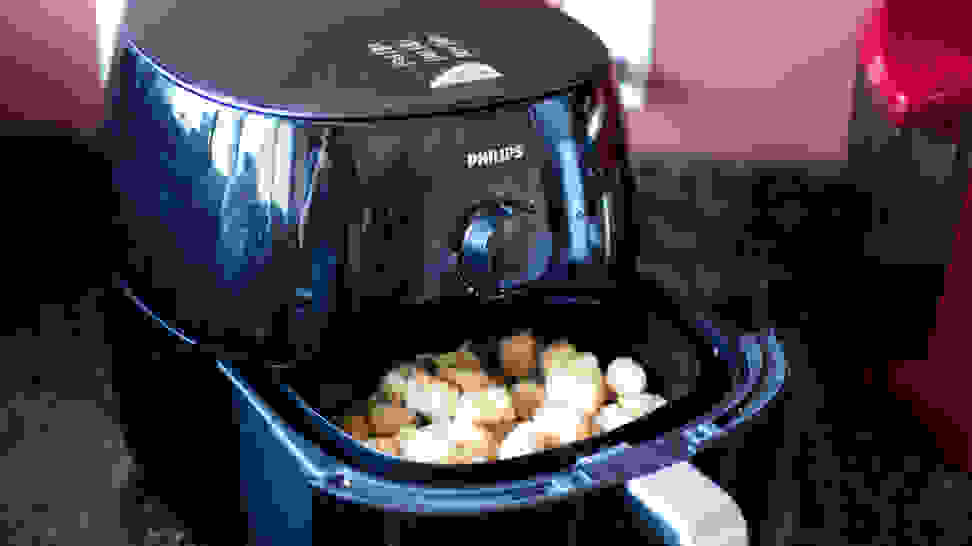 Philips Airfryer XXL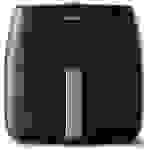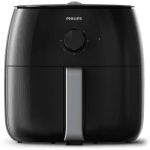 Philips Airfryer XXL
Best Overall
When it comes to frying, the Philips Airfryer XXL knocked it out of the park. We tasted an awful lot of French fries for this round-up, but the Philips cooked up the fries we couldn't stop noshing on. They had the combination of crunchiness, tenderness, and potato flavor that make great fries so delectable. Even when we loaded the basket with more than three pounds of frozen fries, they came out crispy. Battered Nashville hot chicken came out with a crackling crust and hamburgers rivaled ones made on the grill.
The downside is that this is a big, heavy, and rather expensive machine that's noisier than most when it's operating. It doesn't have digital controls, and therefore hard to set the temperature and timer precisely. With a few more parts than most air fryers, there's more to clean. And while all of the parts can go in the dishwasher, the huge basket will eat up considerable shelf space. However, like all air fryers, it's still relatively easy to use—this one requires no preheat—and the results are worth the payoff. A cookbook is included to give you lots of recipe ideas. If your family really likes fried food but not the fat, the Philips is definitely worth the investment.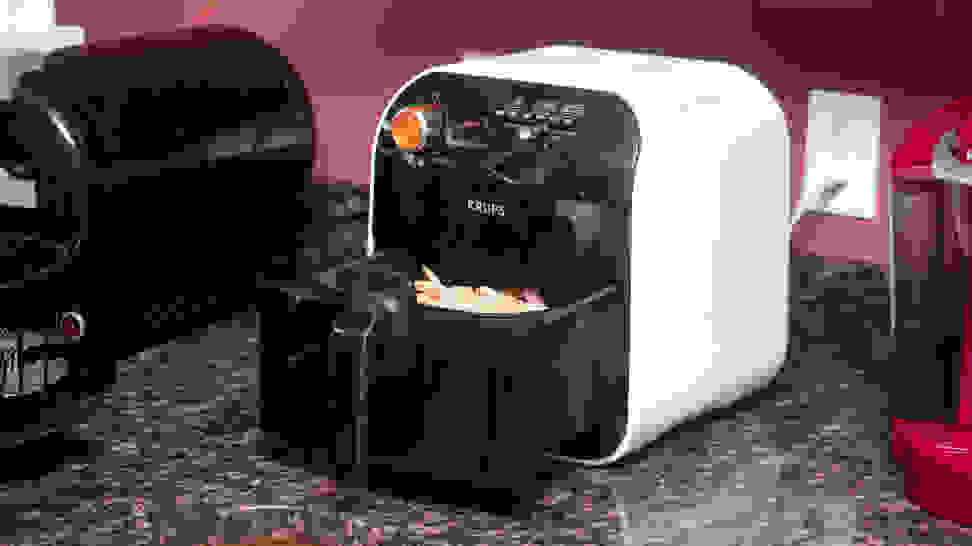 Krups Fry Delight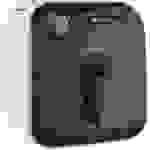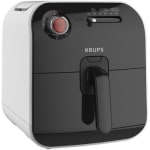 Krups Fry Delight
Best Value
While the Krups Fry Delight won't give you quite as crunchy results as the Philips, it also won't empty your bank account. We love its square design, which not only looks more attractive but makes it easy to fit in a cabinet. While this is one of the smaller models, it can still hold up to a pound and a half of fries, four chicken pieces, or a pound of meat. It doesn't have digital controls and you have to fiddle a bit to set the cooking temperature and time correctly. Also, the grid at the bottom of the basket isn't nonstick and it takes a bit of elbow grease to get it clean. But for the money and the size, you can't beat the Krups. Choose from black or white housing.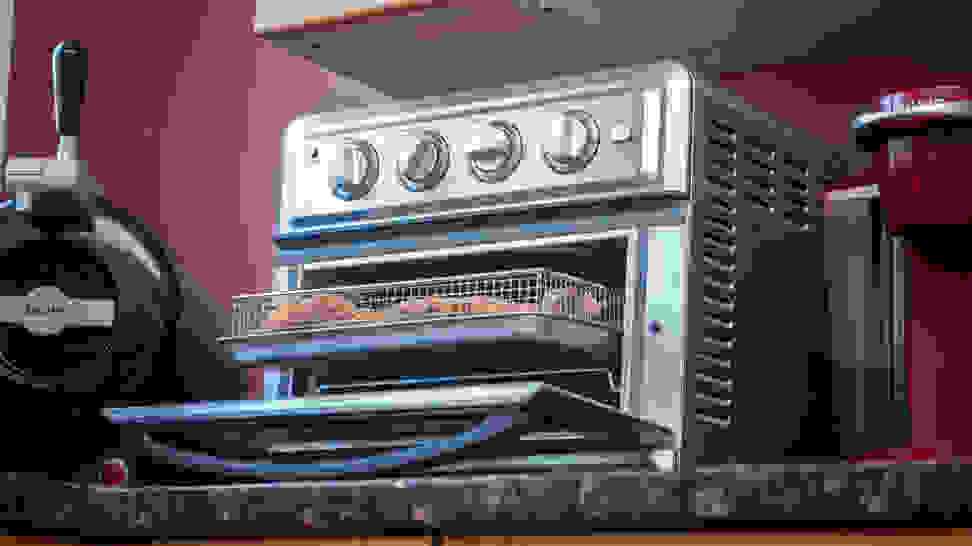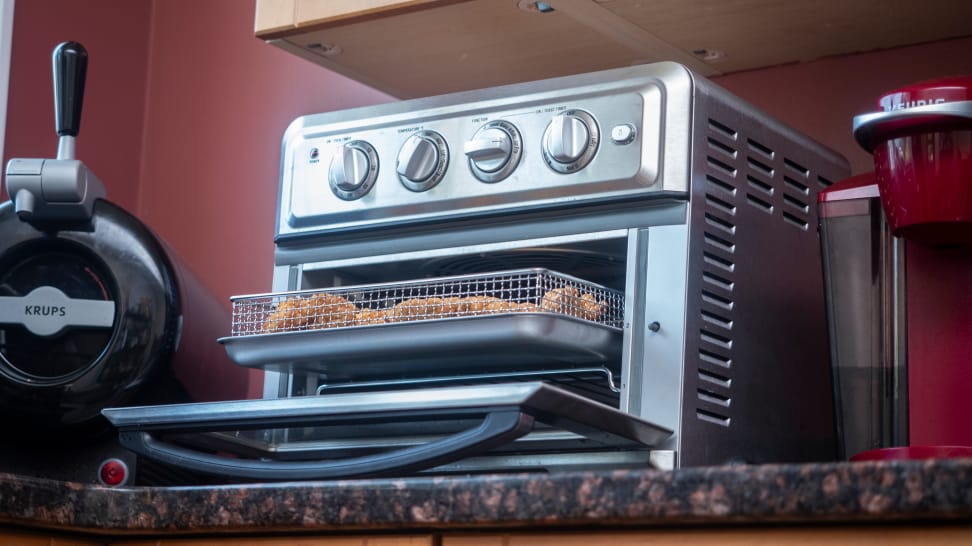 Cuisinart Air Fryer Toaster Oven
Cuisinart Air Fryer Toaster Oven
Best Multipurpose Air Fryer
While not inexpensive, the Cuisinart Airfryer Toaster Oven is definitely cheaper—not to mention more space efficient—than buying two separate countertop appliances. It comes with an air fryer basket to be used along with an air fryer setting. We found it worked as well, and in some cases better, than air fryers at browning and crisping. It also happens to be a darn good toaster oven. (See our toaster oven recommendations if you're in the market for one of those instead.)
Unlike most models in this price category, it doesn't have digital controls. While it's not huge, it is taller than typical toaster ovens. It accommodates two pounds of fries, six slices of bread and according to Cuisinart, a four-pound chicken. If you love to toss everything in the dishwasher, be aware that all the parts need to cleaned by hand. But unless you already have a toaster oven that you love, the Cuisinart is a worth considering for its versatility.
How We Tested
Hi, I'm Sharon Franke, and I've been reviewing kitchen equipment for more than 30 years. Before that, I worked as a professional chef in New York City restaurants for seven years. Now I'm an avid home cook. While I've made French fries and pan-fried chicken cutlets countless times, they're not in heavy rotation in my house these days. Just like you, I want to avoid the oil and all that work that comes with frying. That's why I was thrilled to test air fryers and see if they could satisfy my hankerings for crispy food, fat and fuss free.
We tested seven air fryers and two toaster ovens with air frying capabilities. Each appliance was rated on how well it cooked fresh and frozen French fries and chicken nuggets. Since this is a category with which you're probably not familiar, you'll be relying on the manual to get started. We checked to see if each explained how to use the product thoroughly and provided guidelines for cooking specific foods. We considered how easy it was to use the controls, slide the basket in and out, and of course clean up. As you may not want to use your air fryer daily or even weekly, we checked to see how easy it would be to stash away.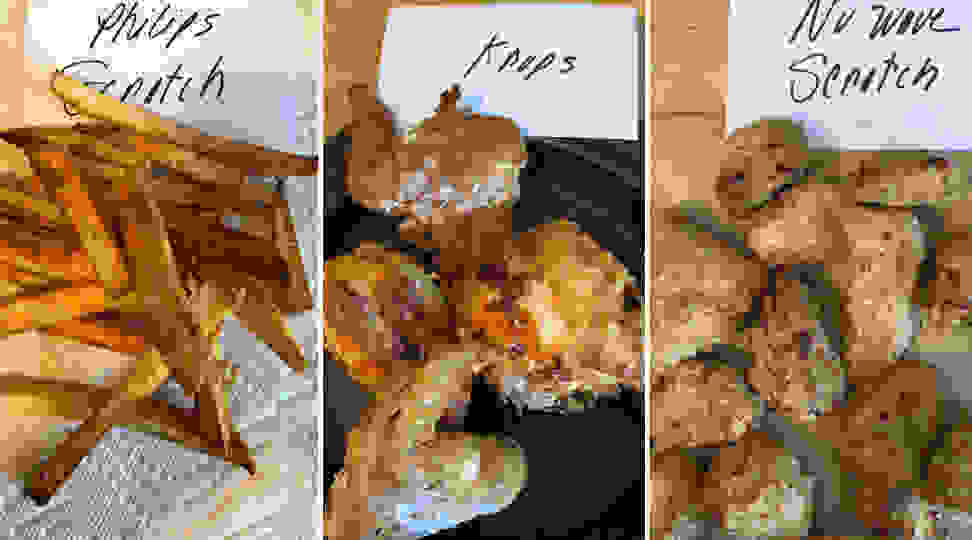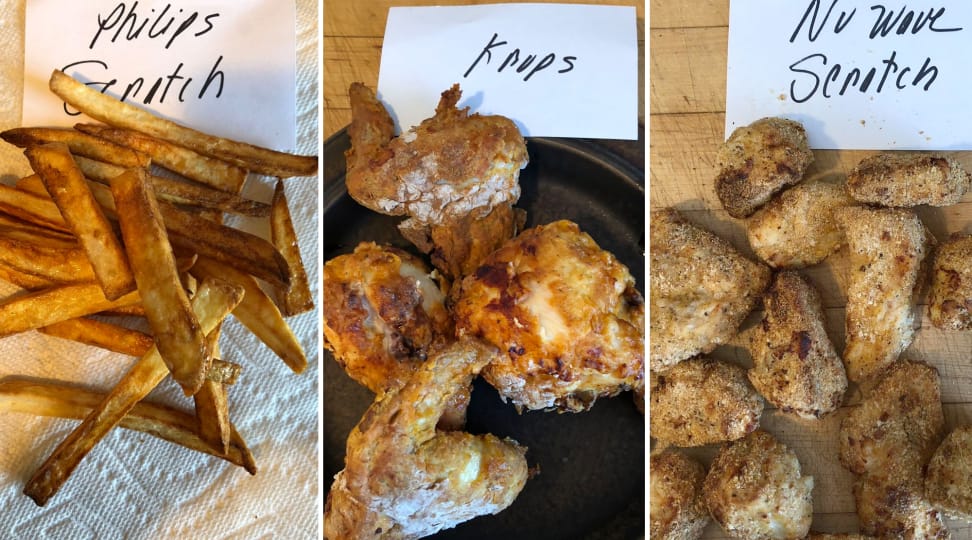 What to Know About Air Fryers
For starters, these machines are not actually fryers, but rather countertop convection ovens that circulate hot air around foods in a basket. Using at most a half tablespoon of oil, they definitely brown and crisp up food but not as evenly as frying. And things don't always come out with the same combination of all-over crunchiness and perfect tenderness as they do when they're dropped in hot oil. However, air fryers require not more than a few minutes to preheat, which means from start to finish they deliver the goods faster than deep or oven frying. Plus, we found they didn't give off any cooking odors, so your house never smells like a chicken shack.
An air fryer can also be used as an oven to cook meats, casseroles, or even baked goods. They are of course, limited by their size and don't offer any advantage here over a traditional oven. But if you use your oven for storage or it tends to heat up the kitchen, or you often wish you had an extra oven, an air fryer can come in handy. One thing to know: These appliances are big and oddly shaped, so they take up a lot of countertop space and aren't easy to store.
Bottom line: If you find crispy foods irresistible but want to avoid the fat, you'll find an air fryer might be just what you're looking for.
---
Other Air Fryers We Tested
Breville Smart Oven Air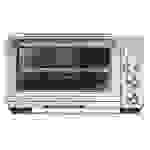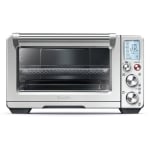 Breville Smart Oven Air
What if our top-rated toaster oven added the ability to air fry? Well, you'd get the Breville Smart Oven Air. You will pay top dollar for this handsome hunk of brushed stainless-steel, but you'll get the performance you'd expect to come along with it. In air fryer mode, it consistently turned out crispy food and chicken nuggets that tasted fried. It also sports intuitive and accurate digital controls (sorely missing on the Philips and Krups), along with automatic preheat and a bright oven light.
Although it's large even by toaster oven standards, it can truly replace your oven. No need for special toaster oven-sized cookware here. And Breville claims it can accommodate a 14-pound turkey. We do have one major quibble with this product. The manual contains no recommendations for what, how much, or how long to cook various foods. This may not be a problem for baking or roasting, but if you're new to air frying, you're on your own while getting started. Also keep in mind that all of the parts require handwashing.
GoWISE USA 8-in-1 Air Fryer XL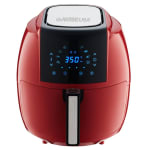 GoWISE USA 8-in-1 Air Fryer XL
The GoWise 8-in-1 Air Fryer XL 5.9 Qt does very well at air frying and has some nice advantages. In addition to a large capacity, it has digital controls with eight preprogrammed settings (hence the name) and an alarm that you can set to remind you to toss food during cooking. It doesn't require preheating and the basket is both nonstick coated and dishwasher safe. With your GoWise, you also get a cookbook that provides lots of ideas for air frying. In addition to black and white, you can choose from red and purple housing.
Power Air Fryer XL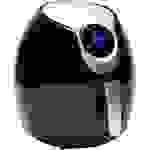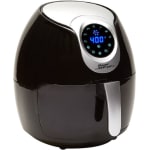 Power Air Fryer XL
Although it's a little smaller in size and capacity, the Power Air Fryer XL can cook and crisp about one pound of food at once. It has digital controls with preset programs. We found it somewhat generic in appearance and the basket doesn't glide out as smoothly as on some. But on the positive side, it cleans up in the dishwasher, comes with a recipe booklet, and won't set you back a bundle.
Black & Decker 2L Purifry Air Fryer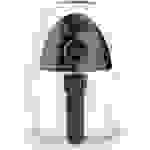 Black & Decker 2L Purifry Air Fryer
The egg-shaped Black + Decker 2L Purifry is not all that much smaller in size than other air fryers but has a much smaller basket. B + D only recommends that you cook a half pound of fries or one burger at a time. While it gives good results, it seems like if you're dedicating so much counter space to an appliance, you should be able to cook enough food for four at once. Plus, the basket didn't glide in and out easily. Like many, it doesn't have digital controls so it's hard to set precisely. But our biggest complaint is that the numbers are so small that we literally needed to use a magnifying glass to set the temperature. Finish available in black and white.
NuWave Brio Digital Air Fryer 6 Quart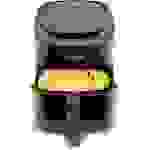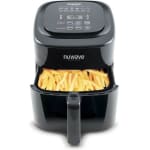 NuWave Brio Digital Air Fryer 6 Quart
The NuWave Brio Digital Air Fryer 6 Quart is on the large size and has a big capacity. In our tests it cooked more unevenly and gave less browning and crisping than others. Thanks to digital controls that are easy to read and program, we did find it particularly convenient to use. It has a built-in preheat setting and preprogrammed settings for things like fries and nuggets that you're likely to cook. A divider for the basket is included so that you can air fry two foods at once and keep them from mingling. In the manual, there's a slew of recipes to help you get good use out of your air fryer. While the parts are dishwasher safe, top rack only is recommended and the basket may be too large for the upper shelf.
Oster DuraCeramic Air Fryer
Oster DuraCeramic Air Fryer
Unlike the others, the Oster DuraCeramic Air Fryer is round and has a see-through lid, so you can watch what's cooking. It has a detachable handle that clips on the bowl to remove it after air frying; we found it tricky to use. For cooking items like fries, there's a mechanism to use the fryer in a tilted position to eliminate the need to shake or toss during cooking. In our cook-off, the Oster took the longest to cook and gave the least crispy results of all we tested.
More articles you might enjoy
Advertisement - Continue Reading Below