Accessibility
Anwan Grip Strengthener review
Disability weakens my hands, but a grip strengthener helps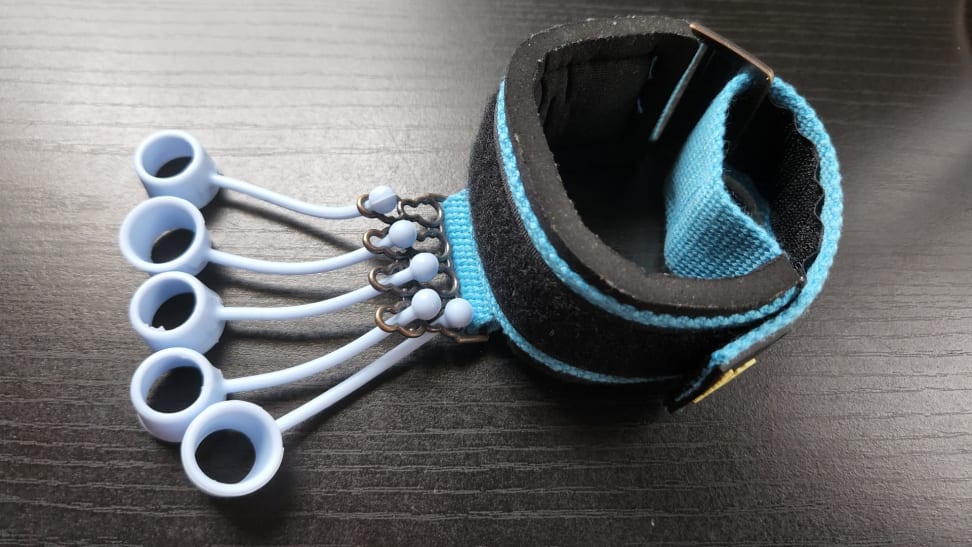 Credit: Reviewed / Rachael Souza
A few weeks ago, I threw a bridal shower for one of my closest friends at her home. It was while decorating, opening packages, and twisting off caps that I began to realize the strength in my hands seemed to have declined since the coronavirus pandemic invaded our lives. I have a disability that causes the muscles in my hands to be significantly weaker than able-bodied individuals. My disability progressively worsens with age, and, as someone quickly approaching 30, I knew I needed a challenging, yet easy-to-use, exercise tool to strengthen my hands. With that goal in mind, I purchased the Hand Extension Grip Exerciser created by Anwan.
About the ANWAN Hand Extension Grip Exerciser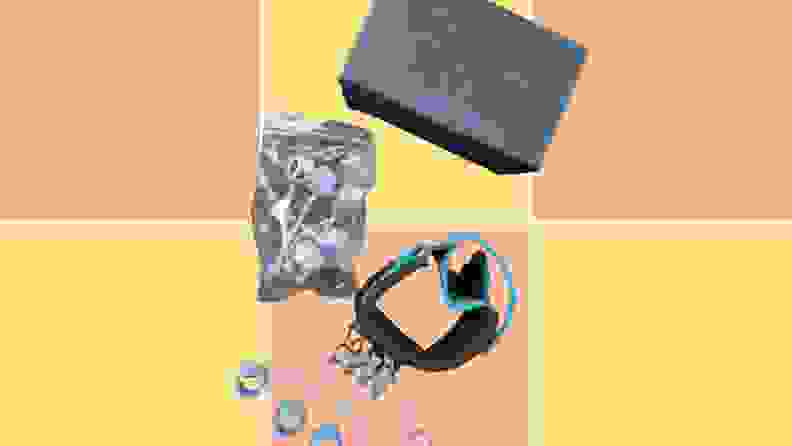 The Hand Extension Grip Exerciser is advertised to improve finger strength for athletes, musicians, people with arthritis, and those going through rehabilitation for various hand and arm injuries. It's described as a one-size-fits-all device, with an adjustable Velcro-type strap along its wrist and finger cots. These cots are elastic which, in theory, should allow them to stay put on fingers of any size.
The hand exerciser came packaged in a simple gold-and-blue box without any labels on the outside, so at first I wasn't sure what I was opening. Inside the box I found a blue band to wrap around my wrist with the finger attachments already in place. There were also extra finger attachments included alongside an instruction manual.
To use, simply slide the wrist strap on your wrist, and insert a finger into each of the five cots. Then, pull your fingers inward for about three seconds before releasing. The stretch is intended to be done up to 30 times in three sets.
What I liked about the ANWAN Hand Extension Grip Exerciser
A simple concept
I like the concept of the Hand Extension Grip Exerciser. Many physical disabilities affect hand strength, so it is important to know that there are options out there for improvement. I also liked how simple the equipment is in its design. It came attached as one piece and was easy to figure out how to use.
What I don't like about the ANWAN Hand Extension Grip Exerciser
The fit
I had a lot of trouble getting the Hand Extension Exerciser on my wrist and fingertips. Originally, I tried strapping the wrist band in place and putting the finger tips on from there but was unable to do so. Instead, I loosened the strap, pushed the band up my palm, looped my fingers into the tips, and slid the band back into place. The finger cots are supposed to stay on the tips of your fingers, not slide down to the joints.
Unfortunately, the finger cots were too large for my fingers and consistently slid down. In the rare moments I could keep them in place, it was clear my hand was not strong enough for this device. To exercise your fingers you must first lay your hand flat, then slowly pull your fingers inward. I was unable to lay my hand flat with the finger cots in place. You may exercise one finger at a time, which I found slightly easier, though I still fought with keeping it in place and laying my finger flat.
Though advertised as a one-size-fits-all solution, I needed smaller finger cots to keep them from falling to my joints. I was concerned when using this that I might accidentally hurt myself if I did anything improperly. My thumb was also sore afterwards. That finger was the only one where the finger cot not only fit, but it was actually too tight in size. The strength of resistance was too much for my hands, which caused them to clench immediately, so I was unable to straighten my fingers on my own.
Should you buy the ANWAN Hand Extension Grip Exerciser?
Maybe, if your condition is mild.
If you are not someone with a disability or recovering from an injury but are looking to improve hand strength from mild arthritis, then the Anwan Hand Extension Exerciser may be a good option. It will perform as advertised, as long as your finger strength is already at an adequate starting point. If you do have a disability or want to use this for more severe rehabilitation, then I suggest asking a doctor or physical therapist before purchasing, as it may do more harm than good.
The product experts at Reviewed have all your shopping needs covered. Follow Reviewed on Facebook, Twitter, Instagram, TikTok, or Flipboard for the latest deals, product reviews, and more.
Prices were accurate at the time this article was published but may change over time.