Accessibility
Soothing sounds lead to restful nights
This sound-based pillow can help the anxious and neurodiverse get a good night's sleep
Credit: Reviewed / DreamPad
Life is full of troublesome patterns for people who struggle with anxiety, depression, and those on the neurodiverse spectrum, because sleep issues often coincide with those conditions. To make matters worse, poor-quality sleep in itself is known to cause anxiety, depression, and an increase of symptoms for those on the spectrum. This interconnected web of related ailments creates a cycle that can be tough to manage, and it's one the Dreampad Pillow company aims to break.
As the mother of a son with autism, I've watched my child struggle to fall asleep and stay asleep for years. Between his inconsistent naps, he's often dragging and cranky by the time the sun comes up, leading to a difficult morning and an increase in his autism symptoms.
When I heard the Dreampad Pillow might be able to help him sleep better, I was intrigued but, if I'm being honest, I was also pretty skeptical. How could a pillow change the way someone sleeps, outside of making the user more comfortable? I wasn't sure, but I figured I didn't have much to lose. If it worked my son had everything to gain, so I decided to try it out.
Sign up for our newsletter.
Get the best deals and the best advice dropped right in your inbox.
Fall is here, let's get cozy. We're giving away a Solo Stove Bonfire with a stand. Enter to win between now and Nov. 18, 2022.
What is the Dreampad Pillow?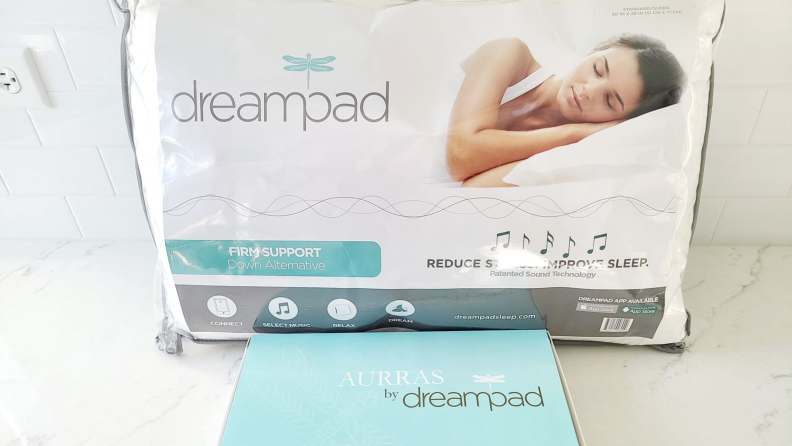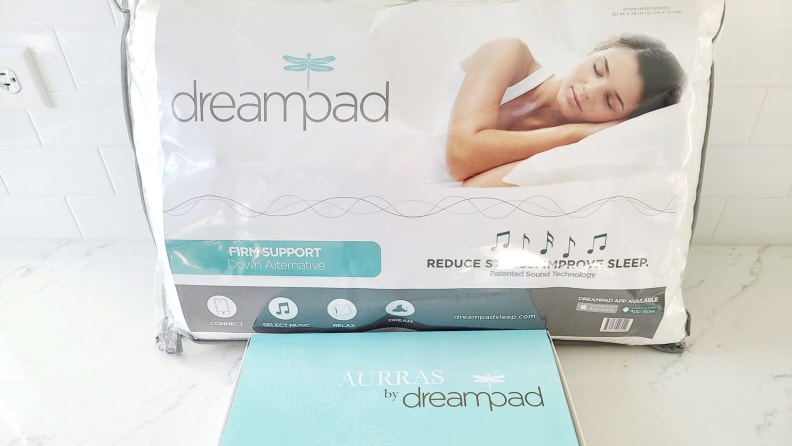 A pillow that plays gentle sounds in coordination with soothing vibration, the technology behind the Dreampad Pillow is top notch. The heart of the Dreampad Pillow is the Aurras, an audio transducer that converts sounds into a special vibration that travels through the pillow and stimulates a person's vagus nerve.
This is the nerve responsible for regulating one's heart and respiratory rate. The vagus nerve stimulation then activates the parasympathetic nervous system—the system that helps us reduce stress—which then helps to incite a relaxation response from the nervous system that offers deep sleep.
Taking the form of a pillow with a flat, sound-producing platform under it, the Dreampad Pillow was first created to assist children with autism. It was later discovered the Dreampad technology could also potentially assist people with anxiety, depression, or any number of mental health conditions that often coincide with disrupted sleep.
Available in several different options such as a firm, medium, kid-sized, and memory foam, the Aurras and pillow set starts at $208.
Setting up the Dreampad pillow
You will need a phone, tablet, or other Bluetooth streaming device to use the Dreampad Pillow, but setting everything up is possible in a matter of minutes. Consisting of two parts, the Dreampad Pillow and the Dreampad Aurras (the device that transmits the sound), simply place the Aurras under the pillow, turn the Aurras on, and select the Aurras option listed in your device's Bluetooth settings. You can also connect your device directly via the optional iPhone or Android adapters.
Next, select the Tranquility Bass button, and choose the content on your device that you'd like to listen to. There's also a 6-foot cord included, should you prefer to directly connect your device to the Aurras.
What I liked about Dreampad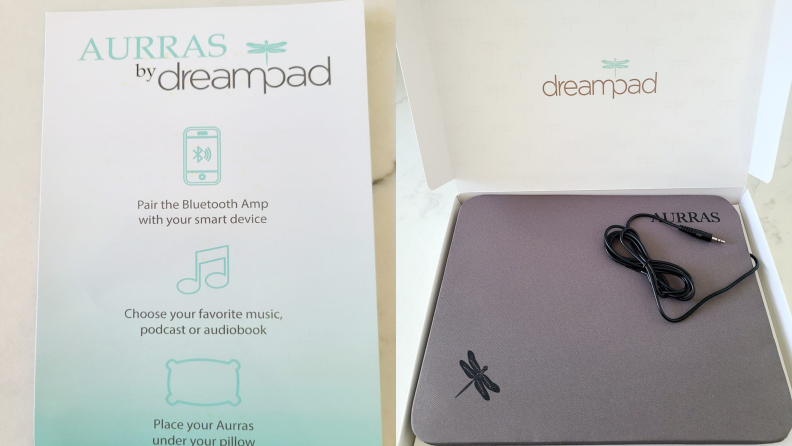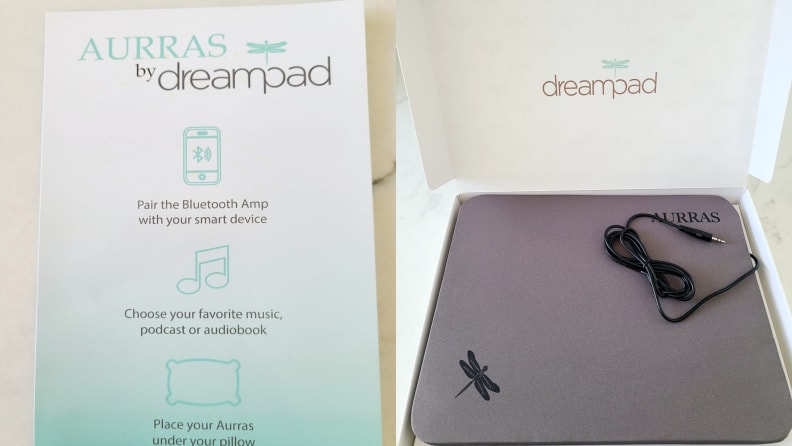 There's a lot to like about the Dreampad Pillow, but these three aspects stood out among the rest.
You can select your own content
I love that you can select your own content to play through the Aurras, such as music, audiobooks, podcasts, and more. Customization allows you to cater your audio content to how you are feeling in the moment.
On nights that my son seemed completely drained, it was nice to be able to turn soothing music on for him so he could relax. On nights when his brain seemed extra wired and lying still was a struggle, an engaging podcast assured his head stayed snuggled into the pillow. Eventually, his body would relax enough for him to fall asleep.
Dreampad also offers a paid app option, where owners can stream relaxing content specifically designed to assist with sleep for $3 per month or $30 annually.
The science appears solid
The concept behind the Dreampad makes sense, especially when considering the science behind how vagus nerve stimulation reduces stress and provokes a calming response.
Backed by studies from Columbia University Medical, Sleep Score Labs, and the Sensory Institute for Pediatric Sensory Processing Disorders among others, research results showed a decrease in nighttime wakings, overall improvement in sleep quality and depth of sleep, and an increase in emotional, social, and educational function. One positive study even showed a reduction in nightmares and PTSD symptoms in veterans.
Relaxing
There's no doubt the Dreampad is relaxing. After having a surgery of my own and being unable to sleep for a few days, I grabbed the Dreampad to give it a try. The relaxation was instant, as the soothing vibration and somewhat-muffled sound quality of the podcast I connected to provided just enough entertainment that I was able to focus. Paired with adequate sensory input, my body and mind were easily able to relax.
And I can definitely confirm my son did fall asleep faster after he started using Dreampad. Beyond that, he no longer argued when it's time for bed, because he knew he was going to be able to listen to something he enjoys instead of lying there in the dark, unable to sleep.
What I didn't like about Dreampad
Although it's a really innovative product, I did have a few concerns when using the Dreampad Pillow.
Others can hear the audio content
The Dreampad website claims its sounds are so quiet that only the user can hear them, but my family did not find that to be the case. My son shares a room with a sibling, and, when he was using the Dreampad, the sibling reported being able to fully hear the audio content. When I used the Dreampad, my husband suggested the same thing.
This may be something that can be rectified if you are only listening to soothing sounds, but we found that, in order to understand individual words, the Aurras had to be turned up to a volume that meant people around the user could hear the sounds emitting from the pillow.
Requires the use of a streaming device
One of my biggest gripes about the DreamPad Pillow is that it requires the use of a streaming device to work. For many people this probably isn't an issue, but for users who don't have their own device, as is the case with my son, this stipulation posed an instant problem.
I ended up needing to give my son my phone to borrow while he was sleeping or to stay close enough to him that my phone's Bluetooth could wirelessly connect, while also keeping my phone on silent so any other alerts my phone received didn't inadvertently play through his pillow.
I found the whole process to be a bit inconvenient and would have loved for there to be an option where the Aurras offered pre-loaded content.
Not super comfortable
The Dreampad itself is an extraordinarily comfortable pillow. I'd buy one any day and have a fabulous night's sleep on it. However, I found the Aurras audio transducer that gets placed under the pillow was rather hard and uncomfortable.
Call it a "princess and the pea" thing, but I could definitely tell I was sleeping on top of something, a feeling that was confirmed by my son who regularly asked if he could sleep with the Aurras next to him, rather than under his pillow, because it felt too hard. Unfortunately, the product doesn't really work that way.
Dreampad does offer a memory foam pillow option, and I wonder if that might buffer the Aurras' rigidity a bit more than the Queen-sized firm pillow I sampled for this review.
Does the Dreampad Pillow work?
It's impossible for me to know if the Dreampad Pillow works on a larger scale, as each person using it is as different as their personalities and fingerprints, but my son definitely fell asleep faster, stayed in bed longer, and seemed calmer when waking after use.
But will it work for you or your loved one? Unfortunately, that's something you'll need to decide for yourself. As long as you have an available streaming device and your roommate is cool with hearing some music or background noise while they sleep, I would recommend giving the Dreampad a try because, if it does help, the results could be wonderfully refreshing.
The product experts at Reviewed have all your shopping needs covered. Follow Reviewed on Facebook, Twitter, Instagram, TikTok or Flipboard for the latest deals, product reviews, and more.
Prices were accurate at the time this article was published but may change over time.