Accessibility
These 6 flex seating ideas may help your kid focus
Is finding the right chair the key to success in school?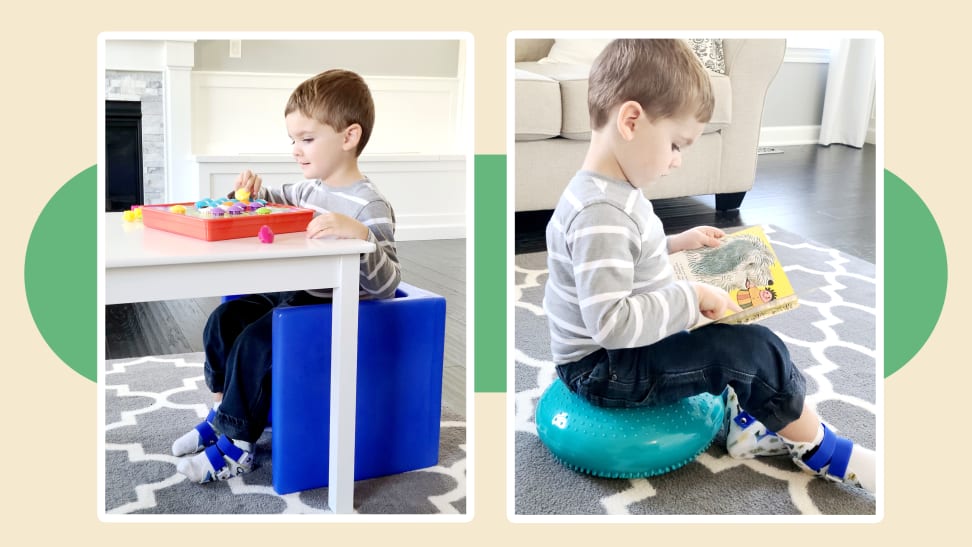 Credit: Eden Strong / Reviewed
Not all bodies and brains are the same, so why should all chairs be identical? For people with autism, ADHD, sensory processing disorders, or any other neurodiverse considerations, flexible seating options may be the key to success in school, the workplace, and even in effective relaxation.
But what exactly is flexible seating, and why does it help? After reaching out to Allyson Chrystal, Chief Clinical Officer of Westside Children's Therapy and a licensed occupational therapist, she explained the answers to my questions. Once I understood why it's important to think beyond the chair, I was convinced that flex seating chairs have the potential to improve concentration, productivity, and quality of life for individuals on the neurodiverse spectrum.
Sign up for our newsletter.
Get the best deals and the best advice dropped right in your inbox.
Fall is here, let's get cozy. We're giving away a Solo Stove Bonfire with a stand. Enter to win between now and Nov. 18, 2022.
What is flexible seating?
Flexible seating is a seating option that falls outside what would be considered a traditional chair. Designed to be used as a chair, but not always looking quite like one, flex seating products are created specifically for sitting on, while also offering the added benefit of providing sensory input, fidget release, and adaptive stability.
Here are a few possible options to consider. Some of these are discussed in greater detail below.
There are many more options beyond these staples, of course, and each one offers the user a different sensory experience regardless whether it's used in a learning space or at home.
Why would someone need flexible seating?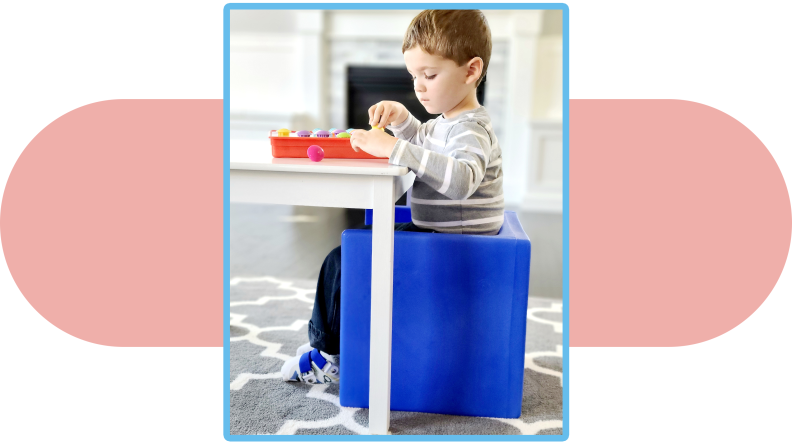 Not all people are wired to sit still, and it's not uncommon for the urge to move, wiggle, or fidget to be so overwhelmingly distracting that it overpowers an individual's ability to concentrate on anything else. When that happens, the end result is a lack of focus. This is a common scenario in cases of autism, ADHD, and sensory processing disorders due to the brain's inability to calm itself, which, in turn, drives the physical desire to move or stim.
As Chrystal explains, "In kids, for example, many are movement-driven, meaning they benefit from movement to feel regulated and engaged. A standard classroom chair is designed for upright, still posture, so kids will often try to find the movement they crave unsafely—tipping or rocking the chair, sitting on edge of the chair—which drives their attention to the chair, not the teacher or lesson."
In adults, that desire to move often appears as the inability to concentrate or an overall avoidance to complete a task. They simply can't convince themselves to sit down and tackle a project.
But that's what makes flexible seating options such a game changer. They are designed to offer practical movement releases or continuous calming sensory pressure, while maintaining the user's ability to stay seated, and in turn, stay focused.
"When a flexible seating option like a wiggle cushion, ball chair, or wobble stool is used, it allows for natural, safe movement, so individuals can feel regulated and able to successfully attend," explains Chrystal.
What flexible seating classroom and home options are available?
It may feel overwhelming when you realize how many flexible seating options are available, but there are a few factors worth considering that can help narrow down your search.
Aside from determining your desired price point, you'll also want to think about the space you have available and ensure your flooring is compatible with the type of seat you choose. After all, you don't want your flex seat to slip, dent, or scuff your floors. The most important consideration is knowing what kind of sensory input calms the person using the seat.
"For one person, their nervous system may benefit from movement opportunities to feel regulated," Chrystal says. "For another, seating that provides input to joints and muscles (i.e. "proprioceptive input") may help regulate and engage. Flexible seating allows people to choose what kind of seat best meets their needs," she says, emphasizing that "a good rule of thumb is 'observation first!'"
"When we observe a child in a standard chair, it's helpful to see what their body does naturally to regulate the nervous system. Are they fidgeting, rocking the chair on its back legs, or tapping a pencil on a desk? Those are good signs that this person could benefit from a seating option with safe movement.
"Or rather, are they draped over the desk on forearms, leaning their head into their hands, or wrapping their legs around the legs of their chair? Those are good signs this person needs proprioceptive (pressure through joints) input to feel ready to engage."
All in all, Chrystal admits that "sometimes, it's trial and error. Trying different seating options is also a great way to learn what feels best."
Movement-driven flex seating options
Trideer Wobble Cushion
For kids who like movement, a great option is a wobble cushion. Providing ample outlet for movement, wobble cushions are low to the ground, so kids won't risk falling and getting hurt, while their design keeps children stationary. Even while they are moving, they aren't actually leaving the space in which they need to be. In testing, I found that the highly rated Trideer Wobble Cushion from Amazon offered a quality product at a phenomenal price.

URNBNFit Exercise Ball
For older kids and adults, a fitness ball is a wonderful solution. Not only does it provide the opportunity for movement, but sitting on a stability ball has also been known to help strengthen core muscles, improve posture, and relieve back pain. Testing one with my son, who is homeschooled and also has autism, I found the Amazon-favorite URNBN Exercise Ball helped him stay focused and attentive to his schoolwork for a longer period of time.
Increased-stability flex seating
Cube chairs
A surprising flex seating option that many kids love is a cube chair. Although it might seem odd to have a flex seating option that looks so similar to a typical chair, a cube chair provides increased stability and increased contact with the floor, mimicking what a typical chair provides an adult, but sized down to better suit the sensory needs of a child. In other words, no more dangling legs or improper seat sizes.
Cube chairs are a wildly popular option, and a staple item for anyone who works therapeutically with kids who have atypical sensory needs. Both my son with autism and my younger son—who has sensory-seeking needs due to low muscle tone as part of his physical disability—have used cube chairs in therapy and learning environments.
We even use them in our home environment to support their bodies while increasing their attention to a task. Historically only offered at a medical device price, you can now find cube chairs on Amazon for a steep discount that still retain their therapeutic qualities.
Calming-input flex seating
Moon Pod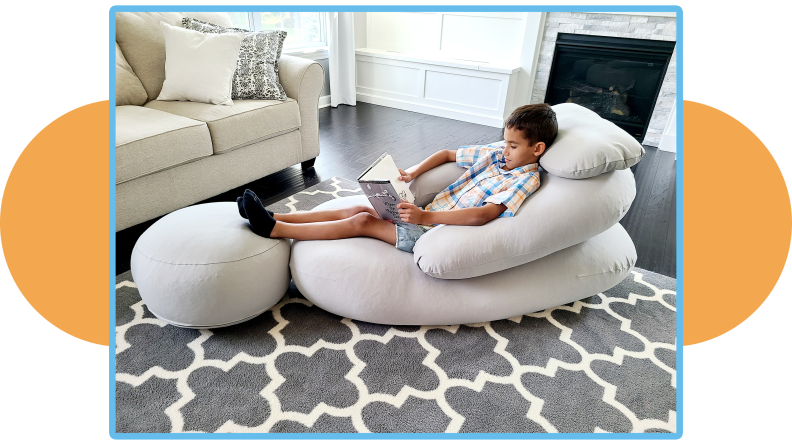 When grounding compression is the calming factor in sitting still, you can hardly go wrong with a Moon Pod. A zero-gravity chair designed specifically to reduce stress and anxiety in children and adults, the Moon Pod is a soft seat that seems to melt around your body while providing the perfect blend of comfort and support.
A staple seating item in our household, I can attest to the fact that this is by far my son's favorite flex seating option when he is trying to relax and focus, given that he drags it from room to room whether he is reading a book, watching a movie, or trying to decompress.
And while these are just a few of the flex seating options available, the only thing more endless is the potential benefit of using one.
The product experts at Reviewed have all your shopping needs covered. Follow Reviewed on Facebook, Twitter, Instagram, TikTok, or Flipboard for the latest deals, product reviews, and more.